June 28th, 2010 | by
Ashyln Molly
Whether you're searching for beautiful views or cosy waterfront cafés, the Lake District has plenty to offer. This remarkable part of England is a hotspot for sun, fun, and relaxation for hundreds of great reasons. If you're...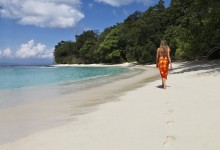 June 25th, 2010 | by
Ashyln Molly
The most visited of the Andaman Islands; the Havelock islands are among the top beach destinations of Asia and one of the prized beach destinations of India. The Andaman and Nicobar Islands being a fairly distant union territory...