Travelling has altered my financial perspective somewhat. What I used to spend on lunch or would perfectly happily throw away on a quick cocktail after work has now become a day's budget, to cover all my eating, drinking, sleeping and sightseeing needs. But think budget backpacking and you don't think Australia, particularly in the cities. A booming economy, blisteringly diverse in culture, abundant in natural resources, vast in size and with a population that captivates and charms the rest of the world, it's one of the globe's most affluent countries. I was warned. Eyebrows were raised and graphs of the relationship between the pound and dollar whipped out as evidence how expensive this trip would be.
I am a determined thrifty.
Arriving in Melbourne, with its good local wages, booming industry, suited and booted population, a thriving cultural scene, a dizzying number of shops, I did find that a cheap week can be had. More importantly, a cheap, comfortable and enjoyable week can be had.
I rested my head at The Greenhouse Backpacker in Flinders Street, the epicentre of Melbourne. Cheaper places can be found, but, for me, location and facilities meant that the overall cost was competitive. Free wifi, kitchen and BBQ, complimentary breakfast, dinner on Tuesday, and free walking tours around the CBD and to the Queen Victoria Night Market. Regular film nights and weekly pub crawls also provided entertainment without breaking the bank.
At first I was cooking in said kitchen with food from Coles and Woolwortha, the local supermarkets. Error. Head to Queen Victoria Market to the north west of the CBD and stock up on fresh fruit and veg at less than a quarter of the supermarkets. The fishmongers calling out and the smell of fresh bread make this a more characterful experience than the supermarket sweep.
If you don't want to cook in the hostel and want something quick you could do worse than the city's sushi scene. These are six-inch rolls of rice and veggies, super easy to eat and filling – all for a couple of bucks.
Melbourne isn't a cheap place to drink, and laws restricting alcohol in public places means that cracking open crate of tinnies just isn't done. Meander the laneways for good happy hour deals and enjoy the ambience of places like Berlin Bar (will you choose east or west?) or the kitsch and stylish Cookie. Visit Fitzroy and wander down Brunswick street to watch great live bands with your tipple; The Worker's Club, Polly, and Hi-Fi all being obvious examples, and I saw some local talent and enjoyed local brew in these fine establishments. Of course, drinks don't have to be alcoholic. Melbournians are the coffee snobs of the world, with barista wars and loyal ties being the norm.
Melbourne on a Budget Remember to wander through the arty, ambient laneways and marvel at the street art, with Hosier Lane and Rutledge being two key points, along the striking Southbank of the Yarra River, and out to the suburbs like Fitzroy where music and art rival for your attention. There is plenty to do in Melbourne of a more organised fashion that won't cost too much.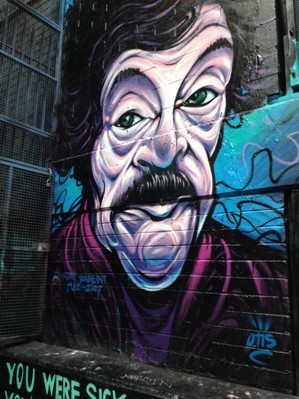 The blue city bikes that are dotted all over are an easy way to explore, and the brilliant tourist information provided excellent self-guided and guided walking tours from the office in Federation Sqaure. Federation Sqaure's own calendar is worth a perusal, with free events ranging from film to fitness, food markets to art exhibitions all taking place in the sqaure. Also, here is the National Gallery and the Australian Centre for the Moving Image, where a number of hours can easily be spent, before you wander to the Victoria National Library. Along the bridge are the Botanic Gardens, so if nature rather than culture is the fix you are after, laze away a few hours here.
My week in Melbourne cost me more than a cocktail, but wasn't the purse busting experience I feared. A thriving city with numerous sights and activities, it's a place all travellers should visit – budget or not.
---
By FRANCESCA BAKER