When it comes to places to visit in Ooty, it's like a nature lover's dream come true. Ooty is more affectionately called as the Queen of Hill Stations, which is nestled at a height of the Nilgiri Hills captivated with lush greenery and dotted with crystal clear rippling secluded lakes amid the alpine woods. Ooty, today is one of the ideal honeymoon destinations in India, which hosts a pleasant climate throughout the year that attracts leisure tourists as well. The most striking feature of this hill town and definitely a major tourist attraction is its scenic beauty and the misty mountains and the green valleys is a paradise on earth. Besides the natural splendor there are a number of Ooty tourist attractions that definitely worth visiting. Check out the following places that must not to be missed when you plan a visit to the fantastic destination.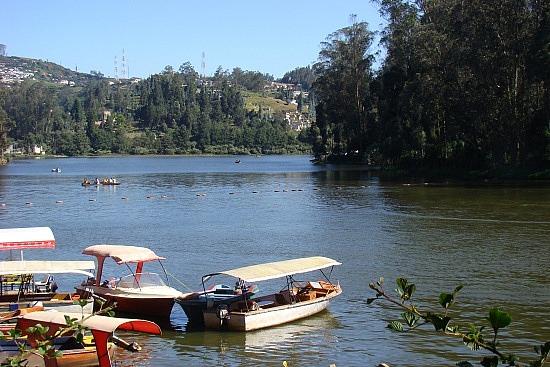 Botanical Garden
Botanical Garden is one of the best tourist attraction places which attract the tourist from all over the world. Visitors and tourist from all over the world to this beautiful garden can get to find out a flourishing green well maintained lawns, rare trees species a 20 million year old fossil tree, a monkey's puzzle tree. The Summer Festivals is held each year during the month of May in the Botanical Garden. A flower show along with an exhibition of rare plant species is held every year in the third weekend of May at this garden. The Botanical Gardens are one of the primary Ooty tourist attractions that definitely worth visiting.
Kamraj Sagar Lake
Kamraj Sagar Lake is one of the most astonishing tourist destination that is the apt spot for those who are looking for the best serene environment. Kamraj Sagar Lake is actually a dam which is located in the outskirts of Ooty. The woods and the greenery in this place, makes it a great picnic spot. The water is extremely cold and one can also have a good fishing experience in the place as fishing industry has flourished quite a lot in this region.
Tourism in Ooty
Ooty India attracts a substantial number of travelers round the year. Dense jungles, huge picturesque lakes, towering mountains, lush green landscapes, and rambling tea gardens welcome the travelers on the way to Ooty. Dont forget to explore Tea Factory, which is more like a museum and one will gain knowledge on the process of tea making and qualityThe place is a traveler's paradise and is a perfect destination for picnics. The town is linked to important places and cities in the country via railways and roadways.
There are also some of the other places in Ooty that can also be visited when they plan a visit this wonderful destination. Explore all the places and have a blast in your trip.
---
Image by mybudgettrip, Swami Stream, under CC License.