Explore Bangalore delightful destination in 2023
Bangalore, Capital of Karnataka, is at present Asia's fastest growing cosmopolitan city with huge demand from technological giants worldwide. With rapid development 'The Garden city of India' boasts now of also being 'The Silicon Valley of India'. A delightful destination, the city of Bangalore is beautifully decorated with parks, gardens, lakes and fountains. It also serves as a perfect stopover for some very beautiful places nearby including Mysore and the Jog Falls.
While in Bangalore, you can visit the Lal Baug Summer Palace of Tipu Sultan or just take a break in one of the numerous amusement parks. Breeze through some of the best eating joints, the swankiest shopping malls or the hip-n-happening pubs. Pleasant climate, architectural landmarks and the beautiful city–Bangalore has something for everyone.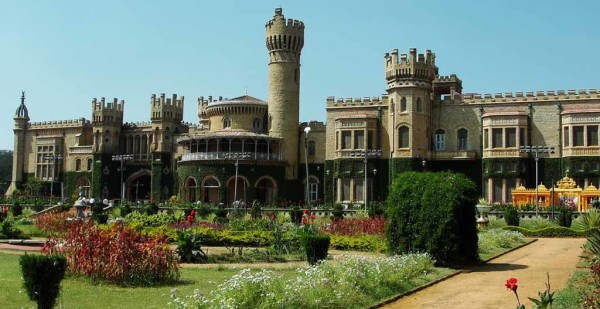 Ulsoor Lake
The Ulsoor Lake, also known as Halasuru, is in central Bangalore, close to M. G. Road. It is said that God Somesvara came to Kempe Gowda in his dream and blessed him with hidden treasure. He then built a pagoda using Dravidian architectural style, dedicated to God Somesvara. The lake was formed for harvesting rainwater and has a surface area of 125 acres. City drainage also contributed as a source of water. The lake is an interesting location for tourists, as it has boating and cruise facility to visit beautiful islands that contain various kinds of flowers, birds and insects. The Sri Guru Singh Sabha Gurudwara on the edge of the Ulsoor Lake enhances the beauty and attraction for the visitors.
Govt Museum (Visvesvaraya Museum)
The Government Museum of Bangalore, an archaeological museum located on the Kasturba Gandhi Road, is considered one of the oldest museums in India. The building, originally designed by Colonel Sankey in 1876, was extended later. The museum has two exhibition floors, with eighteen galleries housing sections on sculpture, geology, natural history, art, numismatics, etc. The collections in museum are enriched by ancient coins, jewellery, sculpture, inscriptions, and artifacts including relics from Mohenjodaro, Halebid and Vijayanagar. Some prehistoric artifacts of Neolithic period found during excavation at Chandravalli adore the museum. The museum is governed by the Directorate of Archeology and Museum of Karnataka State. It is open for viewers from 10 a.m. to 5 p.m. except on Wednesdays.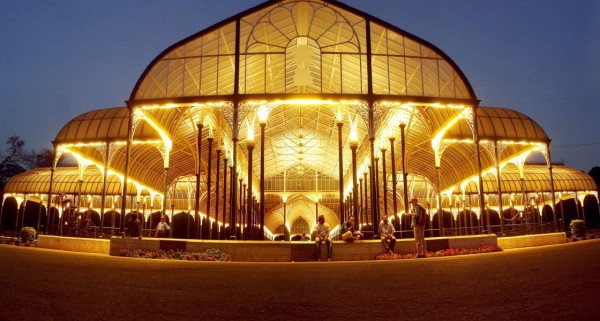 Bull Temple
Bull Temple in Bangalore, also known as "Nandi temple"or Bhoganandiswara temple. The temple is a sculptural masterpiece. It is dedicated to Nandi, the bull, which is considered as Lord Shiva's Vahana or vehicle according to Hindu mythology. The temple is situated in Bungle hill on the south of Bull Temple Road. There is a large sculpture of Bull, which is about 4.6 metres tall and 6m long. One of the distinguishing characteristics of the structure is that it has been carved out from a single rock of granite.
Lalbagh Botanical Gardens
Literally translated as the "Red Garden" this is one of the star attractions of the city of Bangalore, the Lalbagh Botanical Gardens are spread over a sprawling 96 hectares and is rich in a variety of flora. This park was founded by Hyder Ali in the year 1760 who commissioned it as a private retreat for himself and wanted it be along the lines of the Mughal Gardens in Delhi. Tipu Sultan, Hyder Ali's son completed this garden and named it Lalbagh due to it's profusion of red roses. The Lalbagh Gardens is popular for it's collection of rare trees, the famous Lalbagh Rock that is believed to date back to 3000 million years and a glasshouse inspired by the Crystal Palace in London. Lalbagh Gardens host bi annual flower shows, one a week preceding 26th January for Republic Day and the other a week before 15th August for Independence Day.
Bangalore Palace
If you wish to see a replica of the Windsor Castle in the middle of India, complete with Tudor and Scottish Gothic architecture, granite turrets, towers and battlements then a visit to the Bangalore Palace Is a must. Spread over a rambling 430 acres the Bangalore Palace was acquired by the King Chamarajendra Wodeyar in 1873 from its original owner Reverend J Garret who was then the principal of the Bangalore Central High School. A visit to Bangalore without visiting the Bangalore Palace is surely incomplete.