A Few Quick Tips for Brits Abroad in New Zealand
Thinking of escaping to New Zealand? Here are a vast amount of quick tips for you:
1. Luckily, New Zealand is one of the few countries where they drive on the left-hand side of the road. SO even if you don't feel particularly at home anywhere else right away, you should at least feel at home behind the wheel!
2. The tax year runs between the 1st of April and the 31st of March and if you spend more than 183 days of the year in the country, you will be taxed.
3. It's easy to get a NZ visa if you're looking to visit on a "Working holiday" for six months, but staying any longer means you'll have to apply for an investor visa, which is incredibly expensive. Because of this, you'll find a lot of travellers in New Zealand from all over the world, but not that many permanent emigrants. The process of Moving to New Zealand from the UK can be long and complicated, but there are plenty of resources online such as bespoke visa agents, who will work with you to make it as painless as possible.
4. Whilst most people in New Zealand speak perfect English, the country has two other official language: Maori and New Zealand sign language. Of course, English should get you by, but it's handy knowing the other two exist in case you really want to show off!
5. The local currency in New Zealand is the New Zealand dollar or NZ$. At the time of writing, £1 is equal to NZ$2.36.
6. Whilst that exchange rate might sound generous, because New Zealand has to import most of its goods, it is generally a very expensive country. Your money will simply not go as far, so take that into consideration before you travel.
7. Earthquakes are quite common in New Zealand so be prepared. If you want to know when to expect the next quake, there are numerous quake apps you can download for your smartphone which should keep you abreast of any tectonic developments.
8. Wellington is the capital city, and was named as the "Coolest little capital in the world" by the Lonely Planet guide in 2011 for a reason! It is, however, an overwhelmingly windy city, more so even than Chicago. So keep that in mind if you happen to be fond of wearing skirts.
9. The internet service in New Zealand is pretty notoriously shocking. Indeed, many expats have stated they have been able to access the access faster and cheaper in Africa than in New Zealand. So if you need a speedy and reliable internet service for work, you might want to do some research before you leave!
10. Whereas in the UK most restaurants will bring the bill top your table, in New Zealand most restaurants require you to pay at the till or the bar. So a little bit like a Marston pub, only with MUCH better food.
11. Drinking culture is pretty much non-existent in New Zealand, which might come as a shock for those of us that like to let loose at the weekend. If you are found to be intoxicated you will be ejected from most bars, or just not allowed in. This is because of the monumental fines levied against bar owners for drunken behaviour. So don't expect a big night out if you're the kind that can easily put 10 pints away without blinking.
12. Australian citizens generally don't need a visa to visit New Zealand, but that doesn't mean that British people with a visa for Australia will just be able to waltz into the country. You have been warned!
Fun Facts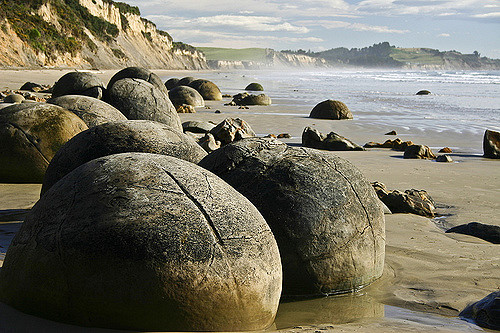 1. New Zealand is home to the place with the longest name in the world; "Taumatawhakatangihangakoauauotamateapokaiwhenuakitanatahu." Take THAT "Llanfairpwllgwyngyllgogerychwyrndrobwllllantysiliogogogoch!"
2. Wherever you are in New Zealand, you're never more than 128km from the sea. Which is around a 90 minute drive on a good day!
3. A decidedly literate country, New Zealand claims to have the highest number of book shops in the world.
4. The country is also home to the world's largest hot water spring, the aptly named "Frying Pan Lake," where temperatures can reach up to a staggering 20 degrees Celsius!
5. Whilst the kiwi bird in undoubtedly the most famous avian resident, New Zealand is also home to three different species of penguin!
6. More people die every year playing lawn bowls than scuba diving. SO if you've been holding off taking the plunge for safety reasons, fear not!
7. On average, a pint of milk in New Zealand will set you back around 69p. The average price of a house in just under £200,000 and if you're looking at a less permanent visit, the average room rate for a hotel is around £75.
8. Brunch is huge in New Zealand, so Americans will feel right at home. For UK expats who are used to more subtle breakfast eats however, the vastness of the portions served around 10am to noon in NZ might seem a little daunting.
9. New Zealanders are famously friendly so don't be afraid to ask questions. You might just end up making a new friend or five!
---
Image by Jocey K, LusoFox under CC License.