Planning a visit to the Capital of Karnataka this year? Bangalore is the best perfect spot for those who are looking for the fun filled entertainments and eye catching attractions. The fantastic Bangalore is lined with green landscapes and is free from extremes of climate due to its convenient location in the heart of Peninsular India. Tourist and visitors from different parts of the world to this delightful destination can get to find out the city of Bangalore is beautifully decorated with parks, gardens, lakes and fountains. It also serves as a perfect stopover for some very beautiful places nearby including Mysore and the Jog Falls. While in Bangalore, you can visit the Lal Baug Summer Palace of Tipu Sultan or just take a break in one of the numerous amusement parks. Breeze through some of the best eating joints, the swankiest shopping malls or the hip-n-happening pubs. Pleasant climate, architectural landmarks and the beautiful city–Bangalore has something for everyone. Check out the following places that can also be visited when you plan a visit to the fantastic destination.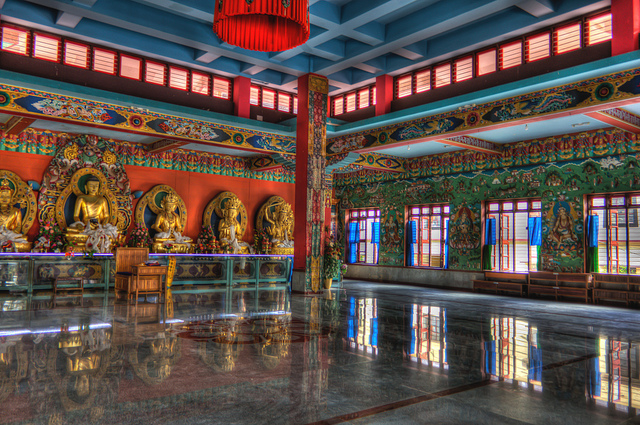 Ulsoor Lake
Amidst the bustling hi-tech city of Bangalore, resides a very beautiful and serene creation of man. One of the major attractions of the city, Ulsoor Lake is the biggest as well as the oldest lake in Bangalore. Ulsoor Lake is one of the most crowded tourist destinations in Bangalore. Boating facilities available here not only attract the tourists but are also enjoyed by the locals who come to the lake for jogging. The tradition of immersing the Ganesha Idol on the eve of Ganesha Chaturthi is also practiced at the lake. The lake is surrounded by a number of tourist attractions like a recreational complex, a Sikh Shrine, an ancient temple and a children's park. A day-out at the Ulsoor Lake gives you a refreshing break from the usual hustle-bustle of life!
Religious Places in Bangalore
Bull Temple in Bangalore, also known as "Nandi temple"or Bhoganandiswara temple, which is a sculptural masterpiece. Someshwara Temple in Bangalore is dedicated to Lord Shiva, which is one of the oldest and biggest temples of Bangalore, reminding us of the rich heritage of the Chola Kingdom. St. Mary's Church is also one of the most beautiful church that that attracts thousands of devotees and a chariot moves with the statue of St. Mary.
Tipu Sultan's Palace
Tipu Sultan's Palace can be found in one of the most congested markets in Bangalore. This palace was initially built as a summer home for Tipu Sultan and was also called "The Abode of Peace". This palace is sculpted entirely out of teakwood and is known for its ornamental pillars, curved arches and balconies. Tipu Sultan's palace is known for the beautiful floral patterns on the walls and a Ganesha Temple, a testament of Tipu Sultan's religious tolerance.
Explore all these places and have a blast in your trip. Enjoy!
---
Image by Premnath Thirumalaisamy, Paramantapa Dasgupta (PD), Premnath Thirumalaisamy under CC License
You might also like