Designing Your Honeymoon on a Budget
Every engaged couple has visions of a dream honeymoon where they can spend time together relaxing, exploring, and making memories after their wedding day is complete. Unfortunately, sometimes a couple's budget for the trip doesn't match up with their dreams and expectations. But don't despair if you've got lofty honeymoon dreams and a more limited budget. Rather then breaking the bank before your married life together begins, we'll look at five ways to ensure you're getting the best value for your traveling budget. It's going to take some research, compromise, and a little creative planning, but I'm here to tell you that you can plan a honeymoon on ANY budget!
1. Decide on Your Must-Haves
Figure out what the most important goal is for your honeymoon. Do you and your partner want to get away from it all off the beaten path? Is relaxation and pampering what you desire? Are you looking for lots of adventure and activities? Keep this goal in mind when deciding on a destination. Rather than traveling to the other side of the world for a luxury spa treatment and tropical weather, consider locations closer to home. Instead of spending your money on an exorbitant plane flight, use those dollars to indulge in your must-haves that will make your honeymoon a success.
2. Choose Cheaper Locations
There are multiple variables that can make a certain location an amazing value for the money. Think about the location's proximity to your home and if there are direct flights from your nearest airport. East Coasters will have better luck scoring a cheap flight to the Caribbean, while West Coasters may do better going for Mexico. Heavier tourist traffic to Jamaica and Puerto Rico has made these two locations dynamite deals for honeymoons, while Mexico's weak local currency also makes it a great choice for budget travelers.
3. Use a Travel Consultant
For stress-free, one-stop honeymoon planning, a travel agent can't be beat. Most travel agents don't charge any fees to their clients, and the benefits they provide are ideal when booking on a budget. A travel agent can save you tons of time, sorting through the multiple destinations and resort options, as well as often having access to special lower rates. They also can score you perks such as room upgrades and special amenities for honeymooners, that you likely wouldn't have found if you booked on your own.
Beach resort Designing Your Honeymoon on a Budget
4. Consider an All-Inclusive Resort or Cruise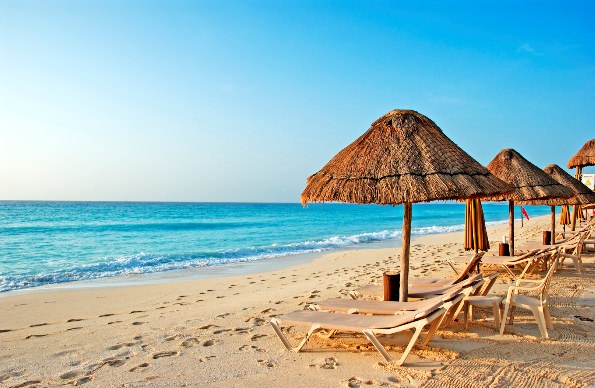 Once you're on your honeymoon you don't want to worry about money, especially if you're on a strict budget. Rather then pulling your wallet out at every turn for hidden fees, meals, drinks, and tips, you may want to consider an all-inclusive vacation. Although it may seem like a large expense up-front, once your trip is paid for you won't have to worry about any money on the actual honeymoon. Most all-inclusives include your accommodations, dining, activities, and entertainment. Some will also include gratuities, transfers, and alcoholic beverages. Another way to save money on accommodations is to rent smaller, private properties as opposed to staying in large resorts or hotels. For example, honeymoon to Hawaii and choose from a variety of Kauai condo rentals. You can go to the local store when you arrive and purchase your own food and beverage instead of spending money out at restaurants and excursions. These private rentals will also allow you to spend time alone with your new spouse instead of on a crowded beach with other hotel guests.
5. Book Early
If you've heard the rumor that you can get last minute travel deals if you wait, I'm here to tell you that is false! If a room at a resort is available a month before your trip, you should be asking yourself why the resort is not already full. From my experience it's likely that the resort is not going to be of adequate quality for honeymooners. By booking early you'll take advantage of excellent flight and room availability, early booking discounts, and the option of a payment plan. For honeymooners on a budget these advantages can equal a great overall savings on your trip.
Your honeymoon is the trip of a lifetime and you want to make it count! Even after these five tips, is your budget still coming up short? No worries – book a nice hotel for your wedding weekend and start saving for first anniversary "honeymoon." Happy travels!
Summer Tannhauser is a honeymoon and destination wedding travel specialist with Adventures Planned Honeymoons (www.adventuresplanned.com). She designs uniquely one-of-a-kind trips for the modern newlywed. She's all about luxurious adventures, unforgettable memories, and pure and simple fun!