St Lucia in the eastern Caribbean Sea is a wonderful holiday destination for senior travelers who are tired of noisy resorts ruled by teens and rowdy party revelers. The restaurants serving fragrant and delicious cuisine; golf; boat tours; shopping; and glorious sunshine all make for a fine travel experience. Throw in the La Rose, La Marguerite and St Lucia Jazz festivals, scenery and luxury resorts and you're in for the holiday of a lifetime!
The dry season runs roughly from January to April, which is the best time to visit the island, although May and June are still good months for a visit despite occasional bursts of rain.
Entertainment in St Lucia
Take to the dance floors of St Lucia and you can make new friends and get a little fitter at the same time. Why not try to learn how to Tango, Cha Cha Cha or waltz the night away? For a taste of something more traditional or energetic try Calypso, Reggae, Salsa or Zouk!
Join cookery classes and learn how to make a traditional Caribbean dish of brown stew chicken, rice and peas, curries with a Caribbean twist, seafood dishes with conch and shrimp or macaroni pie. Anything goes in West Indian cuisine!
For restful walks try the Botanical Gardens. Thrill seekers might prefer a guided visit to St Lucia's volcano or the sulphur springs in Soufrière. If you enjoy discovering the past, you'll love seeing Fort Rodney, a historic British military base on St. Lucia.
Nature Walks on St Lucia
Hiking can keep you in shape while seeing some of the St Lucia landscapes and natural wonders. From St Lucia's rainforests and lovely Pigeon Island National Park to the twin peaks of "The Pitons," there are trails and guided tours for all levels of experience and fitness on offer.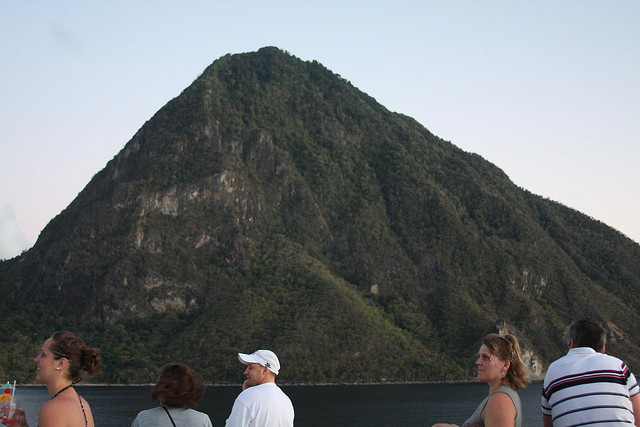 Golf and tennis on St Lucia
Several all-inclusive resort hotels boast their own 18-hole golf courses, where golfers can take lessons with pro-instructors and enjoy a round with friends. Some resorts also have floodlit tennis courts, archery ranges and just about all of them have several swimming pools. You can find some terrific places to stay and relax with Saga Travel.
You're never the wrong age to visit St Lucia and add to your experiences.
---
Images by Fathzer and Loimere, used under Creative Commons license