The Blue Grotto on the Italian Island of Capri
We were staying in Postiano for this third leg of our trip. We started in Tuscany, spent one night in Civita Di Bognoregio, walked thru Pompeii then found our way to the Amalfi Coast. It was always my dream to visit and stay in Positano. What an amazing experience. I knew of the Island of Capri, and I also had heard of this thing called the Blue Grotto. So it was MANDITORY that we went there to see this miracle of nature. In case you never heard of it, it is a cave at the water's edge that you go in thru the smallest of openings. It's just high and wide enough for a row boat to go thru. You have to lay down in the boat. Your "boat person" paddles his way to the opening, grabs a chain, and pulls you inside.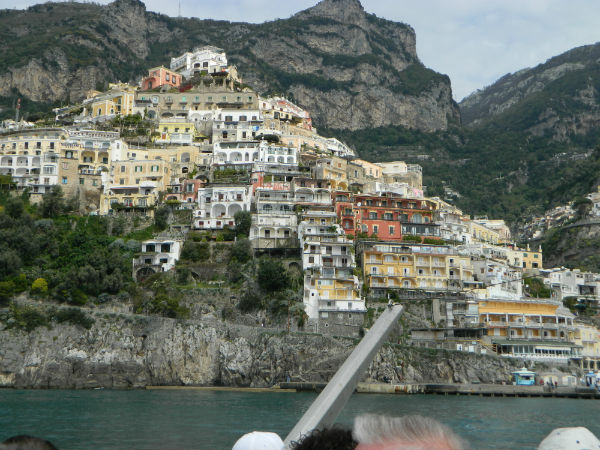 We left Positano one morning for the short ride to Capri on the ferry. It takes less than an hour. Looking back at Positano was a beautiful site. A view you cannot get any other way but by boat out on the blue Mediterranean waters. The boat was full. Everyone with anticipation of our destination.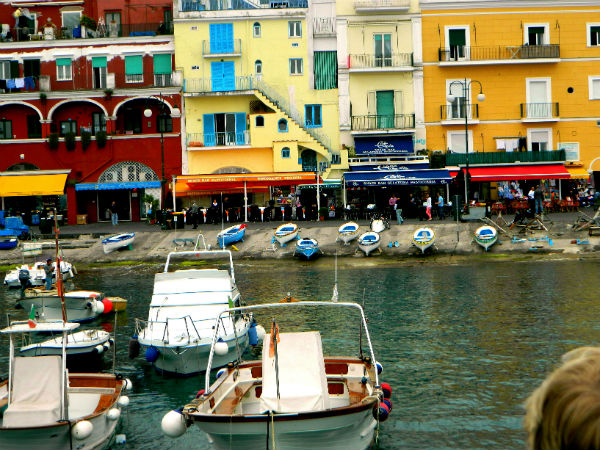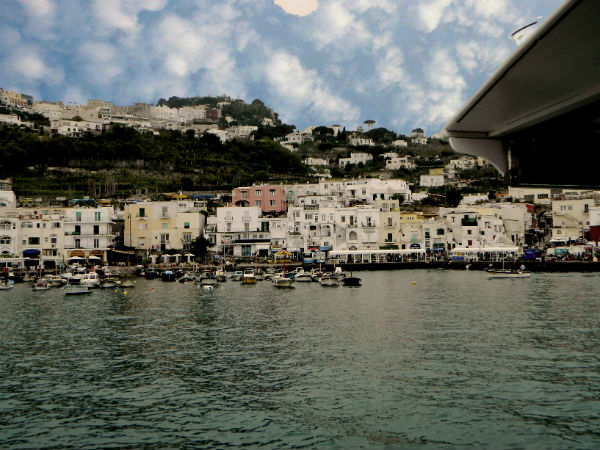 As we got closer we saw the harbor at Capri. Boats of all sizes. Colorful buildings along the shore. People milling around shopping and the shop keepers waiting for another boat to arrive. We got off the ferry and walked to the waterfront. As I said, there were restaurants and souvenir shops all thru this area. Taxi drivers waiting to take you to other parts of the island, a cable car to take you up to the main town of the island. Busses. They LOVE the tourists here. We had to buy a sweat shirt since it was a bit cooler than we thought.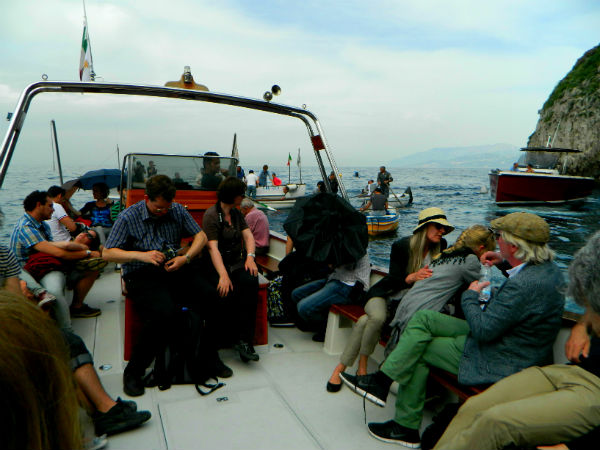 Finally it came time to board our boat that would take us to the Blue Grotto. It was no were as large as the ferry we came in on. But it wasn't just a row boat either. It was pretty comfortable. But we weren't looking for comfort, just a way to get to The Blue Grotto. And this was the only way. We paid for our ticket for the boat, but were told when we got there, we had to pay an additional amount to the man that has the row boat and would take us inside The Blue Grotto. We gladly paid our fee and off we went. It had been a cloudy day, but luckily for us, the sun came out during our 20-30 min ride to The Blue Grotto.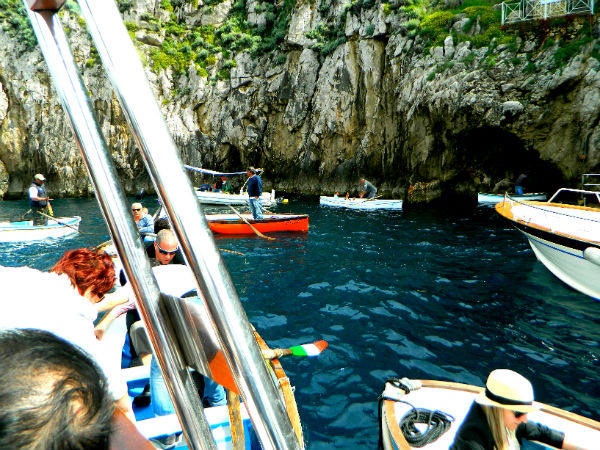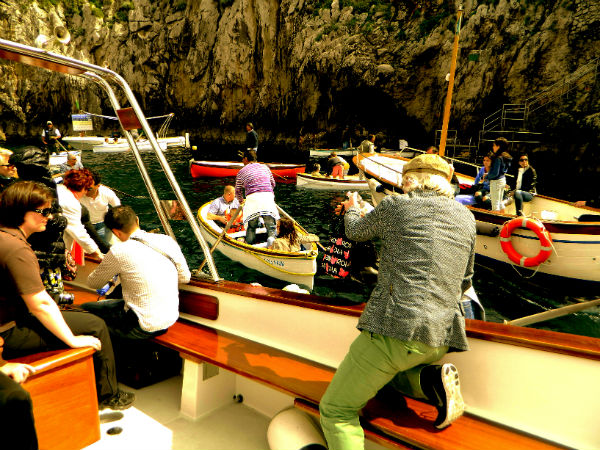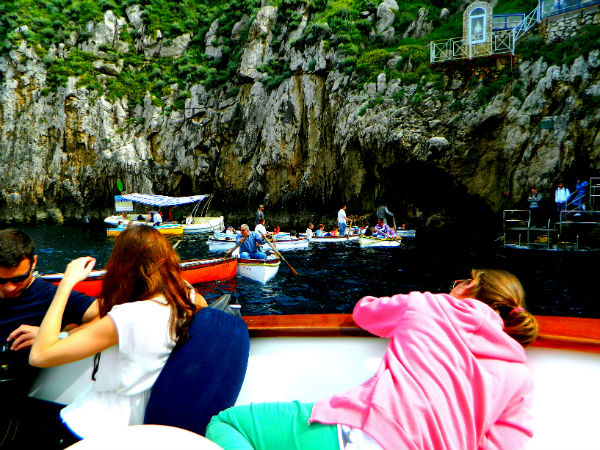 As we approached the location of The Blue Grotto, we saw all the row boats milling around. One by one they come up to the boats that bring the people there. Now the tricky part. With no ladder, no steps, no life jackets, you have to maneuver from the larger boat you are in, and get into the small row boat, trying to time your movements with the action of the rising and falling waves.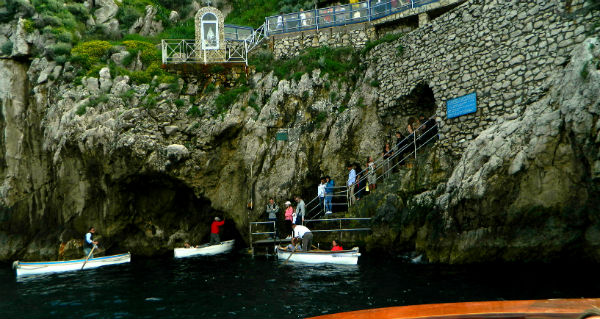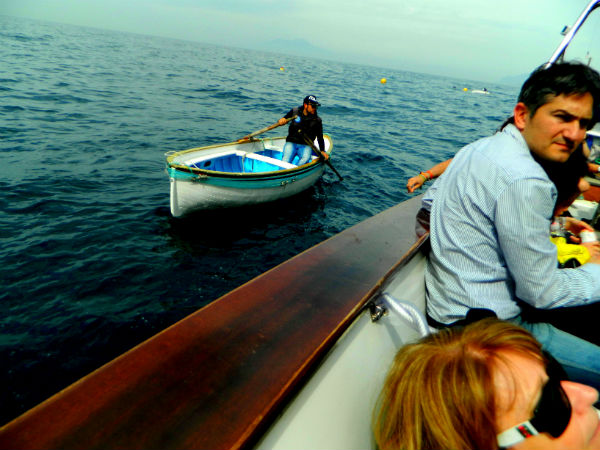 Now you are in the boat. The man rows you over to another boat where three men are sitting under an awning on a boat. These are the men that take your money as admission for The Blue Grotto. I think it cost us maybe 2 Euro each. We pay the fee and he rows us over to wait in line. When it is our turn. We have to lay as flat as possible in the boat. If not, we would hit our head on the rocks as we go thru the opening. The man with the oars, puts them down and grabs a chain that is along the rocks and goes into the opening of The Blue Grotto. He doesn't row us in, he pulls us in.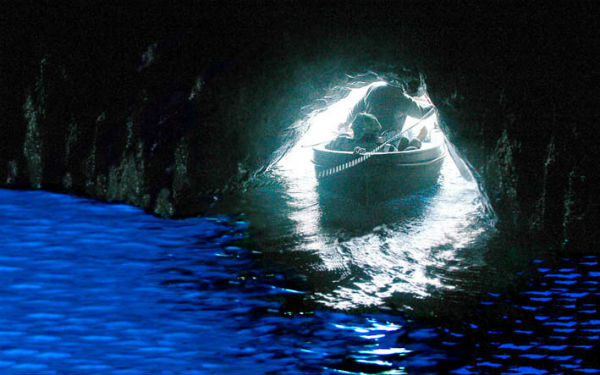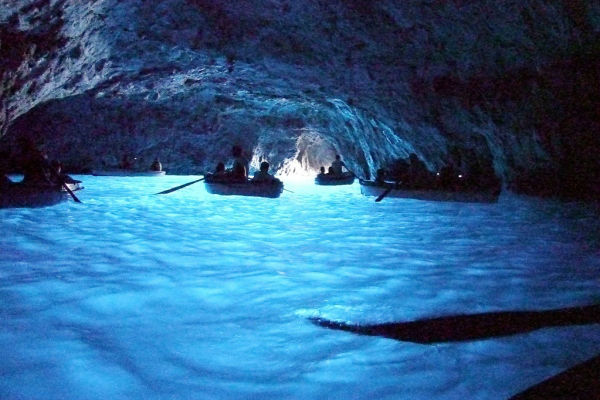 Once inside it is like a dream, a fairy tale, something like you have never seen. The cave opens up high enough for the man rowing us, to stand up. There is room for the boat to go around in circles. He sings Italian songs as we paddle thru. Songs like Oh Sole Mio, things you have heard before but never like this, never inside The Blue Grotto.
We make a few circles around inside the Blue Grotto. And he then takes out as he took us in, with us lying flat in the boat so not to hit our heads. This was an amazing part of our trip. Something we will never ever forgot.
Author:
My name is Joe and I have been a photographer and a traveler for many years. It seems I always liked taking photos ever since I was young. About 16 years ago I got serious about it. My wife and I like to travel thru Europe, Canada, the United States, and the Caribbean Islands. I would like to share our experiences here with you all to enjoy my photos and give you an idea of what its like to travel the world. If you have any questions please contact me via my email address iwanttogotherephoto@yahoo.com provided. Also, please go to my Facebook page and "LIKE" us. And if you would like to purchase any photos you see on my website please let me know thru email.