Top 8 places to visit in Greece in 2023
With a plethora of ruins from ancient times, sunny beaches, whitewashed cities, picturesque villages, Greece is ready to steal your hearts. It is one of the top-ranking travel destinations in Europe. Quite evidently so. The country looks straight out of some fairy tale book.
Greece doesn't need an introduction. If we talk about perfection, Greece can be an example of that. The riot of stunning landscape, pristine beaches, and historical sites make Greece an unmissable travel destination. If you are planning for a Greece vacation, you will be pampered with great food as well. The enchanting stories of Greek mythology are intertwined with the country's culture. It is going to give you a bit of trouble while choosing from the places to visit in Greece.
There is a lot to explore. Pick the best ones from a pool of beautiful places. Here is a list of the best places to visit in Greece that you must keep in your itinerary while planning your Greece vacation.
Best places to visit in Greece
1. Exploring Athens
The capital city of Greece has been the shelter for many for more than 3000 years now. Athens is often regarded as the birthplace of the concept of Democracy. It has also played an important role in paving the way for Western civilization. In recent times, Athens is a blend of its historical past and modern era. The city is famous for ancient ruins like the Acropolis, the Ancient Agora, the Parthenon, and the Theatre of Dionysos. These are just the popular ones, and there are many archaeological sites to explore in the capital city. Tourists often go on day trips from Athens. There are many guided tours in Athens. You can check them out as well.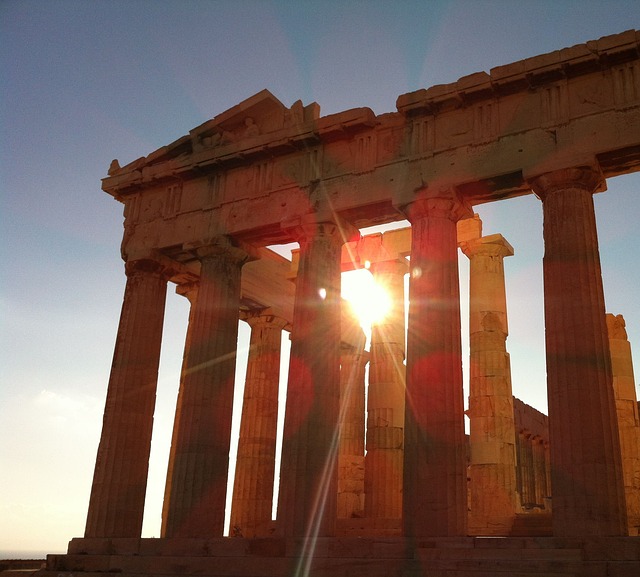 If you think Athens is just about ancient archaeological ruins, you are wrong. As Greece's capital, Athens is the center of business. The nightlife here is also on point. Don't forget to experience the modern vibes of Athens as well.
2. Greek Island hoping
You have to choose from about 2000 islands. Yes, that's a bit of a task. But this ensures your repeated visit to Greece. Most of the islands are open for tourists. Gorgeous beaches and active volcanoes add to the beauty of the islands.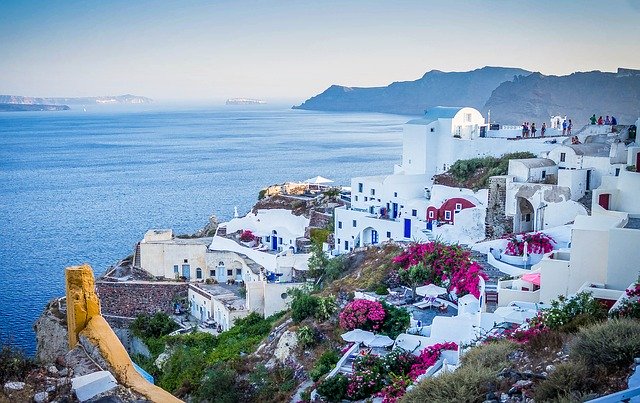 Santorini is one of the most popular islands. It is famous for its architectural aesthetics. Santorini is one of the best places to visit in Greece. Visit Mykonos for the narrow streets and its modern, cosmopolitan society. Whitewashed houses are there almost everywhere. Rhodes is one of the popular places to visit in Greece. Another famous site in Corfu. It has been ruled by many foreign powers and hence carries the legacy of a mixed culture.
3. Meteora Monastries
Meteora in Greek means 'suspended in the air'. The name itself quite efficiently describes the high cliffs that beautify the surroundings. The cliffs are about 1200 feet tall. The historical monasteries of Meteora are situated on the peak of the cliffs. Stories say that the monks while searching for spiritual isolation, created these monasteries. It was built between the 14th and 16th century AD to avoid religious persecution.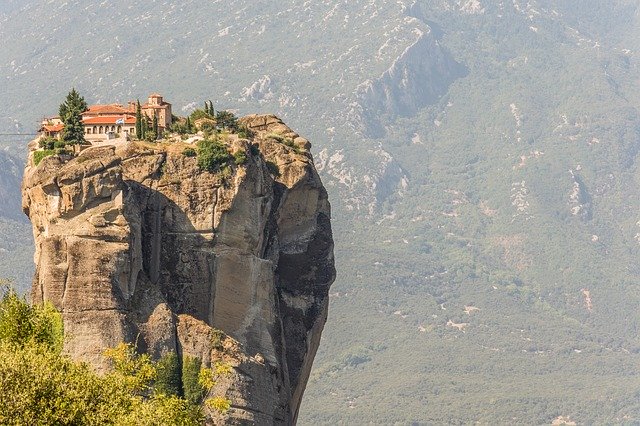 Located in north-central mainland Greece, the nearby village is Kalambaka. It is included on the UNESCO World Heritage List.
4. Delphi's archaeological ruins
Just to the next Acropolis, in terms of historical importance, is Delphi's archaeological site. It is one of the top favorite places to visit in Greece for tourists who love to explore the historical sites. It is just a drive away from Athens, about two and a half kilometers. Delphi used to be an essential oracle in its time and was dedicated to Apollo, the God. The main structure in Delphi is the Athenian Treasury, the temple of Apollo, and most importantly hippodrome. Hippodrome used to host ancient Pythian Games back in history.
5. Cape Sounion
Cape Sounion is situated at the southern tip of the peninsula of Attica. It has become popular because of the scenic beauty and the ancient Greek temple of the god of the sea, Poseidon. Watch the sunset over the Aegean Sea. It is one of the most sought-after views. Cape Sounion can be covered in a day trip from Athens.
6. Mount Athos
The mountain and a peninsula, all in one, Mount Athos are situated in the Northern part of the country. There are about twenty eastern orthodox monasteries. Over about 1400 monks reside in those monasteries. However, it is not a very tourist-friendly place. The entry inside is controlled, and they allow only males to enter.
7. Samaria Gorge
If you are someone who loves hiking, you must keep Samaria Gorge in your itinerary. It is a 16-kilometer-long canyon. Samaria Gorge is situated on the southwestern side of the largest Greek Island, Crete. It is just an easy walk down the gorge. It takes about four to seven hours. While walking, you will see the forests full of ancient cypresses and pines. It cuts between the high cliffs and emerges into the Libyan sea.
8. Mystras
The eerie lanes of Mystras will tell you the stories of an abandoned city. It is situated near ancient Sparta. The city served as the capital of the Peloponnesus for about two centuries. The relatives of the ancient Byzantine Emperor ruled it. It was inhabited by the Ottomans as well. However, it was abandoned in 1832. Now we have the breath-taking medieval ruins amidst the beautiful landscape waiting for us, welcoming us with its eerie stories. It is not that crowded and an ideal place for those who are looking for a secluded medieval ruin tour. One of the must-visit places to visit in Greece for those who want to avoid the crowd.
9. Thessaloniki
The second-largest city of Greece deserves a visit. This city is known as the cultural capital of Greece. If you want to have a taste of Greek culture, visit Thessaloniki. Byzantine walls, White Tower, food markets, art galleries, and museums make the city worth a day or two in your itinerary. While you are in Thessaloniki, do not miss the nightlife that the city has to offer.
10. Zagori
If natural beauty is what you are looking for, visit Zagori. It is one of the best places to visit in Greece. Two national parks in northwestern Greece is covered with dense forest and breathtaking mountains. Walk down the traditional villages, featuring the stone house to feel the history of the place. Do not miss the Vikos Gorge and other hiking trails that it has to offer.
Travel Tips
Already thrilled by the places and the pictures? You are planning your next trip to Greece, aren't you? Before planning your trip, here is everything that you need to know about Greece. It will surely take a piece of your heart away, but not when you do not know these things.
Best time to go
Mid-July to the end of August is the best time to visit Greece. However, you can visit any time throughout the year. April to November is usually less rainy. This time of the year has bright sunshine throughout the day. If you are planning sunbathing, try the month of June.
However, we would suggest you avoid the peak season. July and August are the busiest months. Though there are many things to do in Greece, everything will be extremely expensive during this time. Having said that, those months are the most vibrant and colorful months with awesome parties and nightlife.
Where to stay
Greece is not an overtly expensive country. You can look for budget stays from AirBnB. As there are so many things to do in Greece, it is always advisable to stay according to your plans. The famous cities and places for staying are Athens, Crete, Santorini, Mykonos, Corfu, Thessaloniki, Zakynthos, Rhodes, etc.
If you want a budget stay, you can also look for hostels. There many budget-friendly accommodations in Greece. It can be a bit away from a perfect view. But most of them are located in the touristy areas. Zorbar Hostel, Paraga Beach hostel, Athenstyle, My Cocoon Hostel, The Pink Palace are some of our favorite stays in Greece.
Budget tips
Wondering how to travel cheaply in and around Greece? Here are a few tips to remember while traveling around Greece.
Eat Cheap
It is quite easy to eat cheap in Greece. The street foods are to die for. Street snacks like Gyros will be quite filling as well as a lip-smacking dish. You will be able to wrap the per day food budget within 10-11 Euros.
Find untouched places
Greek is quite a cheap destination to travel around on a budget. You can make the travel even cheaper by avoiding super touristy places. IF you avoid popular destinations and look for the uncommon ones, you will have a better vacation within budget. There are many uncommon destinations to explore. They are cheap as well as beautiful and of course less crowded.
Share your ride
If you are flexible with times, travel as the locals do. There are many share-car services. The public mode of transport is also quite organized. Share your ride with locals or other tourists. That way you save money. Moreover, you get to meet new people. Who does not like meeting new travelers and locals during travel?
Overnight ferries
Overnight ferries will take you to different islands which are one of the best places to visit in Greece. They are budget-friendly. The inter-island ferries can cost you a fortune. The overnight ferries will be half the normal price. Moreover, it will save a night's accommodation. That saves quite a lot.
Visit during off-season
Avoid the month of August. The offseason is the cheapest. If you plan your visit before June, it will save you a few bucks. From hotel accommodation to travel expenses, everything will go down well in your pocket. The best places to visit in Greece are the cheapest during the offseason.
Mode of Transport in Greece
Traveling in Greece can be a bit tricky. While the easiest option is to hire a car, however, that is quite an expensive choice. Public transport is quite a thing in big cities. Athens has a well-connected subway system. The bus and tram system are also very well organized. However, in smaller cities buses are the only way out.
Greece has a lot of islands. Probably a few of them are there on your list of places to visit in Greece. The water transport in Greece is also on point. However, ferries are a bit expensive. You will have to book in advance. KTEL is the main bus system in Greece. It connects different cities and regions of Greece with each other. The websites are pretty outdated and you will have to be present physically at the bus station to book your tickets
Furthermore, we strongly advise you to avoid trains. They are dirty and off schedule most of the time. The train experience here in Greece will not be like any other European country. The price and timing of the trains fluctuate owing to the financial instability of the country.
Safety meter
Greece is a safe place to travel to. You can travel solo or with family and friends, Greece will welcome you with open hands. There is a very less amount of recorded violent attacks. You may come across petty crimes only when your luck is really bad. Due to the financial crisis, there can be a few pickpocketing cases. Greek police are quite attentive about the issue.
Even political unrest or protest do not affect the touristy area. They are particularly away from any such issues. The transport scam is also very less here in Greece. However, always listen to your gut. If you feel uncomfortable in any situation, be extra attentive about it.
Travel insurance is very important for hassle-free travel. It covers injury, cancellations, theft, and illness.
Endnote
Not just the beautiful Greek island hopping, explore the mainland as well, and it is stunning. The best way to know about a country's culture is to drink and eat as the locals do. Look out for the corners where locals come for dining. While ordering wine, go for the local barrelled wine. It is not just cheap; it is tasty as well.
Above all respect the Greeks and their culture, they will shower you with love and hospitality. You will fall in love with the country and will plan a few more trips to Greece in the coming years for sure.