Top Things to Do on a Vacation to Costa Rica
Costa Rica is a beautiful part of the world that has a lot to offer. Travel here and you will be spoiled for choice as the country boasts luxury resorts as well as lodging for those on a budget; excellent dining hotspots; a variety of wildlife spotting opportunities; great beaches; beautiful sunsets; all sorts of outdoor adventure activities to choose from; pampering options; a friendly culture; and more. Read on for a selection of top things you should do on a vacation to Costa Rica.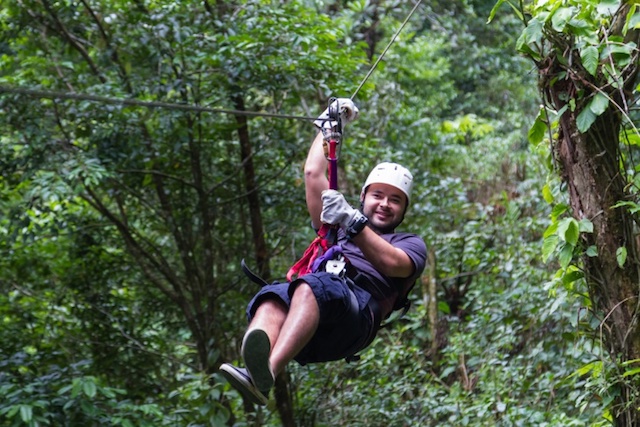 Enjoy the Beaches and Marine Life
Since Costa Rica is known for its amazing beaches, you should spend time by the sea. Costa Rica's beaches are numerous and diverse, boasting everything from white sugary sand to jungled micro-climates or situated on near-deserted rugged coasts with exotic black sands.
For good reason, the nation is incredibly popular with snorkelers and scuba divers. There are warm, crystal-clear waters to be explored all around, so you'll be spoiled for choice. One of the best spots is Drake Bay. "Bahia Drake," as it's named in Spanish, is located at the northern bit of Osa Peninsula and was named for the explorer Sir Francis Drake who discovered the scenic spot during global travels in the 16th century.
Remote and uncrowded, Drake Bay offers up amazing diving and snorkeling. In particular, head out to Cano Island, which lies around 13 miles off the coast. Here you'll find a protected marine park, where it's illegal to fish or harvest marine life and shells within a three-mile radius. As such, the area is teeming with sea creatures. Since there isn't much development here, the waters stay clearer and you won't have competition for space as you swim, snorkel and dive. In addition, seasonal rains in the vicinity don't have as much of an impact as they do in other parts of the country, which also keeps the sea clear. During your excursions, you may see sting rays, eels, reef sharks, turtles, whales (at certain times of the year when they migrate though) and a wide variety of fish and coral.
Check out Waterfalls
The beauty of Mother Nature doesn't stop at the beaches and ocean, either. In Costa Rica there are amazing waterfalls all over, many of which are best reached by hiking, mountain biking, horseback riding or even rappelling.
One waterfall that should be on everyone's list when they go to Costa Rica is the famous Rio Celeste Waterfall. It's located in Tenorio Volcano National Park in the northern region of Alajuela. The waterfall is quite otherworldly because of its amazing blue color. The unique blue is due to the unique combination of calcium carbonate and sulfur sourced from the volcano nearby. Due to this composition, the roaring waterfall actually looks like its glowing as it falls over the edge. Note that it is quite a lung-burning hike to get to the spot, but the sight is definitely worth the effort.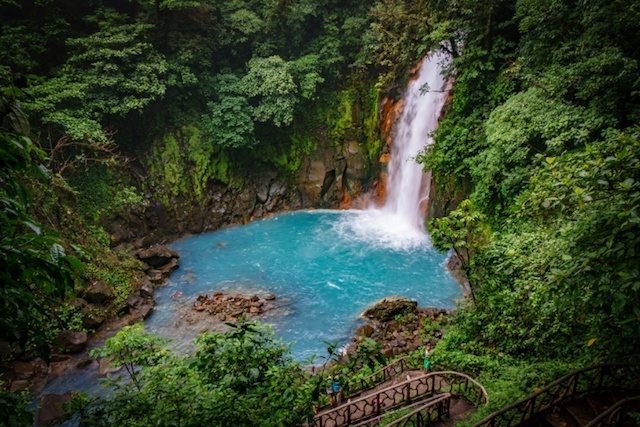 Explore the Arenal Area
Travelers to Costa Rica are also advised to spend time exploring the Arenal area. Situated in the northern part of the nation, here you will find the Arenal Volcano, which was once one of the most active volcanoes in the world. In 2010, the volcano's eruptive cycle paused, and the giant entered a resting phase.
While you're in Arenal, enjoy the hot springs, which occur thanks to the geothermal activity underneath the volcano. There are numerous springs to choose from, with a variety of facilities on site. Not only can you sit back and relax here, letting your body be soothed by the healing waters, but you can also take in great views of the sleeping mountain while you're at it.
Another, more active way to see not only the volcano but also the surrounding rainforests is via a zipline excursion. Sky Trek zipline tours are run by Sky Adventures, and they include a variety of lines which have customers soaring over the treetops, between canyons, and down mountains. If you're not keen on ziplining, then at least take the open-air gondola ride that begins the experience. This ride takes passengers up to an observation area 4,100 feet up, which obviously produces amazing views. The same company also runs walking tours that go across a series of hanging bridges located at the top of the forest canopy. On these Sky Walk tours, you will learn about the biodiversity of the area from naturalist guides.