26 Best Beaches in Florida with Clear Water
If you're planning a trip to Florida, chances are your first stop will be the beaches. The state is renowned for its crystal-clear waters and stunning white sand. Whether you want to go snorkeling, surfing, kayaking or just relax, you'll find the perfect spot in Florida.
If you're looking for inspiration on where to go on your beach vacation or just need some ideas for what to do while you're there, don't worry! We've done the hard work for you and have rounded up some of the best clear water beaches in Florida. Whether you're looking to spend a winter getaway or just a quick weekend away from it all, these beaches are sure to impress!
1. Jupiter
Jupiter, Florida is home to stunning beaches with crystal clear water. The warm climate of this South Florida city and the presence of the Gulf Stream make it an ideal spot for activities such as snorkeling, surfing, and paddle boarding. Boasting picture-perfect blue waters and temperatures that sit around 78 degrees year-round, it's no wonder why Jupiter is a popular spot for beach goers looking for a relaxing retreat.
Located on the southeast coast of Florida, Jupiter is known for its crystal-clear turquoise waters and white sands that stretch as far as the eye can see. With an easy-going atmosphere and plenty of natural beauty to explore, Jupiter makes for a perfect beach getaway. From great swimming spots and fun water activities to visiting the Loggerhead Marine life Center and the Jupiter Inlet Lighthouse, visitors will never be bored in this enchanting town.
2. Key West
Key West in Florida is known for its clear waters, due to the presence of coral reefs. While its sandy beaches are rare, the water visibility is crystal clear. Clearwater Beach, one of the most beautiful beaches in the country, offers clear emerald-green waters and white sands for activities such as swimming, sunbathing, kayaking and fishing. The Florida Keys are known for their stunning waters including those of Key West, popular for snorkeling and scuba diving.
3. Biscayne National Park
Biscayne National Park, located in South Florida, boasts 95% water coverage and offers crystal-clear waters for boating, swimming, and snorkeling. The park offers tours, such as the Heritage of Biscayne Tour, for visitors to appreciate the beauty of Florida's turquoise waters and marine life, including dolphins and sea turtles. The park is also near Everglades National Park, where visitors can take an airboat ride or canoe through mangrove tunnels to view wildlife such as gators and wading birds.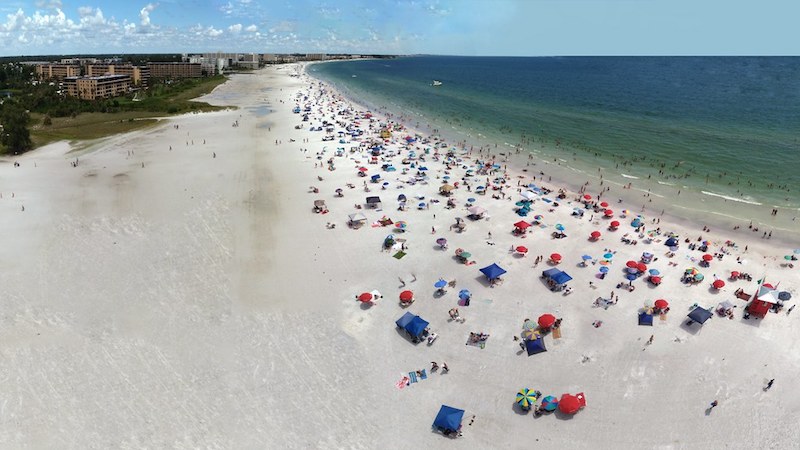 4. Siesta Key
Siesta Key is a picturesque island off the coast of Sarasota, Florida known for its warm and sunny climate, clear turquoise waters, and soft white quartz sand beach. With towering palm trees and a variety of activities—such as swimming, snorkeling, yoga, and jet skiing—it's a popular destination. The water is crystal clear and rich in marine life. Every Sunday you'll find an exciting drum circle on the beach.
5. Dry Tortugas
Dry Tortugas National Park, 70 miles west of Key West, boasts awe-inspiring crystal-clear waters for boating, swimming, and snorkeling. Comprising of seven islands, it offers camping and snorkeling opportunities near the only coral reef system in the US. Florida, known for its clear blue waters and stunning beaches, attracts visitors with its historic fort and pristine white sand beaches. The park's clearest waters can be best enjoyed between November and April when wind patterns are calmest.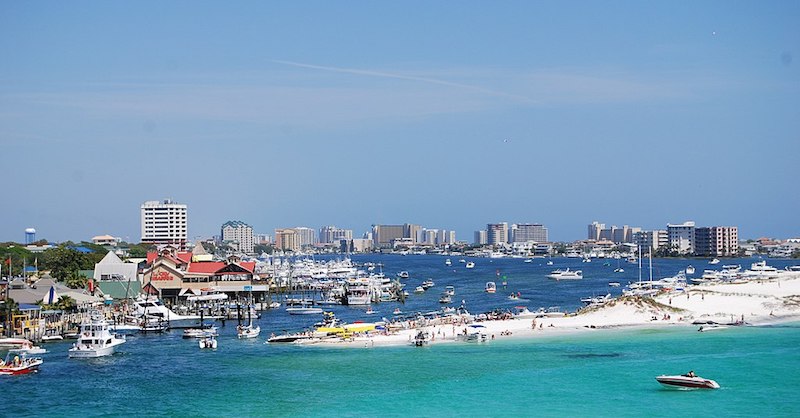 6. Destin
Destin, located on Florida's Gulf Coast, is a picturesque beach town famous for its clear waters and white sand beaches. It is situated in the Emerald Coast region on the Florida panhandle and offers close proximity to nature preserves and a range of outdoor activities like fishing, kayaking, paddleboarding, and parasailing. With a lively nightlife including clubs, bars, live music venues and upscale restaurants, Destin is a complete package for beach-goers.
Destin is known for its stunning waters, with its white sand shoreline and Choctawhatchee Bay filtering out any residue, resulting in crystal clear and emerald green waters. It's no wonder why it is considered one of the best blue water beaches in Florida.
The Emerald Coast, including Destin and Fort Walton Beach, is famous for its crystal-clear waters. With 24 miles of stunning sandy beaches, Henderson Beach State Park offers endless opportunities for swimming and enjoying the scenery. This makes it a must-visit destination for those seeking to experience the best of Florida's beaches.
Destin is renowned for its crystal-clear waters and sandy beaches, making it a perfect spot for sun-seeking vacationers. While relaxing on the white sand shorelines, visitors can indulge in activities such as deep sea fishing, golfing, and sightseeing at the Destin Harbor Boardwalk before splashing in Big Kahuna's Water Park or Gulfarium Marine Adventure Park.
7. Miami
The waters of Florida are known for their beautiful crystal-clear visibility, but places such as Miami and Fort Lauderdale offer a special treat. Thanks to the clean tides and abundant marine life, you can experience the same vibrant blue waters of the Keys without having to make the road trip down south!
Florida's South Beach is renowned for its beautiful, crystal-clear waters. Located near Miami, the beach's waters allow visitors to easily spot fish swimming nearby. Additionally, South Beach offers plenty of amenities like showers, volleyball courts and beach items for rent. Visitors can even enjoy numerous recreational water activities.
8. Bahia Honda State Park
Florida offers breathtaking waterfront views at Bahia Honda State Park. With soft white sand, lush palm trees and crystal clear water, it's perfect for a day trip.
Snorkeling in Florida's clear waters is a must-try activity. Rent gear at the park or take a boat to the Looe Key National Marine Sanctuary for an incredible marine experience.
Bahia Honda State Park in the Keys is famous for its turquoise waters perfect for snorkeling, swimming and beach views. Enjoy a memorable visit at this beautiful spot.
Clear Water State Park in Florida boasts miles of pristine beaches for swimming, beachcombing, and relaxing. Rent a kayak, bring a camping chair, and enjoy the clear waters, gentle waves, and white sands. The park offers snack bars and restaurants.
Clear waters in Florida make it a great spot for snorkeling and observing sea life. Low tide offers a spectacular view of the underwater world, including marine animals like lobsters and conch shells. Great for kids who may not snorkel.
9. Marco Island
Florida's state parks offer a variety of experiences for visitors. At Tigertail Beach in Clearwater, you can find a bustling environment, but still have enough space to relax and enjoy the beauty. For a more secluded beach experience, Keewaydin Island in Marco Island provides access by boat and offers stunning views and clear waters.
Cedar Key in Florida offers crystal-clear waters with excellent visibility, making it a great spot for snorkeling and exploring marine life. Located near the Nature Coast, this small island provides opportunities for observing wildlife, including loggerhead sea turtles and a variety of seashells. Rookery Bay National Estuarine Research Reserve is also nearby for visitors to explore.
10. Honeymoon Island State Park
A tropical paradise located off the coast of Tampa, Honeymoon Island is a popular destination for beachgoers looking to soak in all the beauty that Florida has to offer. The island is home to sparkling white sand and crystal clear waters reminiscent of those found in the Caribbean. Guests can also enjoy bird watching, with many species inhabiting the area such as pelicans, eagles and osprey.
The crystal clear waters of Florida's Honeymoon Island are truly stunning. Visiting in February, we were blessed with balmy temperatures that allowed us to swim and bask in the warm sunshine. Our kids had a blast playing in the powdery white sands, creating sandcastles and collecting shells. Nothing could have made our time there better!
11. Caladesi Island
Clearwater, Florida is famous for its clear waters and stunning beaches. Caladesi Island, accessible only by ferry, offers tranquil surroundings and crystal-clear turquoise waters. With fewer visitors, it's a peaceful place for relaxation and incredible views. The area is perfect for swimming and snorkeling, with warm water throughout the year and plenty of walking trails for shell collecting. Whether you're seeking adventure or a sunset at Pier 60, Clearwater has something for everyone.
12. Sanibel Island
Florida's Sanibel Island is a world-renown destination for picturesque, crystal clear blue waters and an abundance of shells. Just off the coast of Fort Myers, this Gulf of Mexico island boasts over 245 varieties of shells, making it the "Shelling Capital of the World." If you want to bask in pure bliss and collect some unique seashells, head to Sanibel Island today!
Water clarity in Florida is nothing short of amazing. With over 1,700 miles of coastline, the state's clear and pristine waters are a draw for visitors from all over the world. From swimming with manatees in Crystal River to snorkeling over coral reefs off Key West, there are plenty of opportunities to experience the beauty of these Caribbean-like waters. In addition to these activities, visitors can also explore 25 miles of bike paths and numerous outdoor preserves to spot alligators, birds, and other wildlife.
One of the top spots in Florida for kayaking through mangroves and exploring a stunning shoreline is Lovers Key State Park. Famous for its picturesque waters that are as clear as glass, visitors to the park can enjoy all sorts of fun activities such as gathering shells, spotting starfish and simply admiring the breathtaking views. Weekdays are especially a great time to visit as it's much less crowded!
13. Anna Maria Island
Anna Maria Island in Florida is home to some of the clearest, most pristine water you can find. This serene area is located just south of Sarasota and is an excellent alternative for those seeking a more private beach experience than the popular Siesta Key. Here, visitors can enjoy brilliant emerald-green waters and an abundance of pristine beaches.
Located on the Gulf Coast in sunny Florida, Water Clear is a picturesque destination perfect for a romantic couples trip or family getaway. Its tranquil atmosphere embraces you as soon as you arrive and its beautiful beaches with their dazzling white sand should not be missed! Spend a day soaking up the sun and listening to the waves crashing against the shore, this will truly make your vacation one to remember.
14. North Captiva Island
North Captiva Island, located off the coast of Florida, is well known for its clear, sparkling waters and beautiful white sandy beaches. It has a laid-back atmosphere perfect for those looking to enjoy some time away from the busy city life and get closer to nature. What makes it unique is the fact that it's split into two parts – one side is residential while the other is a nature preserve. Its proximity to Florida means visitors can enjoy crystal-clear water and easy access to food, lodging, and activities.
Looking for some peace and quiet? Water Clear Florida may be the perfect spot for you! Located off the coast of Florida, it can only be accessed by private boat, plane, or ferry. With around seven daily ferry rides available, you won't have to worry about large crowds. Whether you're looking to sunbathe on its pristine beaches or embark on an adventure-filled getaway, Water Clear Florida has something to offer everyone looking for a Caribbean beach vacation.
15. Fort De Soto State Park
This sparkling beach is a wonder to behold during quiet weeks and off-season times, with relatively fewer visitors here compared to the bustling weekends. Plan a visit and experience what makes this beach so special!
From swimming and beach play to spotting dolphins in the wild, you'll find plenty of activities to keep yourself entertained! Shell seekers will also be delighted to discover that the area is rich in unique shells found along the shoreline.
The campground offers 236 sites with utilities, picnic areas, laundry, and grills – everything you need for the perfect outdoor getaway. So don your swimming gear and explore Florida's clear waters!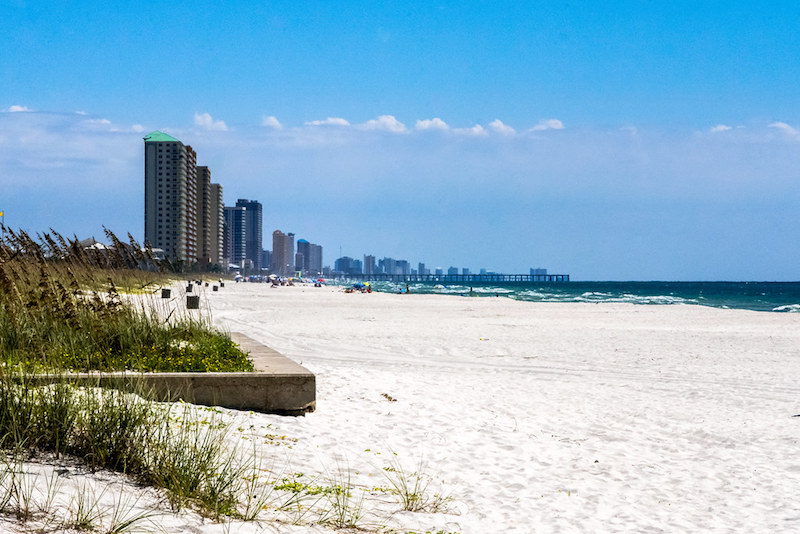 16. Panama City Beach
Panama City Beach on the east coast of Florida is known for its crystal-clear waters. Its 27 miles of seashore, stretch along choctawhatchee Bay and provide beautiful blue-water views. Two state parks let you take in some of the most breathtaking scenes along the beachfront, without missing out on other attractions!
The emerald green waters of Florida's Panama City Beach beckon tourists and locals alike. Known for its stunning beaches and clear Gulf of Mexico waters, the area is a great spot to go fishing, observe native wildlife, and enjoy other outdoor activities.
17. Rosemary Beach
Ready to hit the beach on Florida's Emerald Coast? For families seeking a spot with stunningly clear water, head to Rosemary Beach! Despite being less well-known than some of the other beaches in this region, more and more people have been discovering its beauty, making it an ideal spot for a sun-soaked vacation.
Florida is well known for its stunning, clear blue waters and Rosemary beach does not disappoint. Although the area does not have public beaches, those staying in accommodations including the beach access as part of their stay will be able to enjoy the untouched, sandy beaches with its crisp blue waters of clear Florida.
18. St Augustine
The historic town of St. Augustine, Florida is a treasure trove of history, beauty and clear waters. The town's charming cobblestone streets and Spanish architecture transport visitors back in time. And the beaches? Simply stunning! Clearwater, Florida is the ultimate destination for those seeking a unique and relaxed getaway. With its white-sand beaches, crystal clear water and endless activities—from boating in the Gulf of Mexico to lakeside excursions—Clearwater is the perfect place for a family vacation surrounded by natural beauty.
Florida's coastline is renowned for its crystal-clear waters and pristine beaches, offering visitors a chance to explore the state's rich history and natural beauty. Take a climb to the top of a lighthouse, visit an old fort, or simply bask in the sun on the shoreline of St. Augustine. The water here is so clear that you can see the bottom from the deepest depths! Florida's waterways are among the clearest and most beautiful in the world, making it a haven for outdoor enthusiasts. From rivers and lakes to the turquoise waves of the Gulf Coast, Florida has something for everyone—from snorkeling to kayaking adventures along its famous beaches.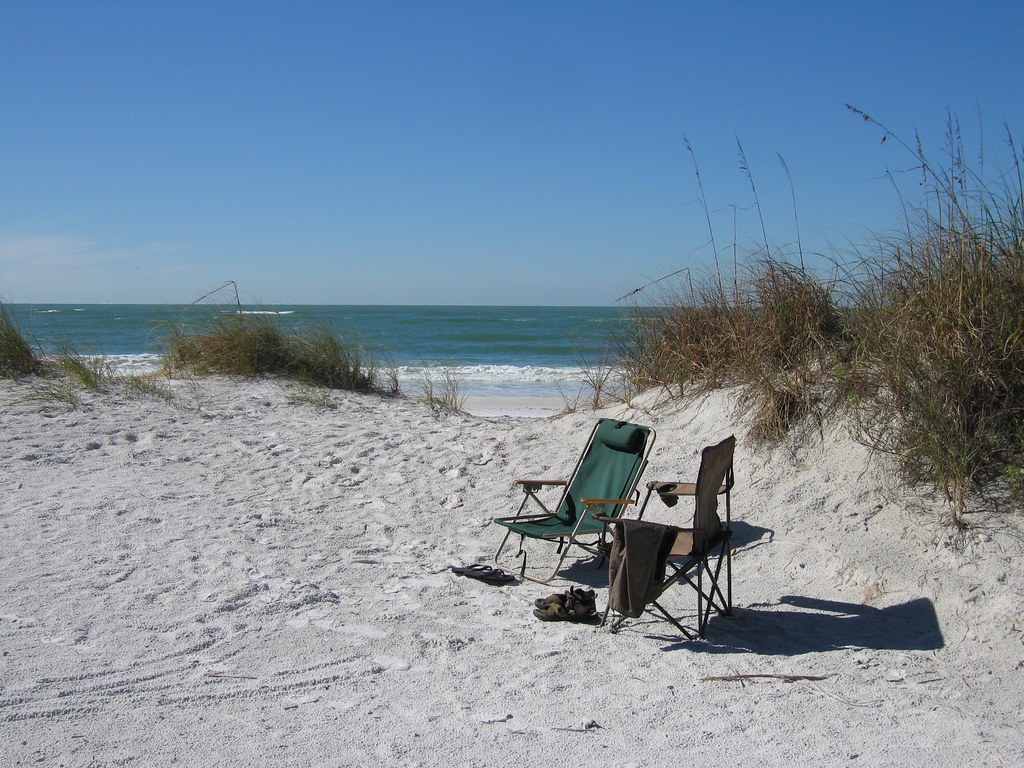 19. Tampa
Tampa Bay is home to Egmont and Passage Keys, two of the best places to experience Florida's signature gin-clear waters. Egon Key boasts a stunning beach with awe-inspiring views, while Passage Key's white sand bottom makes it an ideal spot for sandbar lounging. Whether you're seeking a relaxing destination or an exciting nautical adventure, these two islands have what that you're looking for in water clarity and overall atmosphere.
20. New Smyrna Beach
Clear blue water makes New Smyrna Beach one of Florida's most iconic attractions. Easily accessible by car, this beach offers seclusion and spectacular views – a perfect backdrop to relax and take in the beauty of the Sunshine State.
New Smyrna Beach, Florida is known for its crystal clear water and 17 miles of coastline. It's a popular destination for surfers seeking some of the best waves in the state. Lined with art boutique shops and pleasant downtown areas, New Smyrna Beach has something to offer for everyone!
21. Rock Springs
Rock Springs at Kelly Park, just outside Orlando, Florida is known for its mesmerizing crystal clear and turquoise waters. The spring releases water from an underground river at a rate of 26,000 gallons per minute, creating inviting swimming areas. Whether you want to float leisurely or swim laps, the Blue Spring State Park is the ideal place to spend a day surrounded by the beauty of Florida's gorgeous waters.
If you're searching for a clear river to explore, the Rock Springs Run is the perfect choice. This 8-mile paddling trail offers a serene experience as you float or kayak through a subtropical forest. The crystal-clear waters make it the ideal place to cool off on a hot summer day, and you'll even eventually come to the Wekiwa Springs Run for even more enjoyment!
For a chance to experience Florida's famous crystal-clear waters, head to Kelly Park Day area. Located near Rock Springs, this popular destination has something for everyone. Take a picnic, walk the nature trails, let the kids play on the playground, or dive into one of the pristine swimming pools – all surrounded by vivid natural scenery!
22. Crystal River
For those seeking to immerse themselves in crystal-clear waters, the Hunter Springs Park in Crystal River, Florida is the perfect place. Visitors can enjoy the spring's boardwalk, beach, playground, and kayak launch. During the winter, the park is particularly popular for its close encounters with manatees.
From November to March, manatees flock to the warm waters of the Crystal River, making it an extraordinary destination for an up-close encounter with these gentle giants. Take a kayak out on the water and marvel at the manatees, making it a fun family adventure.
Florida boasts an abundance of stunning, clear springs, from the Rainbow Springs in Dunnellon to Wekiwa Springs State Park near Orlando. With waters that are crystal-clear and remain at a comfortable 72°F year-round, these springs offer breathtaking views and diverse wildlife for swimming and paddling enthusiasts.
23. Silver Gel Run
If you're searching for the ultimate clear water experience in Florida, Silver Glen Run and Rainbow River are two must-visit destinations. These springs boast crystal-clear waters that can be explored by boat. Don't miss out on the chance to swim in the clearest waters in Florida during your vacation!
Silver Glen Run is a highly sought-after spot for boaters, particularly on weekends during the summer. The water is crystal-clear, with a pool-like quality, and remains a refreshing 72°F year-round, making it a great destination at any time.
Rainbow River in Florida is renowned for its crystal-clear waters and is a top destination for boaters from around the world. The river originates from Rainbow Springs State Park and flows south to eventually join the Withlacoochee River before emptying into the Gulf of Mexico. Take a boat trip upstream and experience the even clearer water near the spring head.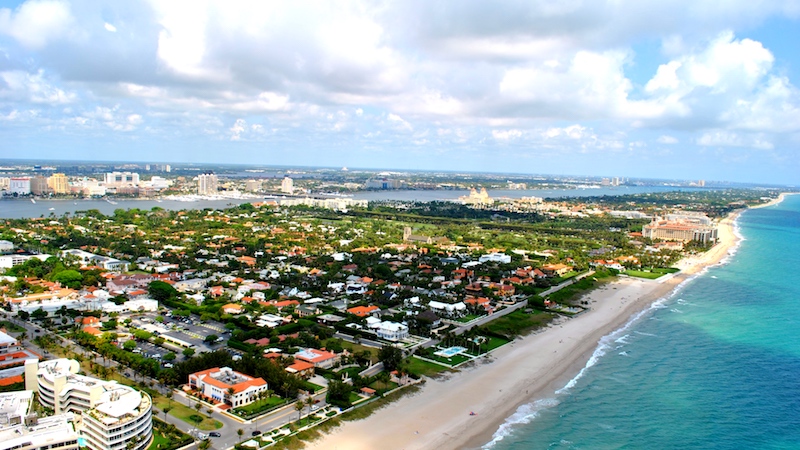 24. Palm Beach
Peanut Island offers a picturesque setting with crystal-clear waters and a beach, making it a popular spot for boaters, swimmers, and beachgoers. Whether you're fishing, diving, or simply enjoying the sun and sand (or all three!), Palm Beach is an ideal destination on your next trip to Florida's West Coast. With its breathtaking scenery and abundance of marine life (including dolphins), you'll find that Palm Beach offers the ultimate boating experience in Florida.
25. Sarasota
Sarasota is a popular destination for outdoor enthusiasts who want to enjoy the waters of Florida. From Midnight Pass and Jewfish Key to North Lido Beach, boaters love venturing out onto the open waters of Sarasota where they can take in beautiful scenery that lies beneath the surface.
26. Boca Grande
Boca Grande in Florida is a wonderful place to experience the beauty of clear waters. Boating destinations like Cayo Costa, Useppa, Cabbage Key and North Captiva, Little Gasparilla and Boca Grande are nearby. The water here is remarkable in the spring when it is filled with deep blue color and clarity.
Is Florida famous for its blue water beaches?
Yes, Florida is well-known for its beautiful blue waters and is a popular destination for water enthusiasts and beachgoers. The coastline of Florida offers white sand beaches that are ideal for swimming, surfing, kayaking, snorkeling, and more – all taking advantage of the crystal clear waters and warm Gulf Stream temperatures.
Where can you find the clearest water in Florida?
The clearest waters in Florida can be found in the area from Destin to Panama City. This area boasts an abundance of crystal clear blue waters and has earned the state's prestigious Blue Wave Beach Award for its exceptional clarity and beauty. Plan your next vacation to this stunning destination and witness Florida's most magnificent waters.
Is there crystal clear water in Florida?
Yes, Florida is home to many crystal clear waters, from the Florida Keys to Clearwater and Fort Myers on the Gulf Coast. Whether you're snorkeling in the Keys or soaking up the sun on the coast, you can expect to be surrounded by breathtaking shades of blue and green.
Conclusion
Florida is known for its beautiful beaches, crystal-clear waters, and warm climate. It's no wonder why so many people flock to the Sunshine State every year for a fun-filled vacation. From white sands in the Florida Keys to emerald vegetation in the Panhandle, there's something special about each beach in this coastal state. So pack your suitcase and come visit one of Florida's iconic cities or secluded islands to experience some of the clearest water on the planet!
Clear water in Florida is aplenty. From the Gulf Coast to Atlantic Ocean beaches, there's something for everyone and every kind of beach-goer. Whether it be swimming, fishing, or simply lounging, visitors are rewarded with miles of stunning shorelines and stunning blue waters. If you're ever looking for a romantic beach getaway or an exciting family trip, Florida's many picturesque coastal retreats may be just what you need!