15 Best Disney Family Shirts to Check out Before Going to Disneyland (2023)
The festive season is almost knocking at the door; it is enough a reason to get into the shopping mode. Families and friends gather around this time celebrate. You are probably thinking of going to Disneyland during this time. A family trip to Disneyland calls for Disney family shirts.
If you are a Disney fan, you already are aware of the variety of Disney products that go around in the market. Disney family shirts are one of the most popular ones. Disney parks are full of parents and kids wearing the matching family Disney shirts. Some wear the classic Mickey and Minnie shirts, while some go for a few off-beat ones. Toy story cast, Star Wars characters, the seven dwarfs from Snow White, Captain Hook, everyone has their space in Disney merchandise.
Disneyland across the world
There are six Disneyland or castle parks across the world. The six cities are California, Florida, Tokyo, Shanghai, Paris, Hong Kong.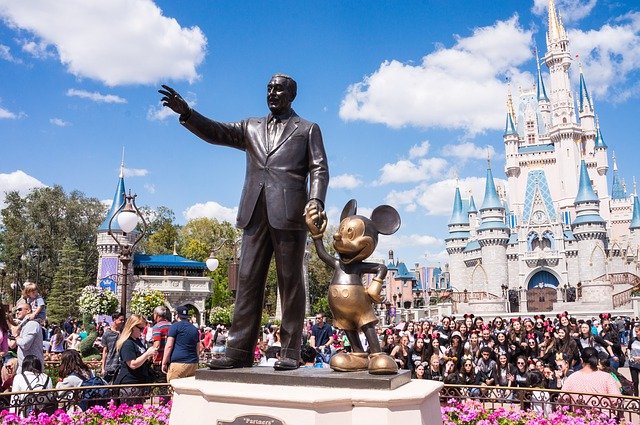 Disneyland in USA
There are two Disneyland in the United States of America. The resort in California has only one castle park called Disneyland and another park called Disney California Adventure. The World resort in Florida is more famous for its four extraordinary parks. One castle park, known as Magic Kingdom and three other parks – Animal Kingdom, Epcot, and Hollywood resort. Each of the parks is special. They give us the experience of a lifetime. You will be in awe of the parks and its amazing features.
Top 15 Disney Family shirts
You can find a lot of Disney family shirts on the internet. But to make your work a bit easier, here are a few Disney family t shirts we have listed for you. You can check them out before hitting the vast online market to buy one of these cute ones.
The classic minimalist Mickey and Minnie t shirts
The very first one on the list is a bit of a minimalist one. This classic mickey and Minnie mouse family t shirts can be customized with the names. It comes in three different colors, Black, white, red, and grey. But we think Black is the real winner here. With the white outline and red bow, the black Disney family shirts are a great buy. Most importantly, they are one of the cutest ones available in the market.
Link: https://www.etsy.com/in-en/listing/615516049/disney-family-shirts-mickey-and-minnie
Pocket pinch – US$ 9.89+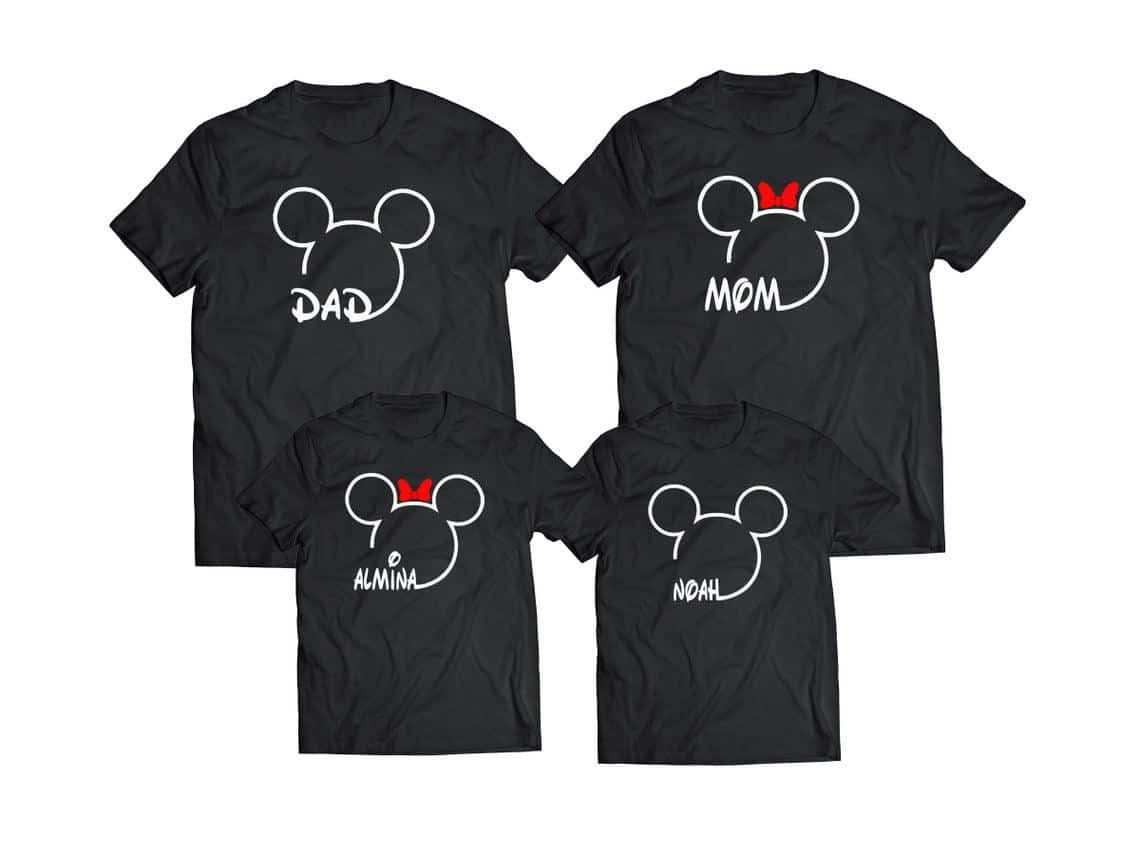 Social distancing Mickey-Minnie t shirts
This year has been all about social distancing and quarantining. Thanks to the pandemic, we all have been forced to stay indoors for a prolonged period. Our social behavior has changed because of that. How could that not reflect on our Disney t shirts? The new social distancing year has made its way to the Disney family shirts. We are in absolute love with these. They have a social message as well as all the Disney flavors to it.
Link: https://www.etsy.com/listing/790016726/family-disney-shirts-disney-shirts
Pocket Pinch – US$ 13.76+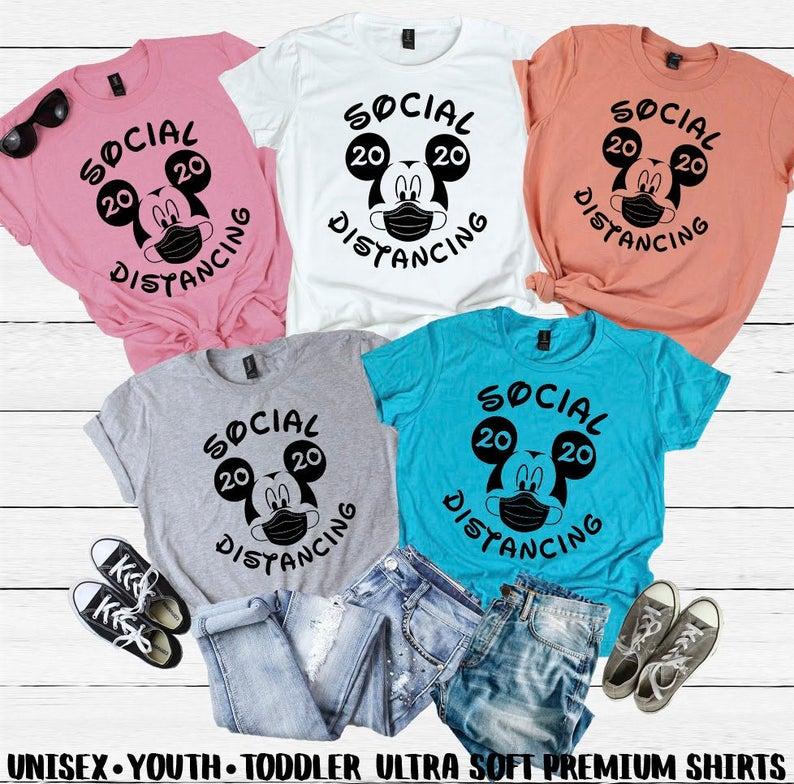 Captain Hook's Crew Shirts
One of the most sought-after villains amongst the Disney characters, Captain Hook has been entertaining the fans for a long time now. Peter Pan's terrific enemy, Captain Hook has always been a favorite for many. Captain Hook's crew shirts are the best Disney family shirts to go for this year. They are available in different shapes and sizes. They even have onesies for the toddlers.
Link: https://www.etsy.com/listing/711350945/disney-cruise-shirts-disney-family
Pocket Pinch: US$ 9.99+
Hakuna Matata
If you ask for the most popular phrase from Disney world. It will be Hakuna Matata. Because it means no worries. Simba along with Timon and Pumbaa, within the Mickey ear outline, is one of the coolest things to look out for. It also comes with a nice animal print bow. The bow definitely will jazz up the look of the t-shirts. Wander around the animal kingdom wearing the best Disney world family shirts. That, my friend, is called quality time.
Link: https://www.etsy.com/listing/692149386/disney-family-shirts-mickey-and-minnie
Pocket Pinch: US$ 8.79+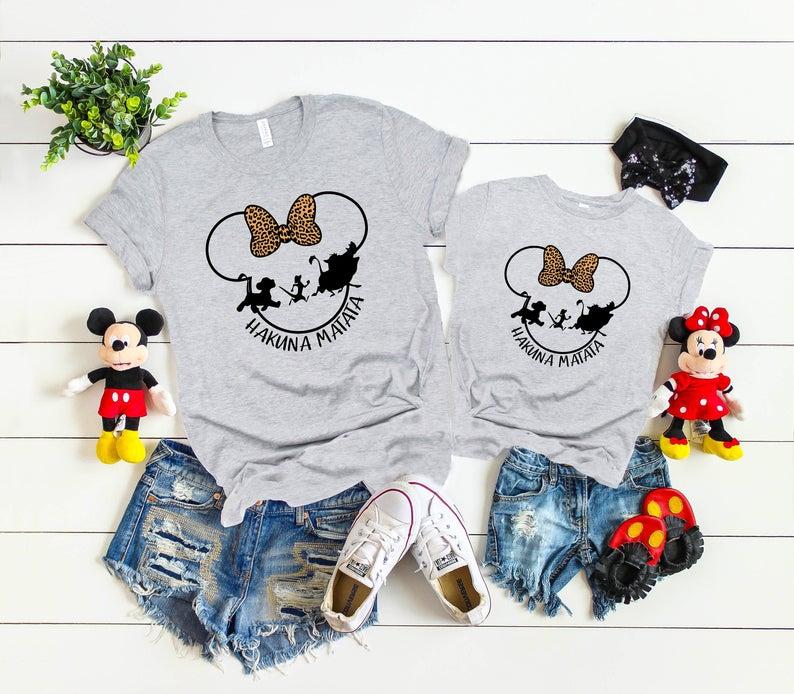 Seven Dwarfs t shirts
One of the very first memories of Disney characters involves Snow White and the seven dwarfs. Many have been introduced to Disney characters with these cute ones. With the seven different types of t-shirts, you can assign them to each of the family members. For instance, Dad can be Doc or Grumpy (if he is a bit like that). You can pick 'Sleepy' either for yourself or for your siblings. Mom can easily be Happy.
Link: https://www.etsy.com/listing/711914437/seven-dwarfs-shirts-snow-white-shirt
Pocket Pinch: US$ 18.99+
Star Wars. Ft, Mickey, and Minnie
One could complain that family Disney shirt ideas are pretty basic. They lack the innovations and collaboration of different characters. With the Star Wars t-shirts showing up, no one can do that anymore. The iconic stormtroopers come with or without a Minnie bow. On your next trip to Disneyland, wear these awesome t-shirts. You will be the coolest family out there.
Link: https://www.etsy.com/listing/631776131/mickey-and-minnie-star-wars-stormtrooper
Pocket Pinch: US$ 15.89+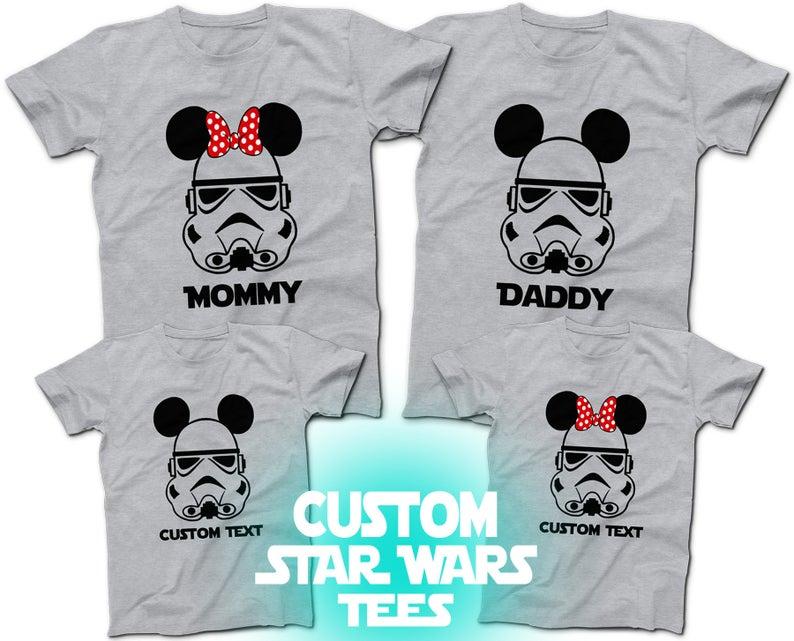 Disney Family Vacation Shirts
True to its words, the Disneyland trip is incomplete without Disney family vacation shirts. These are designed to keep Disney world park in mind. It has the four iconic world park zones – Magic Kingdom, Animal Kingdom, Hollywood Studios, and Epcot. Moreover, they come in different colors and sizes. So, you have a variety to choose from.
Link: https://www.etsy.com/in-en/listing/655068636/disney-family-shirts-disney-family
Pocket Pinch: US$ 13.56+
Mask it on Shirts
The world after the pandemic is very different from the world, we were living in. With the changing social behavior, a mask has become an integral part of our lives. Disney family shirts have also incorporated the same. Physical distancing and mask is one big introduction to our lives, how can Disney shirts stay away from it? So, here you go! 2020 special addition should make a place on your wardrobe.
Link: https://www.etsy.com/in-en/listing/828960427/disney-social-distance-shirtsdisney
Pocket Pinch: US$ 8.79+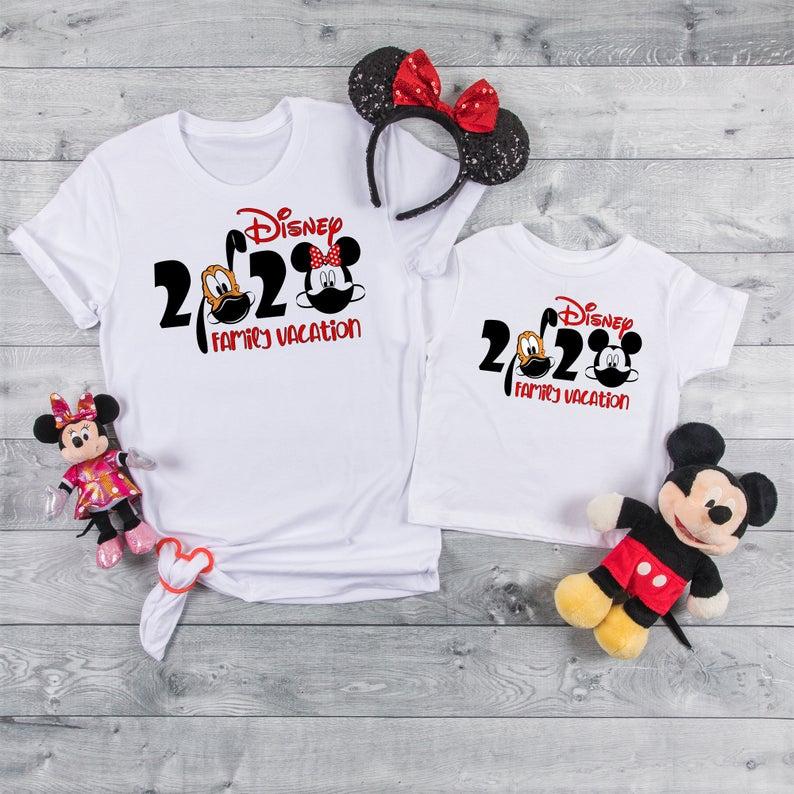 Happy Place
Disneyland is indeed a happy place. Disney family shirts have come up with a design that resonates with the same feeling. Though this is primarily women's t-shirts. It is perfect for two mommies and their kids. No matter how the year goes, a trip to Disneyland brings happiness instantly. These t-shirts do the same.
Link: https://www.etsy.com/in-en/listing/699218603/my-happy-place-disney-shirt-disney
Pocket Pinch – US$ 14.70+
Best Day t shirts
Disneyland is an experience. The trip to Disneyland will be remembered forever. Why not mark it with the 'Best Day Ever' trip. That is how it is, no? The t-shirt has a retro look. You will instantly fall in love with the shirt. One of the best Disney family shirts to possess.
Link: https://www.etsy.com/in-en/listing/791538597/best-day-ever-tee-shirt-disney-shirt-wdw
Pocket Pinch: US$ 24.99+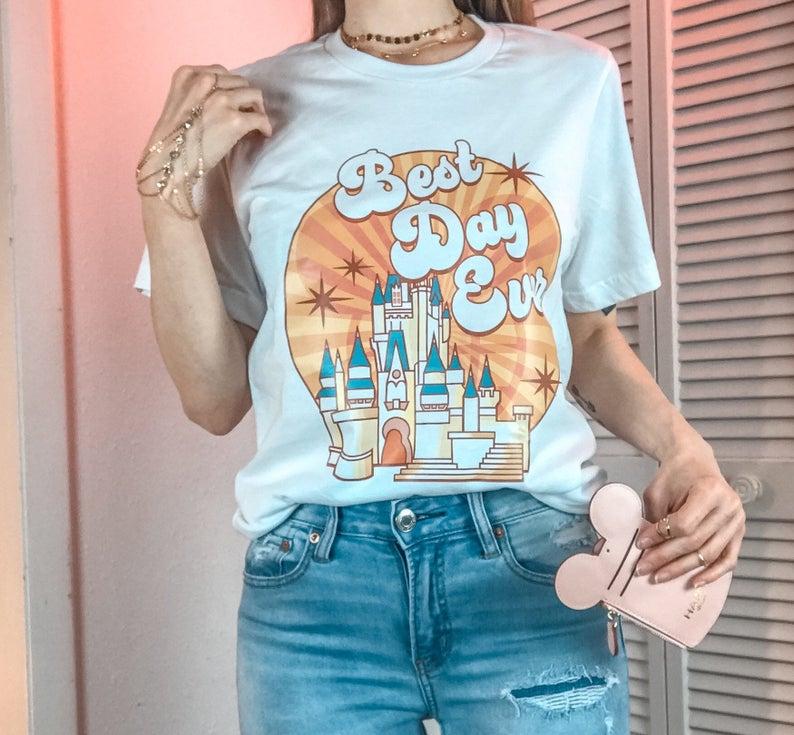 Couple t shirts
Are you done adulting? Are you ready to hit the roads to Disneyland with your better half? Yes, this shirt is for the family with no kids. Adulting is tough. But it does not mean you need to give up on everything that you loved as a kid. The t-shirt says, "I'm done adulting, I'm going to Disneyland". Can't help but fall in love with the tees.
Link: https://www.etsy.com/in-en/listing/820600374/im-done-adulting-shirtdisney-custom
Pocket Pinch: US$ 10.96+
Squad Goals
Squad goals on point. This is the best t-shirt for the family that has become a squad of cool parents and kids. It is available with Mickey and Minnie's outline. The shirts are comfy. Among all other Disney family shirts, this one is the coolest. It has the year inscribed in it.
Link: https://www.etsy.com/in-en/listing/772441583/disney-squad-family-vacation-tshirts
Pocket Pinch: US$ 10.99+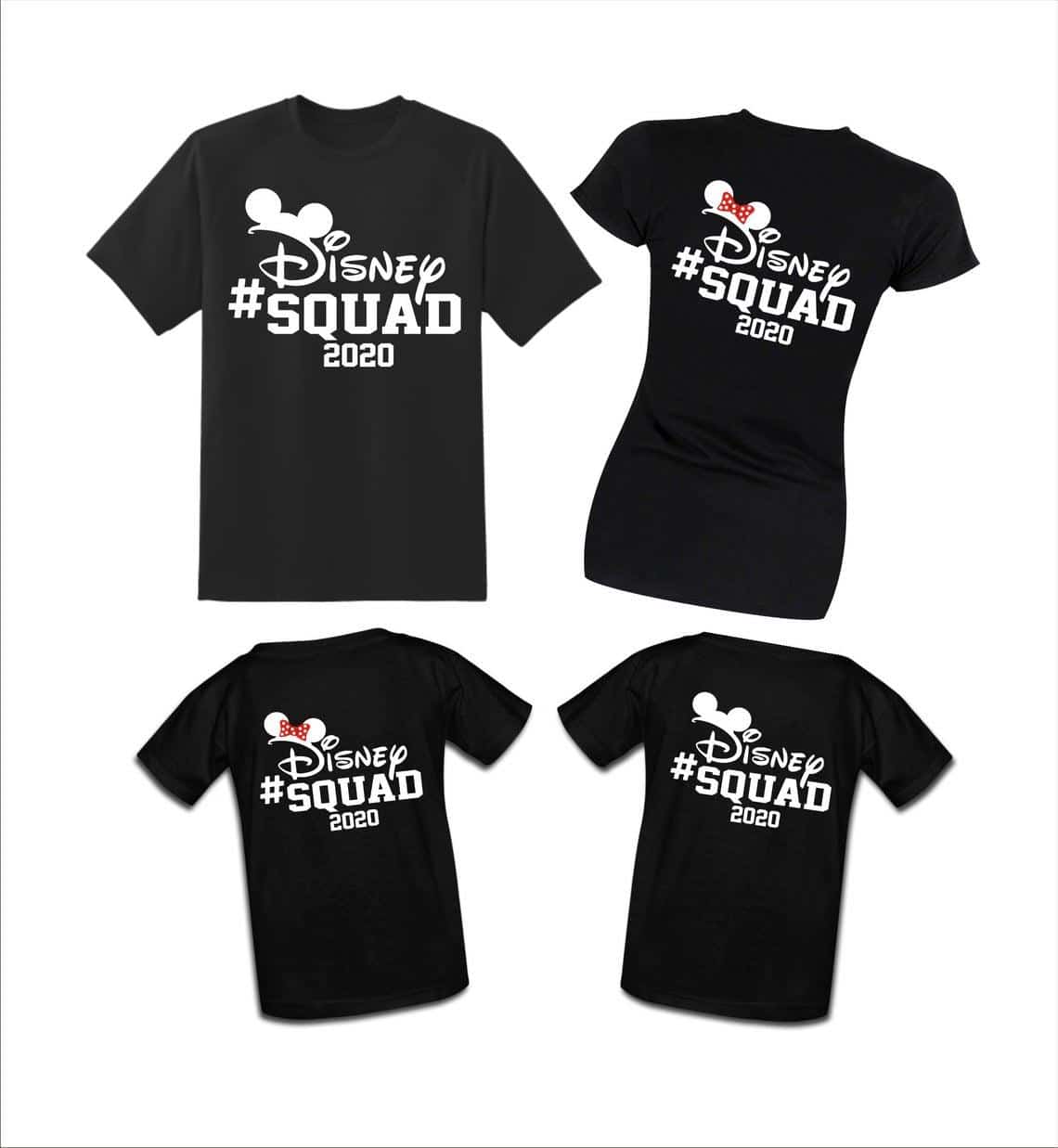 Vacay Mode
Switch on the vacay mode and put on these t-shirts. That will be enough to start for your Disneyland trip. Vacay Mode t-shirts are quite widely sold all over. They are one of the most popular t-shirts available in the market
Link: https://www.etsy.com/in-en/listing/686820648/vacay-mode-disney-shirts-disney-vacation
Pocket Pinch: US$ 10.99+
Birthday trip to Disneyland
Planning to spend your little ones' birthday? The t-shirts for a birthday celebration is one of the most important things. You can have a customized t-shirt for celebrating birthdays at Disneyland. It will remain a part of your memories forever.
Link: http://etsy.com/in-en/listing/683686810/disney-birthday-shirts-disney-birthday
Pocket Pinch: US$ 8.99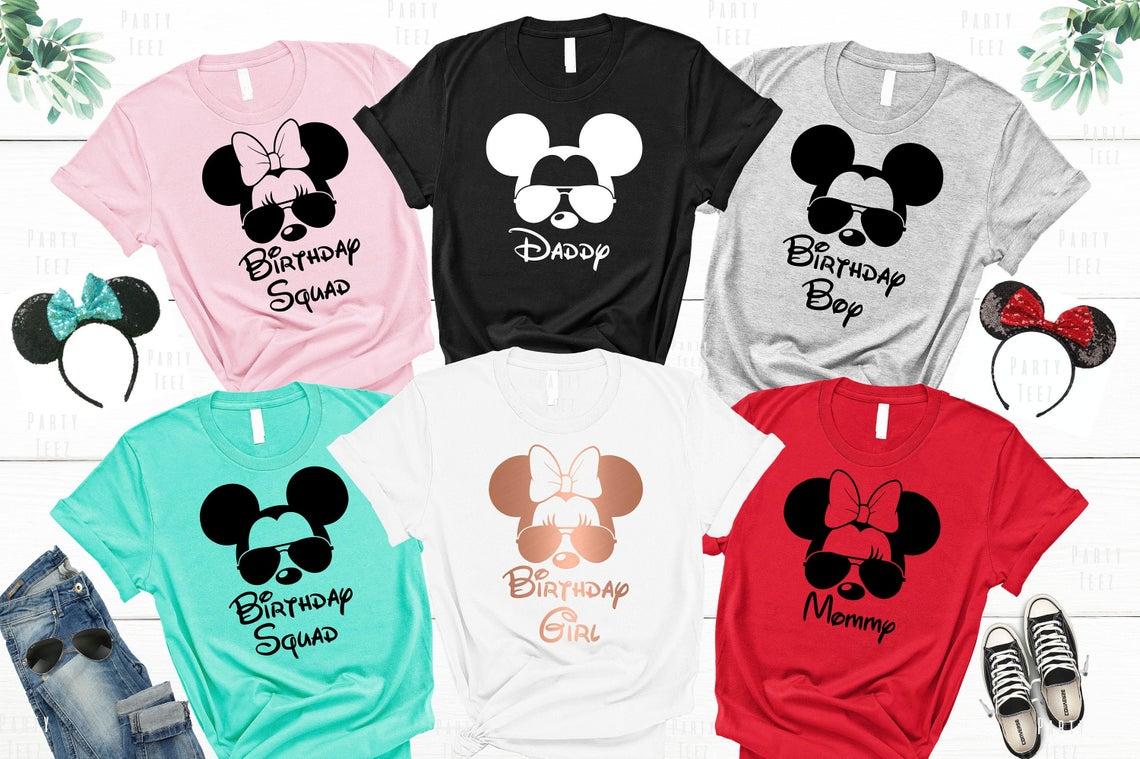 Family roles
Disney family shirts as per the family role go. Magic creators, Magic coordinators, Magic Financier, these are the variations that you get to identify the family roles. It comes in different colors and sizes. The t-shirts are available for the kids as well as for the parents.
Link: https://www.etsy.com/in-en/listing/773436965/family-disney-shirts-disney-shirts
Pocket Pinch: US$ 13.66
All's well that ends well
Disneyland is all about celebrations with our near and dear ones. Families flock there during the festive season to celebrate with each other. Wearing a Disney t-shirt has become one of the unofficial rituals for many. Disney merchandise has a huge market. Kids, especially, love using them.