Uncover the Hidden Gem of Maui: Explore Makena Cove
Imagine standing on a pristine beach, surrounded by lush greenery, the sound of waves gently lapping at your feet, and the feeling of warm, golden sand between your toes. Sounds like a dream, right? This dream can become a reality when you discover the enchanting Makena Cove in Maui. But what other secrets does this tropical paradise hold?
Maui, one of Hawaii's most sought-after travel destinations, is renowned for its idyllic beaches, spectacular landscapes, and vibrant culture. Its alluring charm captivates visitors from around the world, who are constantly in search of hidden gems and unforgettable experiences. With so many incredible sights to explore, it's no wonder travelers are drawn to this island paradise.
Nestled along the stunning southern coastline of Maui, Makena Cove awaits those daring enough to venture off the beaten path. This secluded haven offers mesmerizing views, crystal-clear waters, and a serene atmosphere that is sure to leave you breathless. Whether you're seeking adventure or relaxation, It is an unmissable destination for anyone looking to unlock the true magic of Maui. So, are you ready to embark on a journey to this incredible hidden gem?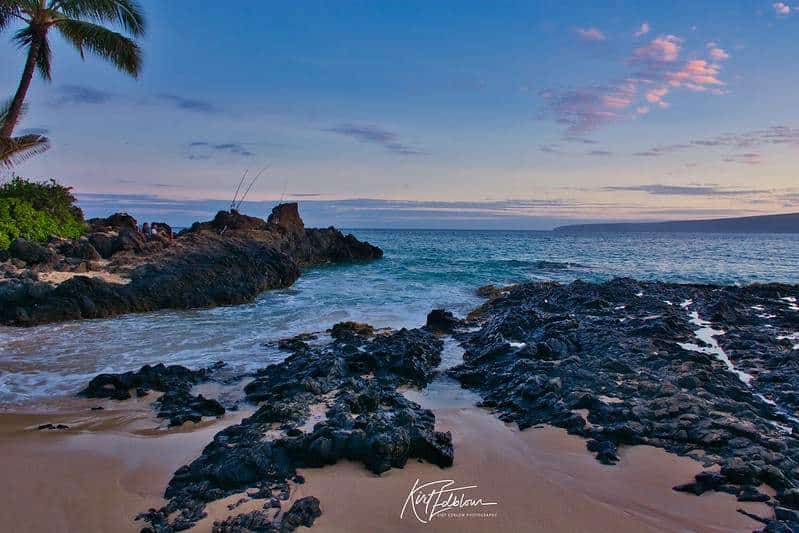 Location of Makena Cove
Makena Cove, often referred to as Secret Beach or Wedding Beach, is a secluded gem located on the southern shore of Maui. It can be found in the Makena area, just south of the popular Big Beach at Makena State Park. The cove is tucked away between private residences and lava rock formations, making it a hidden paradise away from the crowds. This picturesque beach is also within a short drive of the luxurious Wailea resort area, providing easy access to upscale dining and shopping options.
Directions to Makena Cove
From Kahului Airport (OGG):
Head southwest on HI-380 (Dairy Rd) for 6 miles.
Turn left onto HI-311 (S Puunene Ave), which turns into Mokulele Hwy, and continue for 6.3 miles.
Turn left onto Piilani Hwy (HI-31) and follow it for 10.5 miles.
Turn right onto Wailea Ike Dr and continue for 1 mile.
Turn left onto Wailea Alanui Dr and drive for 3 miles.
Turn right onto Makena Rd and proceed for 2.2 miles.
Look for a small parking area on the right side of the road, just past the 97-mile marker. Park here and follow the walking path to Makena Cove.
From Lahaina or Kaanapali:
Head south on HI-30 (Honoapiilani Hwy) for approximately 20 miles.
Turn left onto North Kihei Rd (HI-310) and drive for 2.6 miles.
Turn right onto Piilani Hwy (HI-31) and follow it for 10.5 miles.
Continue with steps 4-7 from the Kahului Airport directions above.
Transportation Options
Several transportation options are available for reaching Makena Cove:
Rental Cars: Renting a car provides the most flexibility and convenience for exploring Maui, including Makena Cove. Several car rental agencies can be found at Kahului Airport or in nearby towns.
Taxis and Rideshares: Taxis and rideshare services like Uber and Lyft operate on Maui and can be a convenient way to reach Makena Cove without renting a car.
Public Transportation: The Maui Bus has a limited route that reaches the Wailea area. From there, you may need to take a taxi or rideshare to Makena Cove. Note that this option may not be ideal for travelers with limited time or those carrying beach gear.
IV. Fees and Permits
There are no fees or permits required to access Makena Cove. However, parking is limited in the small public lot next to the cove, so it's best to arrive early to secure a spot. Alternatively, you can park at Makena State Park and walk to Makena Cove, which will add about 15-20 minutes to your journey.
Discover the Magic of Makena Cove: Your Ultimate Guide to Maui's Hidden Paradise
The Allure of Makena Cove
As you approach the shoreline, the azure waves gently wash over the powdery golden sand, creating a serene ambience. The surrounding lava rock formations and lush greenery provide a perfect backdrop for stunning photographs and unforgettable memories. The secluded nature of Makena Cove offers a sense of tranquility that can be hard to find on more popular beaches.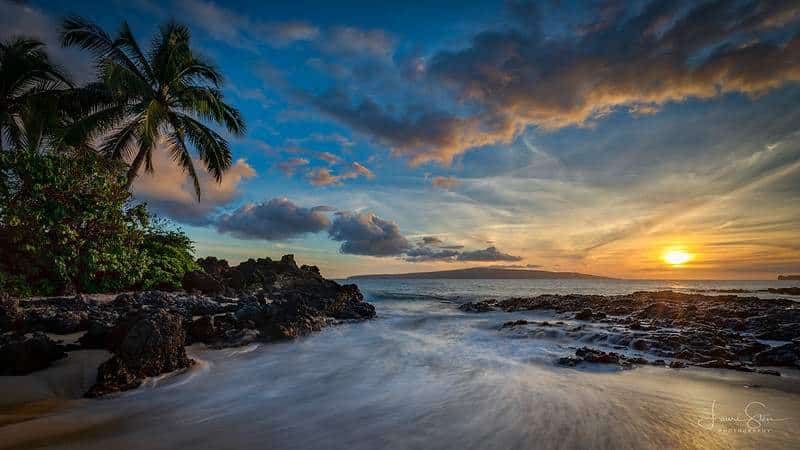 Fun in the Sun: Beach Activities at Makena Cove
It is an ideal spot for both relaxation and adventure. Here are some activities to enjoy:
Snorkeling: The crystal-clear waters and diverse marine life make Makena Cove a snorkeler's paradise. Be sure to bring your own gear or rent from a nearby shop, as there are no rental facilities on-site.
Paddleboarding: Explore the calm waters of the cove on a stand-up paddleboard. Rentals are available at nearby shops in Wailea or Kihei.
Beach Relaxation: With its soft sand and soothing waves, Makena Cove is perfect for basking in the sun or finding a shady spot beneath a palm tree to read a book.
Remember to pack sunscreen, beach towels, and plenty of water to stay refreshed during your visit.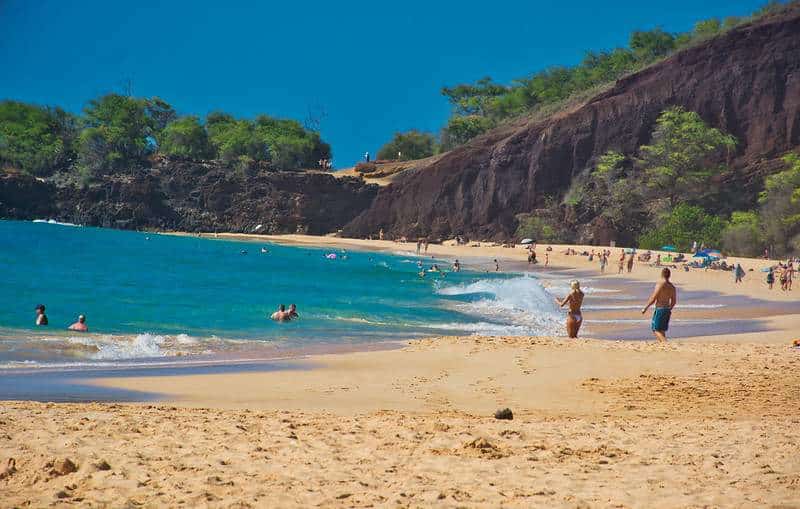 Nearby Attractions and Restaurants
After soaking up the sun at Makena Cove, check out these nearby attractions and eateries:
Makena State Park: Just a short drive north, this park features Big Beach and Little Beach, offering additional opportunities for sunbathing, swimming, and beachcombing.
La Perouse Bay: A scenic, lava rock-lined bay perfect for snorkeling, hiking or simply enjoying the stunning views.
Monkeypod Kitchen: Located in Wailea, this popular restaurant offers a diverse menu of island-inspired dishes and handcrafted cocktails in a relaxed atmosphere.
Gannon's: Offering panoramic ocean views, Gannon's serves contemporary Hawaiian cuisine with a focus on fresh, locally-sourced ingredients.
Aroma D'Italia: Located in Kihei, this cozy Italian bistro offers homemade pasta, pizzas, and gelato, perfect for a post-beach meal.
As you explore the wonders of Makena Cove and its surroundings, let the spirit of aloha guide your journey. Whether you're seeking adventure or relaxation, this hidden paradise is sure to leave a lasting impression on your heart.
Makena Cove: Unveiling Maui's Hidden Gem
As you stroll along the southern shores of Maui, you might stumble upon a secluded paradise that seems almost too perfect to be real. Hidden from the bustling tourist hotspots, Makena Cove enchants its visitors with its breathtaking beauty and serene atmosphere. In this feature article, we'll take you on a journey through this captivating haven, unveiling its unique features and uncovering why Makena Cove is a must-see destination in Maui.
The Allure of Makena Cove
Nestled between private residences and lava rock formations, Makena Cove's location is both a blessing and a secret. The cove's modest size and sheltered geography make it an intimate sanctuary for those seeking solace from the crowded beaches of Maui.
The cove's natural beauty is nothing short of awe-inspiring. With its clear turquoise waters, pristine white sand, and stunning sunsets, Makena Cove is a feast for the senses. Visitors can partake in a variety of unforgettable experiences, from snorkeling among vibrant coral reefs to surfing the gentle swells or even spotting green sea turtles basking on the shore.
A Haven of Serenity and Peacefulness
One of Makena Cove's most enchanting features is its tranquil atmosphere. The seclusion and calm of this hidden gem provide a much-needed respite from the hustle and bustle of Maui's more popular beaches. Visitors can't help but fall in love with the serenity that envelops the cove.
"I've never experienced such peace and tranquility on a beach before," says a recent visitor. "Makena Cove instantly transported me to a world of calm and relaxation. I could have stayed there all day, just listening to the soft sound of the waves and feeling the warm sand between my toes."
The peacefulness of Makena Cove undoubtedly contributes to its magnetic charm and leaves visitors yearning for more.
Delving into Makena Cove's History and Legends
While Makena Cove's natural beauty and serenity are undeniably captivating, its historical and cultural significance only adds to its allure. The Makena area was once a thriving Hawaiian village, with the cove serving as a vital fishing spot for the local community.
According to local legends, Makena Cove is also home to the mythical "mermaid" figure, Kananahena. It's said that Kananahena would often be seen swimming in the cove's crystal-clear waters, her long hair flowing behind her, as she protected the fish and marine life that sustained the ancient village.
Over the years, Makena Cove has been visited by notable figures, including celebrities and world-renowned photographers, all drawn by the cove's unrivaled beauty and mystique.
Conclusion
In conclusion, Makena Cove stands out as a must-visit destination in Maui, offering an unparalleled combination of natural beauty, serenity, and rich cultural history. The cove's enchanting turquoise waters, pristine white sand, and captivating sunsets create an unforgettable experience for all who venture to this hidden gem.
As you consider your next adventure, let the allure of Makena Cove's mesmerizing landscape and peaceful atmosphere entice your wanderlust. We encourage you to visit this breathtaking sanctuary, share your experiences with fellow travelers, and leave a comment with your thoughts on this remarkable slice of paradise.
As you embark on your journey to Makena Cove, remember that the true magic of Maui lies not only in its stunning vistas but also in the spirit of aloha that pervades its shores. May the memories you create at Makena Cove serve as a testament to the extraordinary beauty and warmth of this island haven.