Shimla Best Honeymoon Spot in 2023
Shimla, the capital of Himachal Pradesh, is one of the top tourist destinations in India. The picturesque city is situated in the northwestern part of the Himalayan Mountain Range and the mean elevation of the city is 7,234 feet. A Shimla location map shows the different highways, rail lines, railway stations, hospitals, hotels, educational institutions, religious places, water bodies, and other important places of interest in the city. The coordinates of Shimla are 31° 6'12" North and 77°10'20" East. A location map of Shimla also highlights the Jakhoo Hill, the tallest point in the city.
Christ Church
Christ Church One of the oldest churches in North India, Christ Church was built by the British in 1857 to serve the large Anglican British community in the area. Built in the Neo-Gothic style of architecture, Christ Church is one of the long lasting legacies of British rule in India and is one of Shimla's most recognized landmarks.

Jakhoo Temple
The Jakhoo Temple, an ancient temple dedicated Lord Hanuman, is located on Jakhoo Hill.The Jakhoo Temple is 2.5km from the Ridge and offers stunning views of the Shivalik Mountains as well as Sanjauli.
The Ridge of Shimla
The Ridge of Shimla is a large open spacious platform from where you can have a panoramic view of the mountain peaks of Shimla. The snow capped mountain ranges engulfed in the beauty of the nature is a phenomenal view that the Ridge of Shimla offers to the crowd.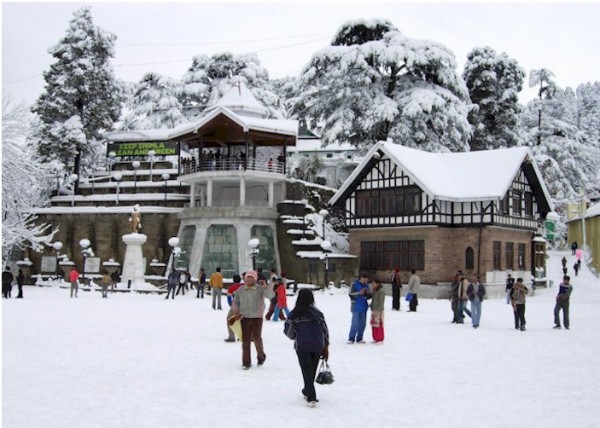 Shimla State Museum
The Shimla State Museum houses a huge collection of magnificent paintings, sculptures, coins, handicrafts, photos, etc of not only the state of Himachal Pradesh but outside too. The state museum is a major attraction of the Mall area of Shimla built in the style of colonial edifice with sprawling lawns all around. This museum was inaugurated in 1974.
George Castle
Shivpuri, also known as the Shimla in Madhya Pradesh is an ancient Gwalior town whose dense forests served as hunting grounds for the Mughal Emperors.This small town is home to the Scindia Rulers' magnificent hunting lodges and palaces. Madhav National Park is the hunting preserve of Gwalior's rulers. It houses their most magnificent creation, The George Castle.
Summer Hill
Summer Hill: Located 5 km from the Ridge is the beautiful little township of Summer Hill. Sitting at an altitude of 5600 feet on the Shimla- Kalkarailway line, this is where Mahatma Gandhi used to stay when he used to visit Shimla. This is also where the Himachal Pradesh University is situated.