Things to Do in Destin, Florida for Couples: Your Ultimate Guide to Love & Adventure
Welcome, lovebirds! As you chart your course to explore the vast romantic landscapes across the globe, let us tempt you toward the coastal charm and sun-kissed allure of Destin, Florida. Considered a gem nestled in Florida's Emerald Coast, Destin is the backdrop to the perfect blend of love, adventure, and enchanting coastal vibes.
As you plan a getaway filled with holding hands on sandy white beaches, stealing kisses under radiant sunsets, or sharing laughter amidst exciting adventures, Destin warmly opens its arms for every couple in love looking for a memorable vacation. Let the rhythm of the rolling waves, the golden sun warming the coast, and the cool breeze whispering among the palm trees set the stage for your unforgettable love story.
This is not any ordinary travel journey that you embark on. No! It's a dance of passion, spun across the lengths and breadths of a city that throbs with joy, warmth, and an undeniably vibrant spirit. A city that invites you to dine under starlit skies, to make memories along the sea-shell strewn shores, and to fall in love with not just each other, but with life itself.
So, buckle up as we take you on this vibrant tour of Destin, where love blossoms in every corner. From romantic restaurants to wild adventures, from lazy beach days to lively nights, our guide to "Things to Do in Destin, Florida for Couples: Your Ultimate Guide to Love & Adventure" is teeming with tantalizing experiences.
Welcome to the first chapter of your Destin story. It's time to embark on a love-filled adventure like never before. Ready for an unforgettable journey? Let's dive right in!
The Romantic Attraction of Destin
Just imagine… Warm sunlight gently caressing your faces as the whispering waves wash over your bare feet. The irresistible magic of Destin, Florida embraces you as you start your romantic journey with a stroll on its pristine, sandy shores. By no means is this a regular beach city—it's a captivating lover's paradise!
So, what exactly makes Destin a perfectly crafted scenario for lovebirds? Let's dive into the heart of its charm!
Natural Beauty – Your Picturesque Canvas
Prepare to be spellbound as you explore Destin, a city graced by nature's grandeur. Cobalt blue skies dance above the striking emerald green water, a color spectacle owing to the powdery quartz sand that envelops the Gulf of Mexico here. Alongside these breathtaking aquatic hues, the city is adorned with miles of pristine white-sand beaches—a mesmerizing backdrop indeed for stolen kisses and impromptu photoshoots.
Charm of the Small City – Soaring with Stars!
Despite its small-city tag, Destin shimmers with unique charm and elegance, making it a hotspot for couples. The streets, often blanketed in shades of palm greens and splashed with vibrant blue skies, echo with warmth and welcoming smiles from the friendly locals. This city is intimate, enticing, and favors tranquil moments, away from the bustling city life—a grand stage set for romantic vacations!
Unique Offerings – Signature Destin Experiences
There's more to Destin than just its beaches. The city greets couples with a palette of unique offerings that never cease to surprise. How about a scenic bike ride along the numerous picturesque trails that weave through the city? Maybe a tandem kayak endeavor, steering through luminous blue waters lined by striking landscapes? Or a delightful seafood dinner for two, savored overlooking splendid sunsets? These once-in-a-lifetime experiences are what weave the threads of the unforgettable love story you're about to write in Destin.
So, buckle up for a fresh adventure cradled in nature's charm. Grab your partner's hand, and let's explore the romantic things to do in Destin, Florida—the city where love blooms in every corner!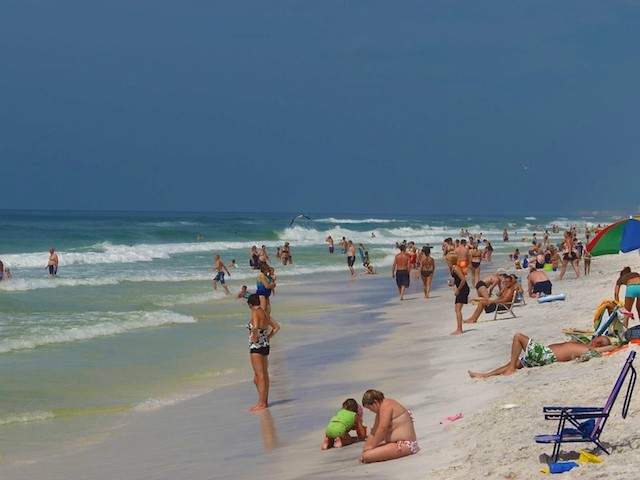 Unwind by the Emerald Waters
Prepare yourself for a deep dive into the enchanting beaches of Destin, Florida! With an endless horizon of emerald waters gently caressing powdery white shores, these aren't just beaches – they are visions of paradise on earth. Held in mother nature's loving embrace, couples will find romance blooming at every corner, either finding solace in tranquil spots or partaking in lively, fun-filled beach activities.
Crystal Beach – Your Own Crystal Clear Love Paradise
A beach so beautiful it had to be named 'Crystal'! With its picturesque vistas, crystal-clear waters, and secluded spots, this beach forms a perfect setting for the romantic at heart. Immerse yourselves in the brilliance of the Florida sun, engage in playful waves, or laze around, building sandcastles of your shared dreams.
Henderson Beach State Park – An Oasis of Tranquility
Seeking a peaceful haven? Welcome to Henderson Beach State Park. This quiet enclave is known for its natural beauty, exuding an air of serenity that perfectly complements your tranquil moments. On the canvas of this vast sandy conglomerate, paint memories of tender whispers, shared laughter, and scenic sunsets – all while picnicking under the pastel sky.
Grayton Beach State Park – Bundle of Beachside Activities
At Grayton Beach State Park, nature's creativity is at its peak! Along with the scenery worth cherishing, it provides a platter of activities like stargazing and beachside picnics. Make a wish on a shooting star, or capture the sun's golden descent beyond the horizon.
Beachside Activities – Fun under the Sun
Boredom? Not a term you'll find in your Destin dictionary! Besides idyllic strolls and beachside picnicking, there's no end to what you can do:
Sunbathing: Bask in the warmth of the Floridian sun, letting the rhythmic sound of the waves lull you into relaxation.
Photography: With the azure skies and the emerald sea as your backdrop, Destin is the perfect ground for couples who love photography.
Stargazing: As the day descends and the sky turns into a canvas of twinkling stars, soak up the night's tranquility with your partner, adding the night sky's mystery to your unforgettable memories.
Embrace the allure of these vibrant turquoise waters framed by pristine shores, and add a chapter of beachside fun and romance to your love story in Destin.
Fun and Adventure for Two
Get set to twirl the adventure charm into your tale of romance. Destin, Florida, offers an impressive bouquet of experience-driven activities that go beyond the ordinary and dive deep into fun and adventure. Building bonds and etching memories could never be more exciting! Let's explore these thrilling adventures together:
Paddle-Boarding at Gulf Island National Seashore – Harmony on the Water!
Eager to add a spicy edge to your love-and-romance recipe? Well, how about paddle-boarding on the shimmering waters of the Gulf Island National Seashore? It's like poetry in motion as you both maneuver your boards, riding the turquoise waves amidst breathtaking scenery. Each stroke becomes a shared rhythm, every wave a shared thrill. This experience becomes more than just an adventure—it's an extraordinary exercise in teamwork and trust.
Dolphin-Watching Cruises – Revel in Nature's Delight!
Lucky for you, Destin is lovingly known as the 'World's Luckiest Fishing Village,' and we can vouch for how fortunate you are to have the opportunity for close encounters with delightful dolphins! Board a picturesque cruise, hand-in-hand, voyaging out to witness the enchanting dance of the dolphins. Capture these delightful moments as groups of dolphins playfully leap and twirl. Acknowledging this spectacle of nature together adds a whole new dimension of romance to your escapade.
Snorkeling and Diving at the Destin Harbor – Discover a New Underwater World!
An unprecedented romantic challenge awaits at Destin Harbor – one where you both plunge into the depth of the emerald waters to explore an undersea universe! Suited up in your snorkeling and diving gear, witness the romantic vision of a reef painted with a myriad of colors, home to exotic marine life. This shared exploration bonds like no other, as you uncover the mysterious and the magnificent beneath the surface together.
From paddle-boarding as a team to marveling at the playful dolphins and exploring the underwater wonders of Destin Harbor, these adventure activities offer countless unforgettable moments for you as a couple. So, create a symphony of thrill, adrenaline, and romance when in Destin, Florida – the city that champions love!
Savour the Culinary Delights
In the romantic haven that is Destin, Florida, the love affair between vibrant flavors and ethereal settings adds a touch of magic to your experience. As you and your partner explore charming places, embark on a culinary journey that's as delightful as the sunset on the horizon. Here, we have awaiting a curated list of top-notch dining experiences that are sure to make your heart flutter and taste buds dance!
Sunset Fine Dining at Marina Café
A blend of elegance and allure emerges as the sun cascades into the gently lapping waves, all while you indulge in a sumptuous meal at the esteemed Marina Café. Their fusion of fresh seafood and gourmet fare creates an enchanting gastronomic symphony, further accentuated with a warm ambiance. Be captivated not only by your partner's eyes but also by views of the harbor's shimmering waters, as your love story unfolds within this enchanting setting.
Romantic Beach Picnic from The Local Market
As the sun lazily casts its golden rays, venture to the pristine sands and indulge in serenity with a hand-prepared picnic swaddled with affection by The Local Market. Unveil a treasure trove of locally-sourced goodies– from delectable sandwiches to refreshing drinks and mouth-watering treats– curated to create the perfect romantic escape for you and your loved one. Tenderness oozes as you share the scrumptious delights amidst the soothing whispers of the sea breeze.
Waterfront Dining at the Boathouse Oyster Bar
For those who yearn for a rustic ambiance combined with memorable waterfront views, the Boathouse Oyster Bar is an ideal destination. This unique spot offers savory seafood dishes with a genuine Floridian essence, leaving you smitten with their fresh flavors and marvelous presentation. As you savor your meal, enjoy the spectacular waterfront views and let the charm of this cozy haven nurture your love story.
Tickle your senses and nurture the warmth of your relationship by delving into the world of culinary treasures that Destin offers. Embrace this vibrant dining scene and capture the essence of your love story fulfilling your gastronomic desires.
Engage in Historic Tours and Cultural Exploration
Welcome to the heart of Destin's fascinating history! As you and your partner embark on a journey into the city's rich past, discover new depths to your romantic adventures. Venture beyond the captivating beaches and vibrant tropical landscapes to unearth a trove of fascinating cultural insights and memories just waiting to flavor your love story. Let's dive into some of the extraordinary historical sites and attractions Destin has to offer:
Air Force Armament Museum – Soar into Aviation History
Lose yourselves amidst the impressive collection of the Air Force Armament Museum. This hidden gem brims with tales of aviation history, daring pilots, and cutting-edge aircraft from days gone by. As you stroll together amidst these captivating exhibits, you'll feel an exhilarating sense of pride, awe, and fascination that will touch both your intellect and emotions.
Destin Fishing Museum – Unravel the Secrets of the Deep Seas
Share your passion for the ocean with your other half as you journey through time at the Destin Fishing Museum. Travel through the years and unravel the secrets of Destin's long-standing fishing heritage, vintage equipment, and fascinating stories of local fishermen. Discovering this integral part of the city's history will sow an even deeper appreciation for your seaside lovescaping and romantic adventures.
Baytowne Wharf – A Slice of Southern Charm
Step into a world of southern charm and elegance at Baytowne Wharf, the heart and soul of Destin's social scene. As you meander through the quaint streets, revel in the lively atmosphere of live music, vibrant events, and impressive art at every turn. Together, you'll explore a world where history, culture, and modern-day excitement come together to create a magical experience.
Destin History and Fishing Museum – A Love Letter to the "World's Luckiest Fishing Village"
As the ultimate ode to this enchanting city, the Destin History and Fishing Museum offers an immersive journey into its colorful past. Through captivating exhibits and heartwarming tales, you and your partner will uncover the stories that have woven Destin's identity as the "World's Luckiest Fishing Village." As both love and history entwine here, let the legends of the city inspire your romantic story.
Destin's historical and cultural richness may not be as apparent as its stunning beaches, but it's just as integral to crafting an unforgettable getaway for you and your partner. Uncover these insights together and celebrate the extraordinary tapestry of love, history, and culture that makes Destin, Florida, a truly unparalleled vacation destination.
Experience the Nightlife
As the day morphs into a star-studded, moonlit canvas, Destin dons the cloak of an effervescent night fairyland. The intoxicating twilight air hums with possibilities, urging you and your partner to dive headfirst into the enchanting nightlife that awaits. Let's illuminate your path with some of the most diverse, vibrant, and charming destinations that add a spark of magic to your nightly escapades in Destin!
Barnes & Noble's Piano Bar – A Melodious Dance under the Moonlight
With the setting sun casting a golden hue over Destin's night sky, take a step towards the inviting Barnes & Noble's Piano Bar, where your night becomes a concerto. Here, dappled with warm light and filled with melodious tunes, the evening hums with a rhythm that's perfect for lovers. Rest in each other's company and let the beautiful symphony of live piano performances elevate your romantic night.
The Craft Bar – Crafting the Perfect Night with Exquisite Libations
Allow The Craft Bar to infuse your romantic night with a shot of cosiness and character. In this buzzing venue, artisanal magic flows effortlessly from an extensive menu boasting craft beers, innovative cocktails, and a selection of gourmet eats. Share laughter, exchange soft whispers, and cheers to your love as you revel in the spirited ambiance that's bound to craft an unforgettable night.
Emerald Coast Wine Cellars – Sip, Savor, and Fall in Love
At Emerald Coast Wine Cellars, uncork your love story amidst lush vineyards and rich aromas. By day, it's a vineyard. But come nightfall, it transforms into a romantic haven for wine lovers. As you sift through seemingly endless options of local wines, let your pallets be your guide. Share a bottle or two in this intimate setting, savoring each sip as if it were a memory you're adding to your shared adventure.
Destin's dynamic nightlife seems just as delicately curated as its picturesque daytimes. As the night sky dons its celestial cap, the city blooms with lively venues resonating with melody, camaraderie, and the timeless dance of love. So, grab the hand of your loved one and twirl into the vibrant nightlife that waits under Destin's star-lit sky.
Unforgettable Shopping Experience
Swoon over to Destin's shopping paradise, where you'll find the perfect blend of trendy fashion, eclectic finds, and chic ambiance to indulge in some retail therapy. With your loved one by your side, embark on a delightful shopping spree, creating unforgettable memories as you go.
Destin Commons – A Lively Shopping Oasis
Together, lose track of time as you stroll through the vibrant Destin Commons, an outdoor shopping center with a vast selection of over 90 stores that cater to your every whim. Amidst an invigorating atmosphere of lush landscaping, stunning fountains, and engaging artwork, discover the enchanting shops just waiting to be explored.
Silver Sands Premium Outlets – Shop in Style
Luxury meets savings at the Silver Sands Premium Outlets. Indulge in the thrill of the hunt as you uncover upscale brands and designer items you both adore. And at the end of the day, armed with stylish treasures, chat and laugh over a delectable dinner or coffee break in one of the outlet's charming eateries.
Practical Tips for Visiting Destin
To make every moment in Destin utterly magical, here are some practical tips to help you plan your ideal romantic getaway.
Best Time to Visit: The warm months of April to October are popular, with calm and sunny weather setting the scene for beach bliss. For fewer crowds and cooler temperatures, consider visiting between November and February.
Dressing and Eating: Embrace the casual, beachy vibe by wearing comfortable and lightweight clothing. When it comes to dining, delight in the abundance of fresh seafood and southern flavors that permeate the local restaurants.
Transportation: Renting a car is the most convenient option, but there are also taxis, rideshares, and bike rentals available should you prefer other modes of transport.
Safety: Destin is generally a safe destination, but always take sensible precautions. Keep an eye on your belongings, and be cautious with beach and water activities, observing local guidelines and warnings.
Conclusion
Destin, Florida, is a dreamscape where love and adventure bloom amidst the backdrop of sun-kissed beaches, breathtaking emerald waters, and an all-embracing warmth that nurtures the very core of your romantic escapades. Dive into the wonders that unfold before you and create an unforgettable love story that will forever be engraved on the shores of Destin, a veritable paradise for couples.