Best Place for Meetings and Events in Annapolis MD – The O'Callaghan Annapolis Hotel
Annapolis, the capital of Maryland, is a vibrant city. It offers colonial heritage as well as the latest in dining, accommodations, shopping and entertainment. Annapolis is home to the U.S. Naval Academy and St. John's College, a liberal arts college going back to 1696. Annapolis MD is also a well-known centre of sailing and boating in the Mid-Atlantic.
There are many hotels in downtown Annapolis, one of which being the O'Callaghan Annapolis Hotel. This hotel is the newest of the Irish hotel group O'Callaghan Hotels. The Annapolis hotel offers spacious, European style accommodation with furnishings imported from Ireland. This hotel is a great base for those travelling for business as it is one of the best places for conferences and meetings in Annapolis MD.
Meetings and Events
The O'Callaghan Annapolis Hotel's Galway and Kilkenny rooms can accommodate up to 150 people for larger events or can be subdivided for smaller meetings and events. The facilities at the hotel are intimate to allow personal attention to every detail of your meeting or event and the hotel tram are more than willing to customise your event to ensure all guests needs are taken care of.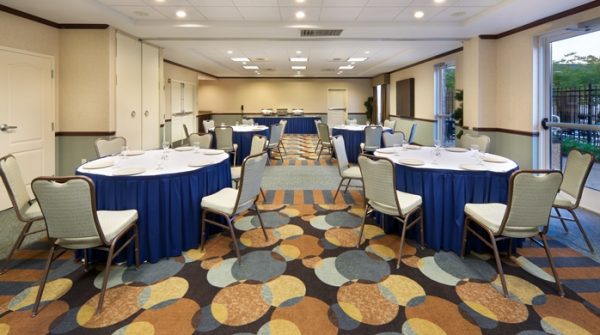 The Annapolis hotel offers fully automated AV equipment controlled from a touch screen at a podium. The rooms are lit with plenty of natural daylight, have a full sound system, automatic lights and drapes, Wi-Fi and are fully air-conditioned.
Dining
The hotel also has its own restaurant and bar to offer dining in Annapolis. The John Barry Restaurant serves a unique blend of traditional Irish fare combined with local Maryland favourites.
Local Attractions
When the working day is done, Annapolis has a lot to offer your guests. Walking tours, sailing tours and historic places of interest are within walking distance of the hotel.
Local attractions include:
• The U.S Naval Academy and Museum
• The Banneker-Douglas Museum
• Annapolis Pottery
• Watermark Cruises
• Annapolis Maritime Museum
• Schooner Woodwind
You could even organise a teambuilding day trip to nearby Washington DC or Baltimore.
Hotel Location and nearby Transportation
The O'Callaghan Annapolis Hotel is in downtown Annapolis, Maryland. The hotel is 25 miles from Baltimore Washington International Airport, 37 miles from Ronal Reagan Airport and 55 miles from Dulles Airport. The easiest and most direct option for an airport transfer is by taxi although there is an airport shuttle service that offers online bookings and a reliable service.
Bus stops for travelling around Annapolis are within walking distance of the hotel.
There is a limited valet only parking service on site for a $20 fee per night. Alternatively, there is a public car park across the street from the hotel.
Annapolis is a fantastic backdrop to any event; from magnificent historic settings to the waterfront with its sailboats and the great food from Chesapeake Bay; your guests will be glad you picked Annapolis and the O'Callaghan Annapolis Hotel.