Italian Men – What Makes Them so Appealing in the Fashion World?
Have you ever wondered why Italian men are still known as best dressed in the world? Well, the answer is pretty simple- Italians' approaches to style and art altogether. They are known for their fine craftsmanship that makes them set apart. What exactly makes an Italian guy most stylish and easily recognizable? Well, their presence of dressing sense and elegant style makes them noticeable among all.
As we all know, Milan has several rising designers that contribute to the fashion industry. Along with Paris, Italy has become the new fashion capital in recent times. Hence, big cities follow Italian fashion culture to be highly popular in the fashion world. Over the years, Italian guys' styles have changed immensely. They have come up with suit fashion and mens' casuals in recent times. Therefore, one cannot go wrong with the Italian styling trend. Thus, men in Italy incorporate luxury with style.
Also, when it comes to mens' fashion in Italy, it's just not limited to men's outfits. It has made its global presence in men's footwear as well. Are you wondering what kind of Italian shoes makes them class apart? Well, Italian shoes are perfect in style, size, pattern, and texture. That's why Italians are known for their best leather products.
Who doesn't remember Milan men's fashion week? What an incredible event it was to witness. It was a treat to the eyes of the buyers and the journalists. With this, Italian men's fashion became highly recognized globally to achieve the next level. Therefore, Italian hunks have a love for traditional dressmaking that makes them unique in the fashion industry.
Presently, in most countries, men's clothes come with 'made in Italy' labels. It means Italian men's fashion attracts more buyers worldwide. Also, designers offer the best quality fabric and clothing texture to embrace fashion trends in men's clothing. Therefore, Italian menswear and footwear are the present trends among men's fashion. However, whether formal or informal in men's fashion, 'one gets the best out of it.'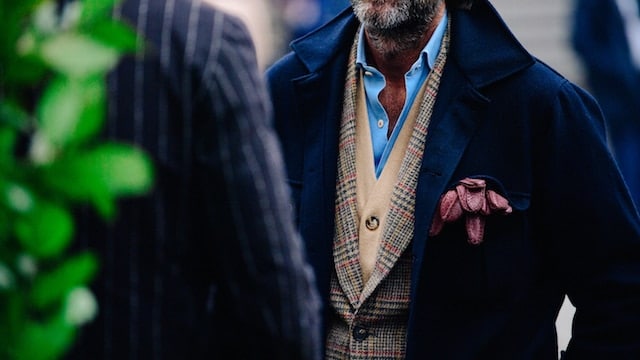 Fashion Trends in Italian Guys
As we mentioned above, Italian guys never go out of style. They are highly trending in both the menswear and footwear sections. They are a class apart when it comes to Italian fashion. An Italian gentleman with a perfect Italian outfit is always charming.
Let's look at the top trends in men's Italian fashion:
Floral Prints in Men's Fashion
For Summer/Spring seasons, floral prints can ever go out of fashion. Italian dudes prefer floral prints in their casual outfits. It gives a super comfy look which is more wearable than it sounds. The men's shorts are designed in bold florals defining a casual look. Get it in a tailored style and pair it with a casual smart piece. Hence, it's perfect beachwear on a sunny morning.
It has been a popular fashion trend in Italian male over the past five years. Sometimes being bold is the new style trend in men's fashion. It enhances your confidence and attributes for the special occasion.
Suit it up in Style
Italian suits have minimum shoulder padding, a 2-button stance that sits higher than normal, and no pocket flaps. Also, men in Italy opt for linen suiting to look smart. Tailoring suits are trending in Italian fashion. For summer/spring seasons, men prefer cotton or linen suits in a pastel shade. Italian males have a good taste of choice in choosing the right color for their suit. Therefore, traditional Italian suits have become popular worldwide.
For instance, men with bow ties and pocket squares are the best example of Italian guys' fashion. Not only this, but they also pair up their suits with chains and rings to make them more charming. Hence, they give a boss look to make it super formal.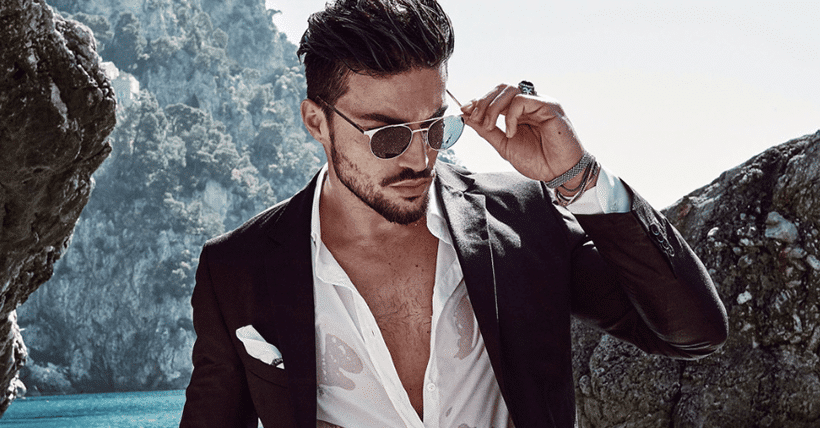 Types of Suits
All-black, squares, and micro-checks.
Unstructured jackets.
Long layered suits.
Tuxedos
Linen suits.
Padding Suits.
Tailored fit.
Relaxed fit
Collar Shirt with Blazer or Jacket
Have you ever heard about a blazer or jacket with a collared shirt? Yes! You have heard us right. In Italy, men here prefer wearing a blazer or jacket with a collared shirt. Do they look odd? No, not at all. As a fact, they look appealing and charming in the name of style. Thus, a true Italian gentleman gives a trending style statement among men worldwide.
They give trending fashion rules for good reason. It will make you look younger, sharper, and bolder in all ways. Therefore, a collared shirt with a blazer is the trending fashion of 2021.
Stylish men leather jackets
Italian dudes' fashion can never go without mentioning their all-time favorite leather jacket. Men in Italy style their look with premium Italian leather jackets. However, Italian leather jackets are popular and recognized worldwide. These jackets come in different patterns, textures, styles, and designs. One can team up their formal or informal outfit with a leather jacket. Italians can never go without an Italian leather jacket.
However, winters in Italy demands leather jacket for Italian gentlemen. A man's black leather jacket is a great style statement in men. It makes them look good and smart. Therefore, a well-structured and premium-quality leather jacket is a must for them.
Vertical Stripes in Men T-shirt
How cool are Italian guys with vertical stripes t-shirt? Isn't it interesting? Of course, it is. Well, vertical stripes are of trending fashion in the men's clothing section. It gives a great look to keep it subtle in pastel hues. We cannot forget the rugged look Italian guys carry with themselves. Isn't it breathtaking?
The vertical stripes t-shirt comes in subtle colors. They are best for the summer/spring look. They are present in a simple and refined form to make them more charming. Hence, a t-shirt with vertical stripes never goes out of style in Italy.
Dark Denim never goes out of style
It is now very much clear how fashionable Italian men are. As well all know, dark or raw denim is always a statement piece in men's wardrobe. Therefore, Italian men are no lesser in this matter. They team up their rugged look with dark denim to make them more appealing. It is a staple clothing menswear in Italians.
Also, mid-wash denim is a must-to-go casual outfit in the men's collection. Men in Italy pair it up with casual shirts or t-shirts for every season. Apart from denim pants, they also prefer denim blazers to keep them stylish and cool at the same time. So, next time when you see a man wearing a denim blazer, take it as an Italian fashion.
What are the Fashion Mantras to be dress like an Italian Man?
Following an Italian fashion trend can be of great benefit to change your present styling outlook. You can experiment with several Italian styling trends to make yourself more charming among the crowd. As it is rightly said, the first impression is the last impression on anyone.
Below are the quick Italian fashion tips that Italian men follow in everyday life:
Experiment with every color, pattern, and design of your outfit.
Feel being different in a positive way.
Be casual with your clothes.
Wear clothes that are trending.
Never afraid to experiment with new clothes.
Choose black when choosing any outfit.
Be aware of the current fashion trend.
Add long coats in winter.
Be experimental with loafer shoes.
You never go out of fashion with denim.
Avoid wearing tightly fitted clothes.
Therefore, these are some basic Italian fashion rules one needs to follow to be dress like an Italian man.
Top 10 Italian Men Street Style Fashion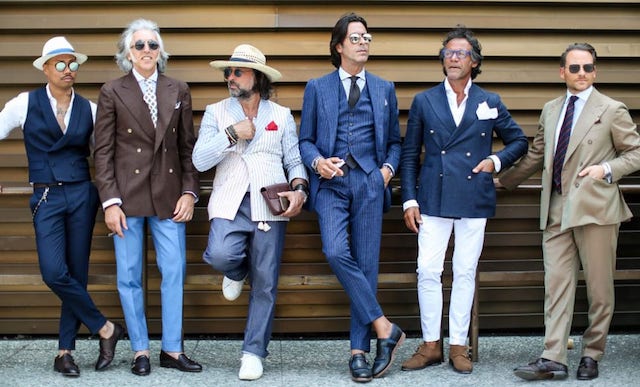 Go for bold colored shorts
Italian Men are much into wearing colored shorts in summer. They wear orange, yellow, and green shorts with dark-colored shirts. Also, they pair this entire outfit with a trendy coat. Therefore, it is a very casual look with sneakers and sunglasses to add an extra charm.
Pairing the shirt with matching shoes
Another popular trend among Italian males is matching shoes with the shirt. Isn't it sound interesting? Men in Italy often pair their shirts with the same color shoes. In a way, it makes them unique and creative. However, when it comes to choosing the bottom, they go for beige-colored trousers or pants. It gives a semi-formal look for the summer/spring season.
Perfect Black for every event
You can't agree more to this, aren't you? The perfect black is the answer to all fashion trends. You can never go wrong with a black outfit. In the same way, Italian men also like to go black on any occasion. They believe it is the most fitted trend that never goes out of practice. Whether it's your best friend's wedding or a cocktail party, you can add that extra glamour to your outfit. Therefore, black is the perfect trending color for any occasion.
Setting style with shorts and blazer
It might sound risky that pairing shorts with a blazer might go wrong. But with the right style, you can make it a fashion statement for a lifetime. Yes! This is what men in Italy do to look that extra good. It is the combination of clothing that will make you look bold in public. Also, you can add your pair of loafers with this combination. It is the most recent style trend in Italian street style fashion.
Sock it Up
Gone are those days where men prefer going sockless. It's time to show your funky pair of socks in a street-style fashion. It has become a new trendsetter among Italian males. One can pair this up with a long grey coat and a gatsby hat.
Trendy look with military jackets
Military jackets can be pair with denim pants and a vest. You can also pair it up with fitted jeans to experiment with your new style. Italian males follow this fashion trend in the streets of Italy.
Suiting up with Scarfs
Give your monotonous look a trendy get-up by pairing a scarf with your suit. Yes! Styling your grey suit with an electric blue scarf can give colors to your outfit. Be unique with this new style statement to add that extra glamour to your outfit.
Cool Patterned Tees
College-goers can opt for cool patterned tees as a new street style fashion in Italy. Teens in Italy often pair their denim jackets with cool patterned tees inside. It gives a charming look for the perfect winter summers. So, pick your trendy patterned tees to make yourself dashing.
Conclusion
Here, we gave a brief idea about Italian men's fashion and their styling tips. These fashion tips and ideas can be of great help to dress like an Italian dude.