Get Lost in NYC: Your Must-See 3-Day Travel Guide
Welcome, friends! Buckle up because you're about to embark on an exhilarating adventure through the most vibrant city in the world – New York City! Prepare to trade your compass for curiosity as we unveil what to expect on the 3-day NYC trip of a lifetime.
Ah, New York City! From towering skyscrapers to hustling streets, and from the rich aroma of NYC's famous bagels to the sweeping views from top-notch observatories, the city seems to rotate at its own determined speed. Sunny mornings in the expansive Central Park, flashy afternoons among Times Square's neon lights, and romantic evenings over the glittering skyline from the Brooklyn Bridge – New York City offers not just 'something' but 'everything' to everyone.
Think of New York City as a throbbing heart, full of life, unyielding dreams, and millions of stories waiting to be discovered. This city, this incredibly lively city, never sleeps! And it's not just about awe-inspiring landmarks and crown-jewel spectacles, but it's also about the subtle experiences you'll encounter. Oh, those tiny hole-in-the-wall eateries, the local artists performing on the subway, or the diversity you'll witness on a single city block – it's all a part of the grand NYC story.
In this '3 days in NYC' guide, we've strived to capture this essence—to create not just an itinerary, but a vivid narrative that will lead you through the city's bustling streets, across its iconic bridges, and into its very soul.
So, are you ready to lose yourself in this whirlwind of a city? To feel our feet beat to the rhythm of NYC's heart? Let's jump into it and get ready to find your NYC!
Understanding NYC: An Insider's View
Alright, let's dive right into the nuts and bolts of NYC's tapestry. Even though this city is a whirlwind of activity, there's a neat structure that underpins it all.
New York on the Map: Boroughs, Districts, and Landmarks
New York City is a complex jigsaw, an intricate pattern woven by five diverse boroughs – Manhattan, Brooklyn, Queens, The Bronx, and Staten Island. Each one flaunts its flavor, from the iconic Brooklyn Bridge in Brooklyn to the rich cultural hub of Queens, from the famous Yankee Stadium in The Bronx to the scenic ferry rides in Staten Island. And let us not forget Manhattan, the heart of it all—Times Square, Central Park, Wall Street – you name it, this buzzing borough's got it.
Keeping this layout in mind will give you a sense of direction as we map out our 3-day itinerary.
Hopping Around NYC: Transportation Talks
The beauty of NYC? It's a snap to navigate, and trust me, there's nothing quite like the NYC subway. Swirling with an eclectic mix of commuters—tourists, artists, office-goers—it's a snapshot of the city's pulse. While taxis and ride-shares are plentiful, they can get pricy and get stuck in traffic. Instead, invest in a MetroCard for unlimited rides across subway and bus lines.
I'd say kick it up a notch, and explore some parts of the city on foot. Neighborhoods in Manhattan and Brooklyn are perfect for leisure strolls, and you'll find gems tucked around every corner!
NYC on a Platter: Here's What's Cooking!
New York City doesn't just satisfy your wanderlust, it caters to your taste buds too! From heavenly street food to upscale dining, NYC's got you covered. Don your explorer's cap and get ready to take your palate on an adventure. Sample delectable bagels in Lower East Side bakeries, or savor NYC-style pizza slices in West Village pizzerias; and if you're a fan of international cuisine, head straight to Queens, a melting pot of flavors from around the globe.
There you have it, a quick and friendly insider's view on understanding NYC before we jump into our jam-packed 3-day itinerary. Stick with me, and soon, you'll be zipping around the Big Apple like a pro!
Day 1 Itinerary: Manhattan Magic and More
We're kicking off our epic 3-day NYC itinerary in none other than Manhattan! Get ready to fall in love with the city's major landmarks and gain an authentic taste of the NYC lifestyle. Are you up for the adventure? Let's get this party started!
Morning: A Stroll in Central Park & The Met
Central Park: Rise and shine, my friend! A warm cup of joe in hand, and we're ready to wander the enchanting pathways of Central Park. Trust me, it's an oasis amid the concrete jungle you can't miss. Lose yourself amidst the vibrant greenery, catch street performers in action, and don't forget to snap a pic with the famous Alice in Wonderland statue!
The Metropolitan Museum of Art: Next up is the Met! With a stunning art collection ranging from ancient to contemporary times, there's no museum like it. Wander through the fascinating exhibits, and perhaps even treat yourself to a guided tour. Fair warning though—once you're in, you may never want to leave!
Afternoon: The Lunch Stop & Times Square
Lunch: All that exploring surely got you hungry! Let's grab a bite at one of Manhattan's fabulous eateries, like Shake Shack for a hearty burger or Eataly for a cozy pasta meal.
Times Square: Next up: the iconic Times Square! This place will make you feel like you're in the heart of a million pulsating veins. Admire the flashy billboards, join the crowds, and feel the unique energy—but don't lose your buddy in the crowd!
Evening: Broadway Showstopper & Manhattan Dining
Broadway: A trip to NYC isn't complete without a Broadway show, am I right? Let the dazzling lights and outstanding performances sweep you off your feet. Whether it's The Lion King, Hamilton, or a lesser-known gem, we guarantee – you'll be spellbound!
Dinner: End the day with a culinary experience at one of Manhattan's fine-dining restaurants. From Eleven Madison Park for a luxurious feast to Le Coucou for dreamy French delights, there's no shortage of fabulous options.
Manhattan, you've been nothing short of spectacular! From the serene Central Park to the electric energy of Times Square, the day has been crammed with unforgettable experiences – your NYC trip has just begun! Tomorrow, we'll explore the trendier side of town. So, get ready, and keep those sneakers on!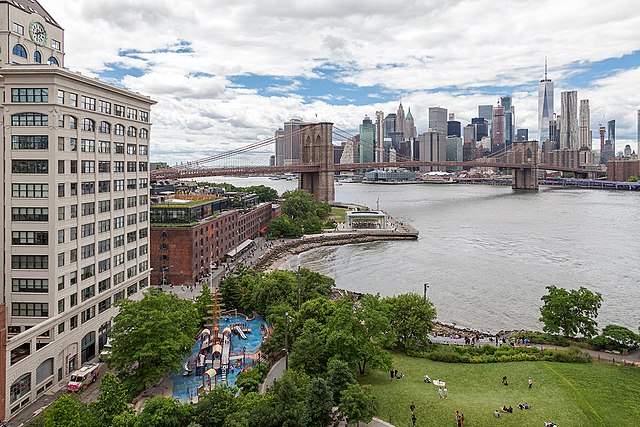 Day 2: Exploring the Vibrant Borough of Brooklyn
Morning Adventures: Brooklyn Bridge Park and DUMBO
Start your day off right in the heart of iconic Brooklyn. Grab your camera and put on your comfy shoes because our first stop is the Brooklyn Bridge Park. You'll love the breathtaking scenic views of Manhattan's skyscrapers from the riverside.
Next up, we're heading to DUMBO (that's short for "Down Under the Manhattan Bridge Overpass"). Yes, that's a mouthful but believe me, this quirky neighborhood, nestled between the Brooklyn and Manhattan bridges, is a can't-miss spot. With its blend of industrial warehouses and classy boutiques, it's a unique juxtaposition of old and new.
And don't forget to take that iconic photo of the Manhattan Bridge from Washington Street. You'll thank me later for this tip!
A Stroll Across the Brooklyn Bridge
Once you've experienced DUMBO, it's time to walk across the legendary Brooklyn Bridge. As you make your way across, take a moment to soak in the panoramic views of the city – it's truly an Instagrammer's paradise.
Afternoon Delight: Authentic Brooklyn Bites and Williamsburg Wanderings
Those morning adventures have surely worked up an appetite. Buckle up my foodie friend, as you're about to dive into Brooklyn's culinary scene. Whether it's a slice of world-renowned Brooklyn pizza, bagels, or quirky vegan delicacies – the choice is yours.
With our bellies happily filled, let's set off to Williamsburg. Known for its hipsters and street art, you will find a melange of trendy boutiques, vibrant music venues, and happening coffee shops waiting for you.
Evening Bliss: Sunset Serenity and Brooklyn Nightlife
As day turns into dusk, head over to the Brooklyn Heights Promenade for an unforgettable sunset view. See the city bathed in a soft, golden light – it's an experience that will have you fall in love with New York City all over again.
To wrap up your adventurous day, immerse yourself in the exciting nightlife that Brooklyn has to offer. From craft beer gardens to lively music bars, it's the perfect ending to your day!
Getting The Local Insight: Embrace the Unexplored
Now you know the plan, but here's a secret: it's the small, intricate details that you discover along the way that will make your trip truly special. Remember to chat with locals, try out hidden gems suggested by them, and take a moment to relish the unique vibe of this vibrant borough. They say the heart of a place lies in its people, so take a chance, make a friend, and add an authentic touch to this 3-day NYC itinerary.
Running around this bustling borough sure sounds exhausting, but trust me, Brooklyn's timeless charm is worth every step. Your day here will be packed with lively sights, captivating experiences, and a good dose of Brooklyn's hospitality. So, let's go ahead, put on those explorer boots and get ready for Day 2 – a memorable day in Brooklyn beckons!
Remember, the city is not something you visit, it's something you live. So, go ahead and add your own special spark to this Brooklyn itinerary. Explore, Experience, Embrace!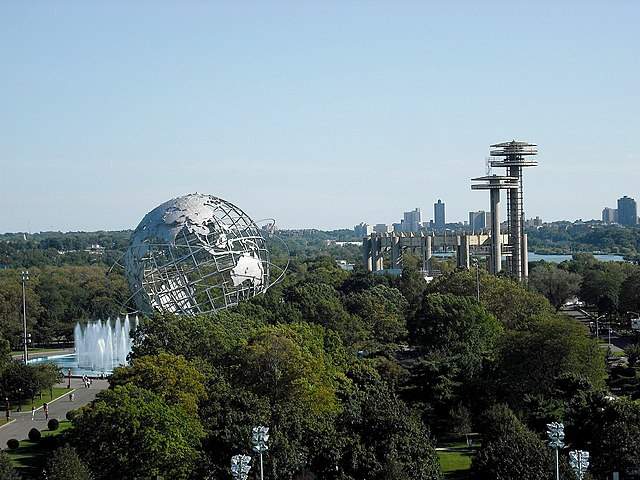 Full to The Brim: Day 3 in NYC – Queens and The Bronx
Daybreak Delights in Queens
Can you believe it's already Day 3? Our last day kicks off in the vibrant borough of Queens. I suggest starting with the Flushing Meadows Corona Park, the site of two twentieth-century World's Fairs. The park's iconic Unisphere, a giant globe will certainly make for a unique photo shoot. Or, if you're a cinema buff like myself, you'd love the Museum of the Moving Image. It's a living testament to the magic and history of film, television, and digital media. Don't forget to try their interactive exhibits!
Mid-Day Marvels: Queens to The Bronx
Now with Queens checked off, let's hop over to the Bronx for lunch. Here's a little tip: ask a local. There's no better way to uncover a gastronomic hidden gem. Whether you crave authentic Greek, Italian, or some Dominican delights, the Bronx is sure not to disappoint.
Post lunch, we've got two choices: the Bronx Zoo, where you can come face-to-face with exotic wildlife from across the globe or the picturesque Bronx Botanical Garden. Renowned for its diverse plant life and beautiful landscapes, the botanical garden provides an almost therapeutic break amidst all the hustle.
Evening Extravaganza: Play Ball & Food-truck Finesse
Brush up your baseball trivia and be ready to cheer and roar with the crowd. Visiting Yankee Stadium isn't just about watching a ballgame, it's about soaking in the electric atmosphere and living the American pastime.
As evening falls, New York's food-truck culture beckons! From gourmet burgers to world-famous Halal Guys, you'll find fleet of food trucks serving tempting eats for every taste bud.
Cultural Experiences: Immerse, Taste, and Cherish
Remember, it's the little things that make a trip memorable – the alley you stumbled on during a nonchalant walk, the melody of street musicians, or the local festival you just happened to walk into. So keep an eye out and a heart open to embracing these invaluable tidbits of local culture!
Phew, three days went by in a whirlwind, didn't they? Exploring this city is like unwrapping an endless gift box – each borough a unique present offering delightful experiences. From Manhattan's vibrancy to Brooklyn's bohemian charm, Queens' racial melting pot to the Bronx's cultural heritage, your 3-day NYC itinerary has journeyed through the very heart of this incredible city. I'm positive you've made a ton of beautiful memories, and remember, New York City will always have open streets waiting to welcome you back! So until we meet again, farewell my fellow traveler!
Essential NYC Travel Tips: Your Tool Kit for a 3-Day Sojourn
Pack Smart, Pack Right
Let's kick off with a topic dear to every traveler's heart – what to pack. When it comes to NYC, the season dictates your suitcase contents:
Spring or Fall: Mix of layers are your best friend. Include a light jacket, a good pair of walking shoes and of course, an umbrella for those occasional showers.
Summer: It's hot and can get humid. Opt for breathable fabrics and plenty of sunscreen. A hat and sunglasses will also come in handy.
Winter: Bundle up! Thermals, sweaters, and a warm coat are essential. Don't forget your gloves, scarves and a nice cozy beanie too.
Navigate Like a Local: NYC Subway System
Subway is to New York what wine is to France – essential. It's the quickest and most convenient way of zipping around this bustling city. Grab yourself a MetroCard, and you're set. The easiest route might not be a straight line. Sounds odd, right? But trust me, sometimes it's quicker to take a slightly longer route without transferring lines.
Ensure you keep a subway map at hand. It's available on the MTA website, or you could even download a handy app like Citymapper on your phone. One vital tip: the train direction is often designated by Uptown (north) or Downtown (south).
Safety First
NYC is generally safe, but like all big cities, it's wise to stay vigilant. Avoid empty subway cars, especially late at night, and keep your belongings close to you at all times. If you're in crowded tourist areas, be mindful of pickpockets. The tip is simple: be aware of your surroundings and you'll be good to go.
When in NYC, Do as the New Yorkers Do
New York is a city of many customs and etiquettes, often unspoken. For instance, walking slower? Stick to the right of the sidewalk. The left is reserved for those in a hurry.
Tip well! Whether it's at a restaurant, a cab, or your hotel, tipping is pretty much standard. Around 15-20% of the bill is considered appropriate.
And remember, New Yorkers might seem busy, but they're also incredibly friendly. Don't hesitate to ask for help if you need directions or local recommendations.
Get Set, NYC Awaits!
Armed with these essentials, you're now ready to embark on your thrilling 3-day NYC whirlwind. Remember, it's all about delving into the experience. It's about tasting the unique flavors of each borough, taking in the vibrancy and bustle, and enveloping yourself in the rich culture this city offers.
New York City with all its essence awaits you! So go ahead, pack your bags, lace up your adventure boots, and get ready to make incredible memories. Safe travels, my friend! Let NYC surprise you, enchant you, and most importantly, make you fall in love with its spirit.
Wrapping Up Your Unforgettable 3-Day NYC Adventure
In Conclusion – The Big Apple Awaits!
We've walked you through an exciting and diverse 3-day NYC itinerary, with a taste of everything from iconic skyscrapers to charming food trucks lurking in the corners of The Bronx. I hope you can feel the contagious excitement and endless potential this city has to offer. It's a place that truly has something for everyone. And remember, no matter how many times you visit, New York City will always have more surprises and experiences waiting for you – it's a city that never sleeps, after all!
We'd love to hear about your adventures or answer any questions you might have. So don't hesitate to shoot us a message, and we'll be more than happy to chat and share experiences!
Take the Plunge – Start Planning, but Stay Curious!
There's no time like the present, my friend! Start planning your unforgettable NYC trip using our 3-day guide. But remember, the key to truly embracing the city is staying flexible. Take a bold step down an unknown alley, visit a quaint coffee shop, or explore that park you stumbled upon – these unplanned moments often turn out to be some of the best memories.
We have more nuggets of knowledge up our sleeve! Our other NYC guides and travel services can help you tailor your dream trip or explore the city even further. So, are you ready to hop on the NYC rollercoaster and brace for the time of your life? Go on, pack your bags, grab your MetroCard, and dive headfirst into this incredible city. Adventure awaits!