The Plain of Jars – A Mysterious Place in Laos With Unknown Origins
Our planet earth has a lot to offer to those who are willing to witness its full glory. We mean, who doesn't love the thrill of walking into a mysterious site? And, when talking about mysterious, it would be a crime not to mention the Plain of Jars. It's a site with massive stone jars of unknown origins scattered throughout the Xieng Khouang area of Central Laos. In this article, we are going to explain this strange site in detail.
Understanding the Plain of Jars
The Plain of Jars is a mixture of both the ancient and modern history related to the four different cultures. These include Phuan, Hmong, Khmu, and Tai Dam. While walking via its beaten tracks, one can feel themselves getting closer to Mother Nature.
Unlike Ancient Greece or China, there is very little known about the site. Currently, we have no specific info about the origins of these massive stone jars. Some archeologists infer that these jars could be around 2000 years old. It is also unknown that which civilization is responsible for the making of this site.
In recent history, the site suffered great damage due to the heavy bombing by the US during the Vietnam War. However, the locals of this area have shown amazing creativity and have been able to mend their lives. They have sometimes utilized the leftovers in their daily lives. These include the use of bomb pieces as spoons. Also, they have created a distinct building style using shells as raw material and décor for the houses. Talk about creating something amazing out of trash.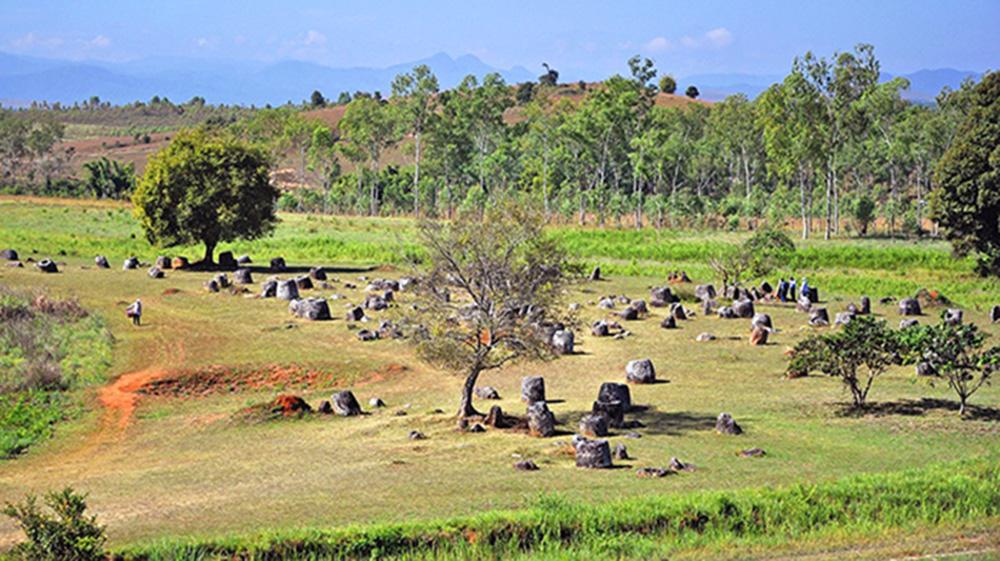 Sightseeing at the Plain of Jars
You can find many agencies offering tours of this famous site while you're in Phonsavan. Some also offer tours of the nearby villages and other places. The Phonsavan area is full of such attractions.
While the jar site is the main and most popular site in this area, things can often get real hard. This is true especially if you are trying to book a group tour of the site. Many travel agents here are known for showing interest to conduct a group tour only if there are enough persons. But there's a big problem with this. Since the number of agents in the area is huge, getting tourists here becomes hard for them. Each agent may get any number of tourists from 1 to 10. And, sometimes they get nothing all. If you have a little group, you could expect a higher price. However, when the conditions are right and there are enough people, the price falls to 150,000 or less LAK/person.
Many agents here don't like to give you a price or at least an itinerary until they have clear details. These include the number of tourists that will take part in the tour, and so on. And, they will not know about that number unless the last bus arrives at the bus stop there. The last bus arrives at 7 pm local time. One thing you can do is to get an idea of which agent you are comfortable with. Then, return at 7 pm the next day to the same place to verify if he's still doing the tour. FYI, the tour price usually includes a not-so-fancy lunch of beef or chicken noodles.
If you have no group to tour with, you may convince the agents to do a private tour for you. In that case, you would ride a minibus, and you got to spend more money. The price could be anything between 300,000 to 500,000 LAK or more.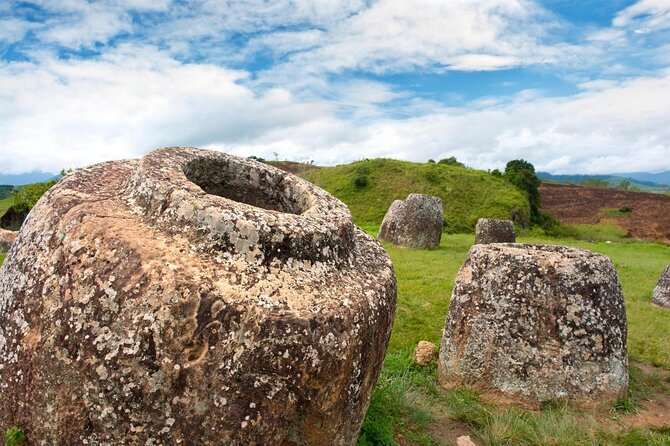 The Jar Sites
The plains have hundreds of jars scattered across numerous sites. As we already said, some of these got damaged during the US bombing. And, some others suffered damage because of the Chinese bandits. Also, it is very unfortunate that these jars have started showing signs of wear and tear in recent times. It is because tourists repeatedly climb these jars too much. And, because of the bombing, large craters have been created, and this has caused some jars to split.
The entrance to each of these jar sites costs 10,000 LAK for Laotian people and 15,000 LAK for foreign tourists.
The first jar site is among the most vital places and also the easiest to visit. Make sure you halt at the Visitors Information Center. You would find it at the bottom of the hill where jar 1 is located. This place is very unique and also free to visit. Then, go up the hill about 200m. Here, you would be able to park your car and pay the entrance fee.
After jar Site 1, take a tour to jar sites 2 and 3 if your agent has spoken about taking you there. The roads around here are uneven, unpaved, and dusty. Whenever it rains, the roads become muddy. Well, we are not saying that you can't traverse these roads on a motorbike. But it is important to keep the poor road conditions in mind. Or else, you could be in deep trouble. The number of road signs is less, though. So, it would be a great idea to ask the local people for directions to sites 2 and 3. The third jar site is not that big yet it has amazing scenery. Here, you would find yourself hiking across some paddy fields and farmlands from the parking area.
Site 2 is known for having two parts on either side of the way. On the east side, you would find massive jars under trees. On the west, you will find jars under a tree or two with amazing views. Also, at the entry point of this site, there is a noodle shop. This place can serve as a great lunch stop before you go to Site 3.
You can find a nice, easy hike between the second and third sites. It is perfect for families. The unexploded ordnance over this path was removed back in 2007. However, assuming that there could be more of these, there is a strong advisory in place. The tourists must follow the red and white markers.
The area between the white markers signifies that MAG has cleared the surface and underground ordnance. On the other hand, the red zone signifies that only the surface ordnance got cleared.
Other jar sites to visit are sites 16, 23, and 52.
Things to do
There are many things you may do while you are here. We are mentioning only a few, but there are many more options.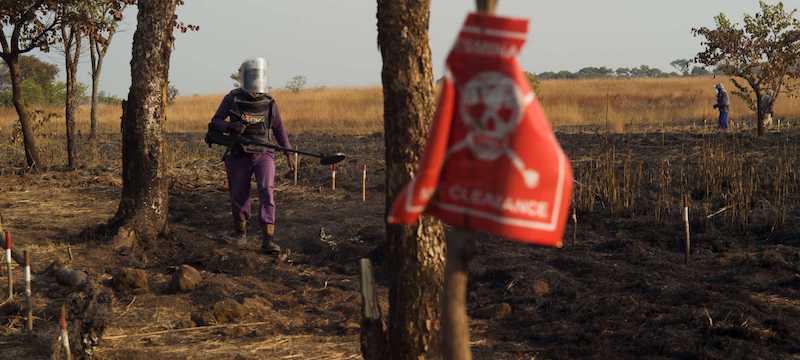 Firstly, you can visit the MAG (Mines Advisory Group) Information Center just opposite the Craters Restaurant. The MAG has helped remove the bombs left behind by the US Secret War in the 60s and early 70s. It's a great idea to visit this place and know about the legacy of cluster bombs dropped by US B-52s.
You could also stop by the awesome Plain of Jars Visitors Information Center inaugurated on 13 August 2013. You can find this center at the bottom of the hill near Site 1. It contains decent English language information panels on the cultural history of the site. Besides that, it contains information panels on the contemporary history of the Vietnam War. It is an alliance between the Lao government and the New Zealand Agency for International Development.
Things to buy
Here, you will find many local products to buy. These include natural dyes and textiles, basketry, mulberry paper umbrellas, and so on. You may also buy spoons created out of war scrap or Hmong embroidery. But remember that buying antiques from Laos and bringing them home could be illegal. So, be wise. Plus, there is a special drink named Mastake Whisky made from Hed Wai available here. Try testing it as well.
Frequently Asked Questions:
How did the Plain of Jars get its name?
The Xieng Khouang plain of Central Laos contains a large number of gigantic stone jars on its land. This is how the site received its name.
How many jars are there in Site 1?
Site 1 contains around 400 massive stone jars scattered across more than 60 acres of land.
What was the use of the jars found in the Xieng Khouang area of Central Laos?
We still don't have a single definite answer. Their origin remains unknown to this day. However, some researchers have put forward a theory that the jars may have once served as urns or food storage. We don't know for sure. The research is ongoing, and someday we might be able to get an answer to this question.
Conclusion
Now that you have acquired lots of knowledge about the Plain of Jars, it's time to witness it for yourself. Pack your bags and visit the place as soon as possible to get an unforgettable memory. Happy journey!