Top Considerations When Purchasing Your First Yacht
Purchasing your first yacht is an exciting and rewarding endeavour. Owning a yacht enables one to enjoy the elegance, adventure, and freedom to slowly explore the huge waters. There are a few important decisions to make before embarking on this thrilling voyage to make sure you select the ideal vessel that meets your interests and lifestyle. To help you make a choice that will significantly improve your yachting experience, we'll walk you through the most important factors to take into account when buying your first yacht in this post.
Define Your Yachting Goals
Before diving into the world of yacht shopping, it's essential to clearly define your yachting goals. Ask yourself what you envision using the yacht for – leisurely day cruises, weekend getaways, long-range voyages, or hosting glamorous events. Your first yacht's optimal size, design, and features can be decided upon by taking into account your goals and preferences. Whether you're looking for a modern motor yacht or a traditional sailing ship, having a clear idea of your yachting objectives will help you through the buying process.
Establish a Budget
In addition to the original purchase price, owning a yacht entails regular maintenance, insurance, mooring fees, crew wages, and other running costs. To minimise any financial difficulty in the future, it's essential to create a realistic budget that accounts for all of these expenses. Consulting with experienced yacht brokers, like Simpson Marine, can help you gain insights into the full cost of yacht ownership and assist in finding a yacht that aligns with your budgetary considerations.
Choose the Right Size and Type
The size and type of yacht you select depend on your yachting goals and preferences. Short excursions and coastal voyages are perfect for smaller yachts, such as day boats and weekend cruisers. Larger yachts, on the other hand, provide greater room, comfort, and amenities, making them ideal for lengthy cruises and entertaining guests. You'll also need to choose between sailing and motor yachts, each of which offers a different kind of experience on the ocean. Before choosing the size and type of the boat, carefully examine how you intend to use it and how many guests you wish to host.
New vs. Pre-Owned Yachts
Choosing between a new or pre-owned yacht is an essential decision that affects your purchase process. New yachts offer the advantage of customizable features and the latest technology, ensuring your yacht is tailored to your exact preferences. However, pre-owned yachts can present an excellent value proposition, often equipped with desirable upgrades and well-maintained by previous owners. Working with a reputable yacht brokerage can provide access to an extensive selection of both new and pre-owned yachts, assisting you in finding the best fit for your needs.
Yacht Layout and Amenities
When evaluating yachts, pay close attention to the layout and amenities they offer. Take into account the number of cabins, their configuration, size, and general level of comfort they offer. Search for yachts with roomy salons, well-stocked galleys, and lots of deck space for recreation. Your yachting experience can be improved by using extra amenities like gyms, jacuzzis, beach clubs, and water sports equipment. This can increase your enjoyment and excitement about owning a yacht.
Seek Professional Guidance
Navigating the world of yacht shopping can be overwhelming, especially for first-time buyers. Seeking professional guidance from experienced yacht brokers can significantly simplify the process. Yacht brokers have comprehensive knowledge of the market, access to a wide range of yachts, and the expertise to guide you through every step of the purchase, from initial selection to post-purchase support.
Consider Yacht Maintenance and Servicing
To keep the yacht in top condition and maintain its worth, proper maintenance is necessary. When buying your first yacht, take into account the reputation of the yacht brand as well as the accessibility of repair and maintenance facilities. Engaging a reliable yacht management company can streamline maintenance and provide peace of mind knowing that your yacht is well-cared for and ready for your next adventure.
Plan a Sea Trial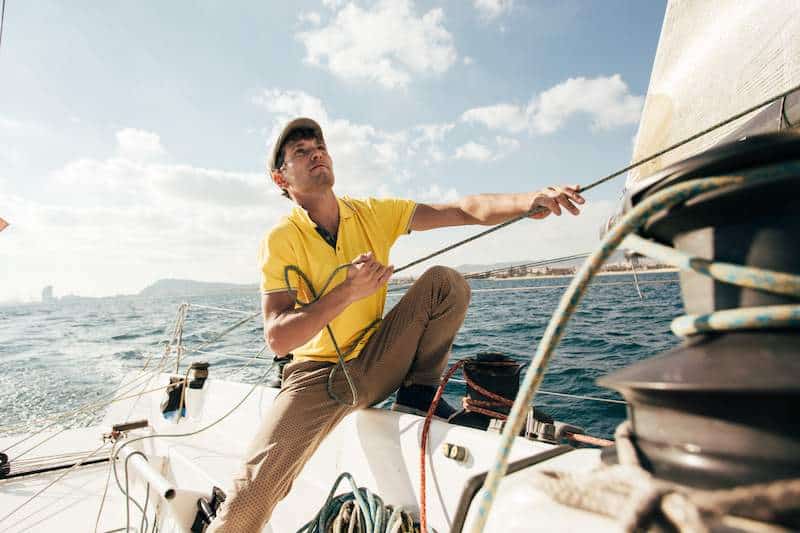 Image by bublikhaus on Freepik
Before finalizing your purchase, it's essential to take the yacht for a sea trial. A sea trial allows you to experience firsthand how the yacht handles, the comfort level on board, and how well it meets your expectations. During the sea trial, test all systems and equipment, assess the yacht's performance at different speeds, and observe how it navigates in various sea conditions. A sea trial is a valuable opportunity to ensure that the yacht is everything you envision for your yachting adventures.
Familiarize Yourself with Yachting Regulations
Owning a yacht involves adhering to various yachting regulations and legal requirements. Familiarize yourself with the rules and regulations specific to your cruising region and ensure that the yacht meets all necessary safety standards. Working with a reputable yacht brokerage, will ensure that you receive comprehensive guidance on all legal aspects of yacht ownership.
Conclusion
Purchasing your first yacht is an exhilarating milestone, and with careful consideration and expert guidance, it can be an immensely rewarding experience. Define your yachting goals, establish a realistic budget, choose the right size and type, and carefully evaluate yacht layouts and amenities. Seek the assistance of reputable yacht brokers to navigate the purchasing process smoothly. Additionally, conduct sea trials and acquaint yourself with yachting regulations to ensure a seamless and unforgettable journey as you embark on your first yacht ownership. So, get ready to set sail on the azure waters, creating cherished memories and embarking on countless adventures aboard your very own yacht.
Featured image by: Image by wirestock on Freepik