BEST THINGS TO DO IN CURACAO ( UPDATED 2020 )
Amazing Curacao's tourist attractions include the oceanfront cafes of Cas Abao Beach or Playa Porto Marie. Curacao's warm waters are perfect for snorkeling, scuba diving, and other water sports. These are very similar to its sister islands – Aruba and Bonaire. Willemstad is a metropolitan city in the middle of paradise which is an escape from the sun and sand. Curacao's tourist attractions are not limited to water, you can also visit the Queen Emma Bridge and the Kura Hulanda Museum. Also, there are plenty of rockin' beachfront nightclubs.
Best Time to visit Curacao
Curacao is one of the most famous tourist destinations. The island country offers a lot for everyone. You will have a lot of things to do while you are here. But for exploring curacao in the best way possible, you need to visit the island country during its best time.
One good thing about this island is that it does not bear the wrath of hurricane season. Curacao is bright and sunny when other Caribbean Islands are getting high torrential rainfall. You can visit Curacao almost throughout the year.
However, we feel May to November is the best season to visit Curacao. It is cheaper during these months. The hotel fare also goes down quite a lot. Situated just 12 degrees north of the Equator, the small island country has a moderate temperature throughout the year. But December to April is the peak season. Fare goes high and everything becomes a lot more expensive during these months.
Where to stay in Curacao
There is a variety of accommodations available in Curacao. From budget rooms to exquisite and luxurious resorts, you ask for it and it is available for you. However, before booking your accommodation, here are a few areas to check out.
Mambo Beach Blvd is one of the most popular areas to stay in Curacao. If you are here with family or with friends, look for a place here in Mambo Beach Blvd. The beautiful white sand will surely take your breath away. Shops, Restaurants, beachside bars, cheer up the mood of the place instantly making the stay phenomenal. Different types of accommodation are available in this region.
However, if you want to have a luxurious stay, pick the Pietermaai district for accommodation. It is upscale and luxurious with high-end resorts and hotels. You can pick cozy luxurious accommodation as well. But this area does not have a beachfront.
Best Beaches of Curacao
An island country will have many beaches. Curacao has some of the best ones. Most of the beaches offer water sports and such activities. The beaches are picturesque. Here are the beaches that deserve a visit.
Porto Mari
The rustic beach has a beauty of its own. Snorkeling is one of the major things to do in Curacao. You can do that here on this beach. Rent a beach chair for $5 each (approximately) and enjoy sunbathing like never before.
Daaibooi Beach
No entrance fee and yet a fantastic experience, that is Daaibooi beach for you. Most of the other beaches charge you an entrance fee. Daaibooi is different from those. The beach has rented chairs for you. You can rent them for $3 each. If you want to try snorkeling over here, that is also available.
Tugboat Beach
Want to check out the best snorkeling scene in Curacao? Come to Tugboat beach. It is a rocky beach. IT is known for the best snorkeling scene in the region. A submerged tugboat has a lot of corals, sponges, and colorful marine insects and fishes. If you are here for snorkeling, visit tugboat beach, that is it.
Things to do in Curacao
Curacao has a lot to offer. There are a lot of things to do in Curacao. Looking for things to do in Curacao can leave you puzzled. Here is a list of things to do in Curacao curated only for you. Check this out before planning your trip.
Scuba Diving
One of the famous things to do in Curacao, Scuba Diving is a fascinating world of graceful spotted stingrays, delicate coral gardens, and playful dolphins in the depths of the Caribbean Sea. It is best to explore with a plastic mask on the face and an oxygen tank on your back. The other Curacao's tourist attraction includes Mushroom forest and the nearby Blue Room cave. Mostly the dive sites are accessible from the beach while some of them must be reached by boat. The coral-encrusted remains of the Superior Producer can also be explored. There are many dive operators on the island who gives training for scuba diving along with a certificate.
Handelskade
You must have seen this Curacao's tourist attraction on every postcard of Curacao, which is located on the Punda side of Willemstad. Handelskade's Colonial Dutch buildings are painted in brilliant pinks, blues, and yellows. You can just take a seat at one of the Handelskade's outdoor cafes and enjoy the view of the Queen Emma Bridge swing open to let ships into the harbor. Handelskade is one such Curacao sightseeing where people like to get a drink as food is overpriced. Waking up early in the morning can give a delightful experience of the fresh fish and produce of the daily floating market at Handelskade's northern point.
Queen Emma Pontoon Bridge
This amazing beauty is one of the best Curacao attractions, also known as 'Swinging Old Lady'. Situated on St. Anna Bay, it is a floating pedestrian bridge connecting the two halves of Willemsand – Punda, and Octrobanda. The Queen Emma Bridge, the mesmerizing Curacao's tourist attraction, was built in 1888. Supported by 16 pontoon boats, the swings open to allow ships from entering and leaving the bay. The travelers enjoy a meal or coffee while admiring boats, sailing through the open arm of the bridge, more often at night when it's lit up.
Cas Abao Beach
The favorite amongst Curacao's tourist attractions, this place is loved by both travelers and locals. Shaded by thatched palapas (large palm umbrellas), this white sand beach is surrounded by cliffs and lush greenery. There are a variety of things you can experience on this Curacao's tourist attraction such as a full body massage right on the waterline, beach bars and restaurants offering a range of snacks and drinks, and the warm, turquoise water having sea turtles and a rainbow of tropical fish beckon snorkelers. Situated about 20 miles northwest of Willemstad near Fontein, the beach is accessible only by car. Travelers are recommended to bring water shoes as the pebbles and broken coral can be hard on your soles.
Playa Lagun
Peaceful Curacao's tourist attraction, Play Lagun sits between the gray cliffs near the northwestern town of Lagun. Playa Lagun, calm and shallow, is ideal for snorkelers of any skill level. There are facilities to rent scuba gear and snorkel. The travelers often talk about the crystal clear waters and beautiful coral reefs, spotting colorful fish, sea turtles, school of squid, and snorkeling. This Curacao's tourist attraction is popular amongst families who want a quiet swim and has plenty of shade. The admission to Play Lagun is free, unlike other beaches like Playa Porto Marie or Blauwbaai. It is advisable to wear water shoes or socks as the terrain above and below the shore can be rough.
Playa Porto Mari
For outdoor enthusiasts, Playa Porto Mari is the best Curacao's tourist attraction. What makes this beach a fun spot for undersea exploration is its rehabilitated double reef and snorkel rentals. Playa Porto Mari has a beach bar and restaurant which serves Dutch kroketten and Indonesian states, enough for a second round in the water or a nap on the sand. It acts as a savior after all the physical activity. Despite being overcrowded, people flock to this Curacao's tourist attraction for its natural wonders and plentiful amenities such as clean bathrooms, shaded beach chairs, and rinsing facilities.
Christoffel National Park
Curacao's tourist attractions include Christoffel National Park which emerged from three plantations near the northwest of Curacao in 1978. A scenic drive through Curacao's largest park is amazing but the best way to experience this rugged landscape is through hiking, the view is just unforgettable. The park is that Curacao's tourist attraction which resides variety of flora and fauna including the rare and endangered Curacao White-Tailed deer, barn owls, and wild orchids. Travelers are recommended to start early in the morning as the park does not allow people to start their hike after 11 am. This is due to the high temperatures and lack of shade. The park also offers bird and deer spotting activities, a guided climb up the mountain, safaris as well as seasonal events designed for families. To get more insight into the park's history, you must visit the Savonet Museum. It displays the eyes of the former residents including the slaves who used to work on the Savonet plantation, also the Arawak Indians residing here almost 4,000 years ago.
Blauwbaai
One of the most beloved beaches, Blauwbaai is the next Curacao's tourist attraction. It is located about 10 miles northwest of Willemstad. After a swim of 5 minutes from the beach, you will see multicolored coral and tropical fish, another 15 minutes and you will encounter a coral density of 100 percent. It means that the coral covers the whole of the ocean floor. Blauwbaai is praised for its tranquility and natural beauty, both below and above the waves.
Mambo Beach
Mambo Beach is one of the man-made Curacao's tourist attractions which is situated 4 miles east of Willemstad. It features crystal blue water, bright white sand, the Pina Coladas, and a sand volleyball court. The beach is a suitable stop during a cruise excursion. A boardwalk lined with restaurants, shops, and bars become lively on Sunday nights. This beach is well equipped for the kids – Seaquarium Beach's breakwater keeps the tides calm even when there is a rough surf. Travelers enjoy a large amount of shade available on the beach with unbeatable amenities in comparison to other Curacao's tourist attractions.
Klein Curaçao (Little Curaçao)
Klein Curacao is one such Curacao's tourist attraction ideal for snorkelers, sun-worshippers, and scuba divers. It is a largely uninhabited island located 8 miles off the southeast coast of Curacao. The island's natural elements such as coral reefs, white-sand beaches, and marine life are the main reason for visiting. It is considered as the final resting place of many African slaves who were not able to survive the dangerous voyage across the Atlantic. If you plan to visit this Curacao's tourist attraction, do not forget to bring your sunscreen as there is little shade on this deserted island.
Riffort Village
To protect Curacao from pirates and invaders, Rif Fort was built in the 19th Century. It is placed in the St. Anna Bay on the Otrobanda side of Willemstad. This Curacao's tourist attraction is designated as a UNESCO World Heritage site. The fort now is an upscale shopping mall with high-end brands such as Armani Exchange and Tiffany & Co. You will love to explore Rif Fort's historic grounds and clicking pictures of the Caribbean Sea. There is also a wide range of dining options in the complex with an ambiance that is unbeatable.
Kurá Hulanda Museum
This Curacao's tourist attraction was once a merchant square for slaves. It traces the history of the African slave trade on Curacao using 18th-century scale models and artifacts. The museums have collections of Mesopotamian relics, Antillean art, and pre-Columbian gold. The majority of the visitors leave the museum feeling somber, but still recommend a visit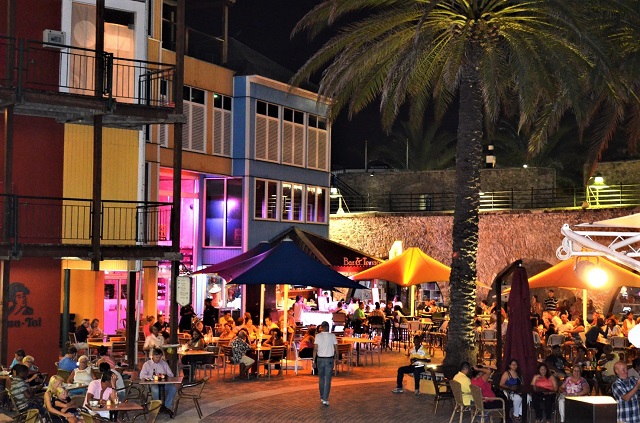 for this kind of history lesson. It is located in Otrobanda.
Mikvé Israel-Emanuel Synagogue
It is the oldest Jewish temple commonly called the Snoa. In 1728, it was founded by Jews who were displaced during Spanish Inquisition. Travelers are fascinated with the well-preserved building considering its old age. It is an impressive Curacao's tourist attraction located on the Punda side of Willemstad.
The more you learn about Curacao, the more you fall in love with the island country. With so many things to do in Curacao, it is one of the most talked-about tourist destinations. Plan your trip and let us know what you enjoyed the most.