Aruba being a small island, still have various options for accommodation. You can choose from luxurious towers to intimate boutiques and spas to full service condos. Beaches and access points are all public on this small island. Eagle and Palm beaches have speckled properties but if you want to save money, book a room just across the street.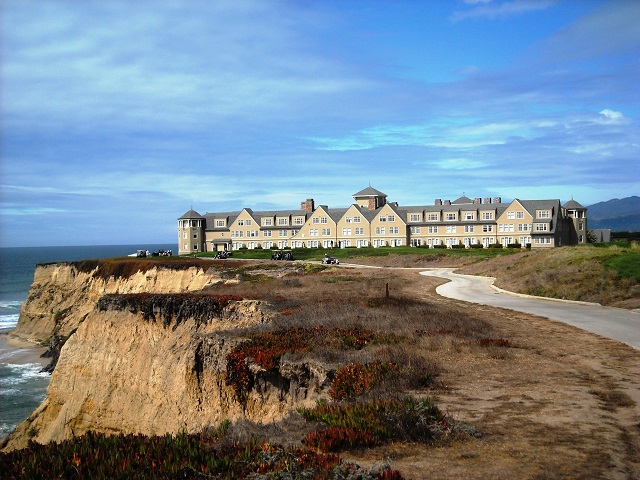 The Ritz-Carlton, Aruba
One of the most stunning Aruba's Palm Beach resorts, stepping from the powdery sands, is the Ritz-Carlton, Aruba. The hotel's stunningly appointed rooms and suites have their private balconies facing the Caribbean Sea. You can also discover a luxurious spa, 24-hour casino, four dining outlets and two swimming pools at this resort on the small island. The spa is special for a line of herbal products made from locally gathered botanicals. Don't forget to plan an excursion to Oranjestad which is just 10 minutes away. This small island's resort us separated by a copse of sea grapes.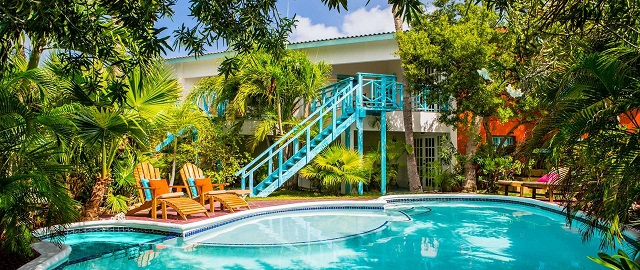 Boardwalk Small Hotel, Aruba
Set in a coconut plantation on the small island, is the Boardwalk Small Hotel. Walking from the Palm Beach it takes around 8 minutes to reach to the hotel. The iconic California Lighthouse is 5 km away from it. The small island's Boardwalk Small hotel has a colorful, air-conditioned studio with a kitchenette. It offers a flat-screen TV, free Wi-Fi, and a furnished patio with a porch. The bungalows have vibrant 1 and 2 bedroom accommodations with a kitchen, dining area and outdoor hammocks. It has an access to a private beach with lounge chairs and complimentary amenities such as snorkel equipment and sand toys, parking etc. Services like breakfast and massage are also available.
Aruba Marriott Resort & Stellaris Casino
This wonderful resort on the small island lies 3.8 km from Tierra del Sol Golf Course. It is a modern building which is 12 km away from Queen Beatrix International Airport. It is famous on the small island for its contemporary rooms. There are balconies, flat-screen TVs, free Wi-Fi and custom-designed beds as well as tea-coffee makers and mini fridges in all the rooms. Sitting areas and ocean views are an addition to the upgraded rooms. A private lounge being offered to the club-level rooms with free breakfast and evening cocktails. The hotel has 1 poolside, 6 eateries and 2 bars. There is also a beach access, a spa, a gym, 2 outdoor pools and a casino.
Amsterdam Manor Beach Resort
The beautiful Dutch Colonial architecture makes the resort a unique setting on the small island. The resort has a white Eagle Beach look out with a clear turquoise blue water. Amsterdam Manor Beach Resort is very well known for its personalized service on the small island. They treat their guest as the members of the family. Variety of amenities are offered here including water pool with waterfall, bike rentals, complimentary beach and pool lounge chairs and a mini market. It is a 5 minute drive from Oranjestad and 15 minutes from Aruba's international airport Reina Beatrix.
Bucuti & Tara Beach Resort
On the small island is situated an adult-only oasis, Bucuti & Tara Beach Resort with 104 rooms. It gives you an access to free use of an iPad. Also, it provides spa using local coconut, sand, aloe and sea salt. The breathtaking location, tranquil setting and personalized service allows couples to relax and indulge in their love for each other. This resort on the small island has been awarded the best hospitality from eco-pioneer Ewald Biemans. Fun-filled activities which will make you happy are diving and sailing excursions, a jeep safari tour of Aruba, horse riding, golf and more. Alhambra Casino is nearby the resort and a variety of restaurants, entertainment are adjacent to the resort.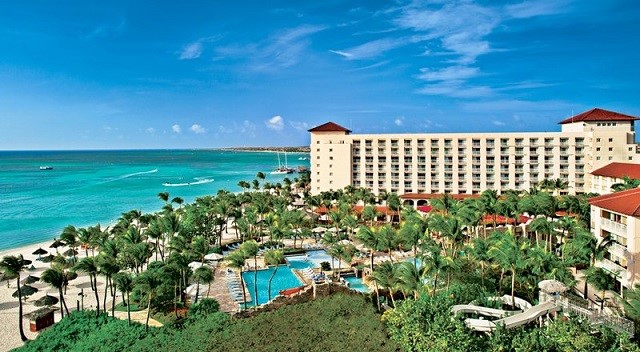 Hyatt Regency Aruba Resort, Spa and Casino
The best place to escape on this small island is Hyatt Regency Aruba Resort which is a luxurious beachfront resort. The white beaches and blue Caribbean Sea captivates your senses. The awe-inspiring scenery and fresh tropical breeze gives you an amazing experience at the resort. The rooms have private balconies which gives beautiful views of the ocean, pool and lush gardens. Delicious beverage options are available in three upscale restaurants, two casual restaurants and a variety of outlets. This resort on the small island is situated along the shores of the Caribbean Sea and hosts upscale amenities. Lot of recreational activities are a part of this resort including sailing and scuba diving, full service spa, casino gaming, tennis courts and a water complex.
Tamarijn, Aruba
If you are a beach lover, don't think twice about choosing Tamarijn Aruba. On this small island, this resort is an oceanfront resort providing the setting for a tropical vacation. With the setting of the sun, the fun just starts with live music around the pool and some theme shows. There are about 236 rooms. There are 10 restaurants and grills, 8 bars with daily drink specials, 4 fresh water pools, water sports, rock climbing, beach volleyball and tennis clinic in this exotic location on the small island.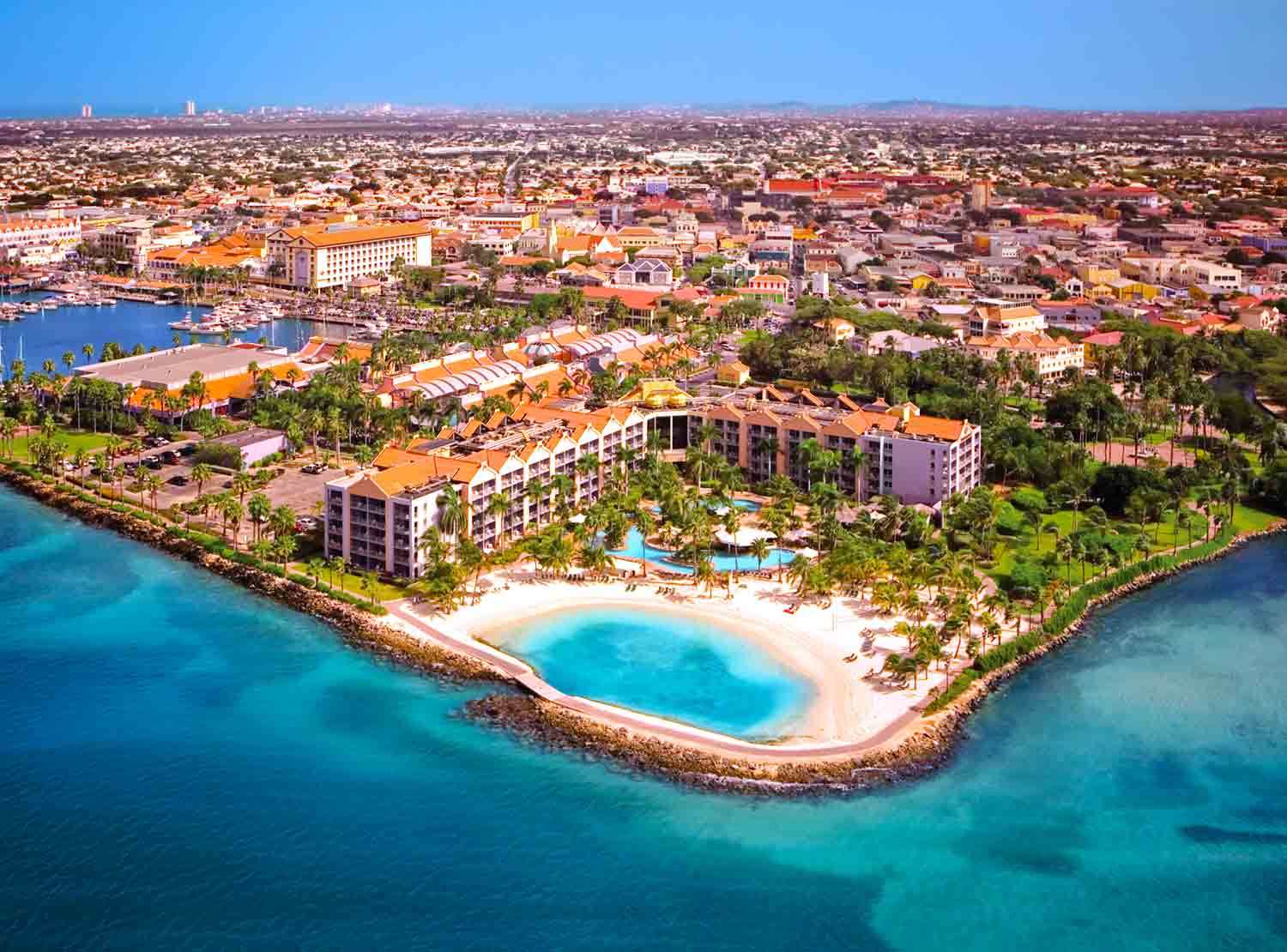 Renaissance Aruba Resort & Casino
It is a resort with 556 rooms, offering two options for accommodations. The couples can choose the adults-only Renaissance Marina Hotel. While the families can go the one bedroom Renaissance Ocean Suites with mini-fridges, sofa beds and microwave. This small island's resort is set along the Caribbean Sea. It is a palm lined resort with a casino just 4 minute away from the Fort Zoutman museum. The rooms are contemporary, some of them having sea views. The 1 bedroom suites offer balconies and separate living areas while 2 bedroom suites include dining area as well. In addition to the casino, the small island's resort has 8 restaurants/bars, a swimming lagoon on the beach and an outdoor pool. The other amenities offered are fitness center and a spa.
Tierra Del Sol
Some of the unique features of this small island's resort are free airport pickup, access to spa facilities, daily maid services and reduced rates at the Robert Trent Jones II-designed course. It is situated on 600 acres of land at the North-western tip of the small island. It is just few minutes away from the white sand beaches and casinos, shopping malls and night life is unavoidable. The main highlights of the resort are dramatic views of Tierra del Sol Golf Course, the Caribbean Sea and the California Lighthouse. The ultimate vacation location for couples, families or small groups of friends are, this resort provides a complete set-up for the same.
Divi Aruba Phoenix Beach Resort
The small island's Divi Aruba Phoenix Beach Resort has an accommodation of 240 rooms. If you go for a beach tower one-bedroom suite, you will be offered a turndown service, a balcony facing to ocean, a full kitchen and a second bathroom.