Exploring the Benefits of Utilizing a Phuket Yacht Charter Service
Imagine cruising through the azure waters of Phuket, surrounded by stunning landscapes and embraced by the gentle sea breeze. Such an idyllic experience can become a reality with a premium yacht charter service in Phuket. Whether you're seeking a tranquil escape or an adventurous journey, a yacht charter offers unparalleled luxury and freedom. Embarking on a yacht charter in Phuket unveils a world of extraordinary benefits that cater to both relaxation and exploration.
Unveiling Phuket: A Yacht Charter Paradise
No introduction is necessary for Phuket, often known as the "Pearl of the Andaman," which is a tropical paradise. This Thai island provides the ideal balance of calm and excitement with its beautiful surroundings, immaculate beaches, and colourful culture. Phuket, which is located in the Andaman Sea, is home to numerous magnificent islands, secret coves, and breathtaking coral reefs that are just waiting to be explored. With a boat charter in Phuket, you can see this alluring location up close and personal, making your adventure just as unique as the surroundings.
Benefits of Utilizing Phuket Yacht Charter Service
1. Tailored Itineraries
Phuket yacht charter service offers tailored itineraries that cater to your preferences and desires. Whether you wish to explore secluded beaches, indulge in water sports, or immerse yourself in cultural experiences, a yacht charter service team can craft an itinerary that aligns with your vision. Your journey becomes a personalized adventure, ensuring that every moment aboard is meaningful and memorable.
Here are some notable Phuket yacht charter destinations you might consider:
Phi Phi Islands: Famous for their breathtaking beauty, clear waters, and towering limestone cliffs, the Phi Phi Islands offer excellent opportunities for snorkeling, diving, and beach relaxation. Don't miss Maya Bay, a stunning cove featured in the movie "The Beach."
Phang Nga Bay: Known for its dramatic limestone karsts rising from emerald waters, this bay is a marvel to behold. James Bond Island, featured in the movie "The Man with the Golden Gun," is a popular attraction here.
Similan Islands: A paradise for divers, the Similan Islands boast vibrant coral reefs, diverse marine life, and crystal-clear waters. This national park is a haven for underwater exploration.
Koh Racha Islands: Comprising Koh Racha Yai and Koh Racha Noi, these islands are perfect for snorkeling, diving, and relaxing on pristine beaches. Koh Racha Yai offers calm waters and vibrant marine life.
Koh Yao Islands: Koh Yao Noi and Koh Yao Yai are known for their tranquil atmosphere and authentic local experiences. Explore fishing villages, enjoy peaceful beaches, and immerse yourself in Thai culture.
Koh Phi Phi Don: The larger of the Phi Phi Islands, Koh Phi Phi Don is famous for its lively nightlife, beautiful beaches, and opportunities for water sports and hiking.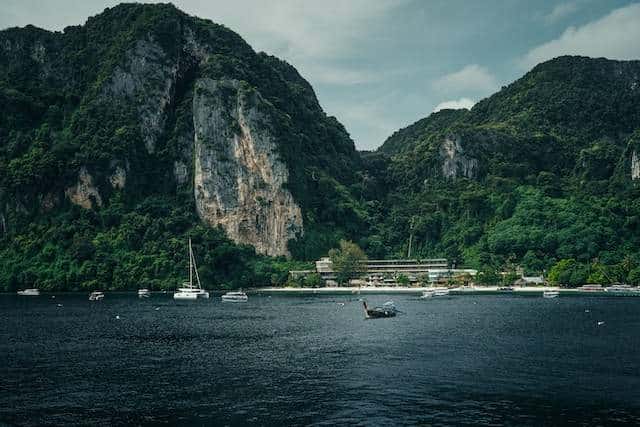 Koh Lanta: Offering a laid-back vibe, Koh Lanta is known for its long beaches, clear waters, and vibrant marine life. It's a great spot for relaxation and snorkeling.
Koh Haa: A group of five small islands, Koh Haa is a diving and snorkeling paradise with crystal-clear waters, underwater caves, and stunning coral formations.
Koh Rang Yai: This island is known for its serene beaches and clear waters, making it a perfect destination for relaxation, paddleboarding, and water activities.
Koh Bon: Located north of the Similan Islands, Koh Bon is renowned for its manta ray sightings, making it a prime spot for divers seeking encounters with these majestic creatures.
2. Luxurious Accommodation
When you choose a yacht charter service, you're not just booking a mode of transportation; you're reserving a luxurious floating haven. Phuket yacht charter service features lavish accommodations, spacious decks, and world-class amenities that ensure your comfort throughout the journey. Relax in style, wake up to breathtaking views, and unwind in the lap of luxury as you sail through the pristine waters surrounding Phuket.
3. Seamless Exploration
Exploring Phuket's beauty becomes effortless with a yacht charter service. Your experienced crew handles all aspects of the journey, from navigation to meal preparations. This allows you to fully immerse yourself in the experience without the burden of logistics. Whether you want to snorkel in vibrant coral gardens, visit hidden lagoons, or simply bask in the sun, your seamless exploration is a priority.
4. Unparalleled Privacy
A yacht charter in Phuket offers a level of privacy that's hard to match. Escape the crowds and enjoy the serene beauty of the Andaman Sea without the distractions of crowded resorts or beaches. Whether you're on a romantic getaway, a family vacation, or a retreat with friends, the privacy of your yacht allows for genuine connections and unforgettable moments.
5. Diverse Activities
From thrilling water sports to serene moments of relaxation, Phuket yacht charter service presents a diverse range of activities for every type of traveler. You may go snorkelling or scuba diving in the crystal-clear waters, try your hand at fishing, have a beach barbeque, or just relax with a cocktail on the deck as the sun sets. As varied as your preferences, the choices are.
6. Expert Local Knowledge
Phuket yacht charter crew members possess extensive local knowledge, allowing them to guide you to hidden gems and lesser-known spots around Phuket. Whether you're interested in exploring vibrant markets, savoring authentic Thai cuisine, or discovering secret beaches, the team ensures that you experience the best that Phuket has to offer.
Conclusion
Starting a yacht charter in Phuket is the first step on a voyage through one of the most alluring places on earth. With tailored itineraries, luxurious accommodations, seamless exploration, unparalleled privacy, diverse activities, and expert local knowledge, Phuket yacht charter service transforms your vacation into an extraordinary experience. Whether you're drawn to the vibrant culture, the stunning landscapes, or the allure of the open sea, a yacht charter service in Phuket is poised to exceed your expectations, offering you the voyage of a lifetime.
Featured image: Photo by Ratul Ghosh on Unsplash